Kat Delacorte on her captivatingly dark YA debut, With Fire in Their Blood
"I wanted to delve into both the romantic and grittier aspects of Italian life"
This post is sponsored by penguin.
Set against the gothic backdrop of Castello, an isolated walled Italian city mysteriously split in two, With Fire in Their Blood by Kat Delacorte is one of 2022's most original and exciting releases. Filled with secrets, magic, romance and twists and turns that'll have you unable to break away from its pages, With Fire in Their Blood, is a deliciously dark and captivating read that will leave you desperate for book two (we'd like it asap please!) To celebrate its release, we had the pleasure of chatting with Kat all about her brilliant debut and the personal inspirations behind it.
---
Hi Kat, we're delighted to have the chance to chat to you today about your incredible new YA debut, With Fire in Their Blood! For readers just hearing about it, would you mind giving them a little rundown on what they're getting themselves into with this fabulous new story?
Absolutely! With Fire in Their Blood is a dark fantasy romance about rival mafia clans who hunt witches in the crumbling Italian hill town of Castello . . . where everyone happens to be really attractive and also a chaotic bisexual. The book follows Lilly, a teenage Italian-American girl who moves to Castello after the death of her mom and gets caught up in the town's web of secrets, lies and magic – and also in a love square! I've seen early readers describing it as a gothic dystopia and a Romeo and Juliet retelling with a twist, and it's also been compared to These Violent Delights, V.E. Schwab and The Darkest Minds.
With Fire in Their Blood is not only one of the most fun and exciting books I've had the pleasure of reading this year, but also one of the most original. Can you tell us a little about your inspirations behind the story?
Thank you so much, I'm glad you enjoyed it! My family moved from the United States to Italy when I was eleven, so With Fire in Their Blood was heavily inspired by my experience growing up in an isolated Italian town. Italy has so much incredible beauty and history but then growing up in a small town can also have a darker side – sometimes it really feels like you're trapped in the past – so I wanted to delve into both the romantic and grittier aspects of Italian life, and use that as the backdrop to write about all the fantasy tropes that I love to read in YA.
View this post on Instagram
You mentioned how your own journey moving from the US to Italy played a large part in your creation of the story. Are there any elements that translated directly from your experience?
A lot of the tidbits about the antics in Lilly's high school were directly taken from my Italian school experience. Transferring to an Italian school from an American one was fascinating because the idea of discipline was so different in Italy – we could get away with a lot of things in class that would never be allowed in the States, and there was always an element of delightful chaos in the background. But my school and my town in general were also pretty antiquated, so in terms how old-fashioned Lilly finds things in Castello, that's rooted in reality, too.
With Fire in Their Blood is your debut novel (congrats!!). Can you talk us a little through your journey from writing to being published?
I started writing With Fire in Their Blood when I was in high school and then put it away for a while until I was at university and had a bit more distance from the experiences I was drawing on. I was really lucky to find my agent just after university and we ended up going on submission at the start of the pandemic – so With Fire in Their Blood actually sold in the first week of lockdown! It felt strange to have something exciting happen when the real world was falling apart, and I'm so grateful that we're back at the point now of being able to do things in person and that I'm having the chance to meet readers. Because that's one of the things I've been looking most forward to.
The cast of characters in With Fire in Their Blood is filled with secrets, angst, power and lust. Did you have a favourite character to create?
This is such a great question! I love the whole cast, but Liza was definitely my favourite to create. I love how unapologetic she is about what she wants and how she's not afraid to demand better for herself in life. She's extremely morally grey but in a way that I found cathartic to explore because she's such a great foil for Lilly and really pushes Lilly to her limits and forces her to confront everything she's been told about being a "good" girl. Plus Liza is so unpredictable and has a mind of her own, which is really fun to write because she's constantly surprising me.
View this post on Instagram
With Fire in Their Blood features countless heart stopping, stressful, magical, romantic and action packed scenes but are there any moments you had to cut from the final edit that you could share with us?
There used to be a moment between Lilly and Nico involving bandaging a wound and some hurt comfort that sadly got cut. I also had to cut some of the side characters and limit Lilly's interaction with them (which was especially hard with Alex, who is my favourite character after Liza, and who I'd like to drop into every scene if possible!).
If you were to wake up tomorrow with the powers of a Saint, how would you react and what is the first thing you'd so with said powers?
I'd be in shock for a little bit, but then I'd probably use my powers to deep-clean my house. Which is pretty lame but tells you how badly my house needs to be cleaned.
Finally, book one left us on a major cliff-hanger and I know I won't be the only reader already itching for book two. Are there any titbits you can share with us to keep us going until its release?
Without spoiling anything I can say that in Book 2 we'll get to see what Castello looks like at war, as well as visit the Paradiso side of town again and amp up the development of the love square! We'll also learn more about Lilly's family history. And as a lot of early readers have guessed, a certain character that seems like they're out of commission at the end of Book 1 may be coming back to mess up everyone's lives. . .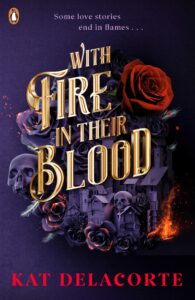 Get your copy of With Fire in Their Blood by Kat Delacorte here.