Jennifer Dugan on exploring the out/not relationship dynamic in LGBTQIA+ YA
"In fact, some of the most important relationships I've had involved people who were unable to safely be out."
This post was written by Jennifer Dugan, author of Some Girls Do.
When I think about popular queer love stories, I instantly think of things like the beloved Ferris Wheel scene in Love, Simon, or everyone absolutely melting over David and Patrick serenading each other in Schitt's Creek. But while I love epic grand gestures, we all know those loud proclamations aren't always possible. For one, they require both partners to either already be out or be comfortable coming out, and for two, it turns out that unfortunately life isn't always like the movies, no matter how much we wish it was.
In fact, some of the most important relationships I've had involved people who were unable to safely be out. And while it took a lot of checking in and communication, we were generally able to make it work. It wasn't "less than" just because it was different than the others. Unsurprisingly, loving someone in the closet is a veritable rite of passage for people growing up in the LGBTQ community. They often find themselves undeniably drawn to each other, either because opposites attract or because the LGBTQ dating pool can be stiflingly small in some areas (or sometimes both).
View this post on Instagram
With this being such a common occurrence for queer people, especially teens still living with parents or guardians, I started to wonder why we didn't see if more often in YA books. There have been some, of course, like 2012's The Difference Between You and Me by Madeleine George and more recently The Key to You and Me by Jaye Robin Brown to name a couple. But given how many people experience it, why aren't we seeing more and more books presenting both sides in brilliant technicolor?
One possible explanation is that writing a story with this dynamic (especially in dual point of view) requires the author to walk a very fine line. There are no right or wrong answers here, both characters must be victims and perpetrators in their path to happiness at any given moment, and it's tricky to make both sides sympathetic without playing the blame game. Authors must be extremely cognizant of this, as it can be incredibly difficult to present both points of view without assigning judgement to either. But by doing so, it gives readers a unique opportunity to see the different sides of this situation with empathy and understanding.
I very much wanted to add to this conversation, as it's not only something I personally experienced but also something that comes up a lot at school and library visits. Readers are hungry for complicated, messy love stories that reflect their own experiences.
It's with these thoughts in my head that I started drafting the dual protagonists in SOME GIRLS DO: Morgan who is out, in a very loud take no prisoners way, and Ruby who is decidedly not. Morgan is ready to take the world by storm, to an almost idealistic extent. She embraces and takes pride in who she is every day, even though her previous school tried to strip that away from her. Ruby, on the other hand, is well aware of her feelings towards other girls but has decided to ignore those feelings. Ruby's mother is very conservative, and she doesn't have a good support system. Not to mention the idea of anyone getting close enough to truly know her is enough of a deterrent to put Ruby off publicly coming out forever.
View this post on Instagram
Each of these girls, and their desires and dreams, could carry a novel by themselves if I had wanted to go down that path. Their love, and their positions on being out, are not the entirely of their story. However, if I only wrote from Ruby's point of view, readers may have been tempted to lash out at Morgan for trying to push Ruby out of her comfort zone. Conversely, if we'd only been in Morgan's head, we might have complained that Ruby is trying to push Morgan back into the closet. By being inside each girl's head, we can see the complicated gray areas that surround this relationship.
Both of their positions are incredibly valid. There may not be a grand declaration of love at a carnival in front of all their friends, and there may not be a clear path to their happily ever after, but there are other things. Things that happen in small moments full of big emotions. Readers are able to watch the evolution of both girls as they realize that the only way through is with good communication, and a degree of compassion and empathy that can only come from finding ways to meet not necessarily in the middle, but in their own place of love and understanding.
And while I devour fluffy stories, and epic grand gestures are some of my favorite things to read and write, it's equally important to find books that step outside that narrative and explore the complicated business of love and queerness. To let readers see themselves in all their difficult glory. Because the reality is that love and queerness and loving your queerness can be an incredibly messy process for some of us, and whatever that looks like for you, that's valid and worthy. It's your story. And we need to see ourselves in many, many, more of them.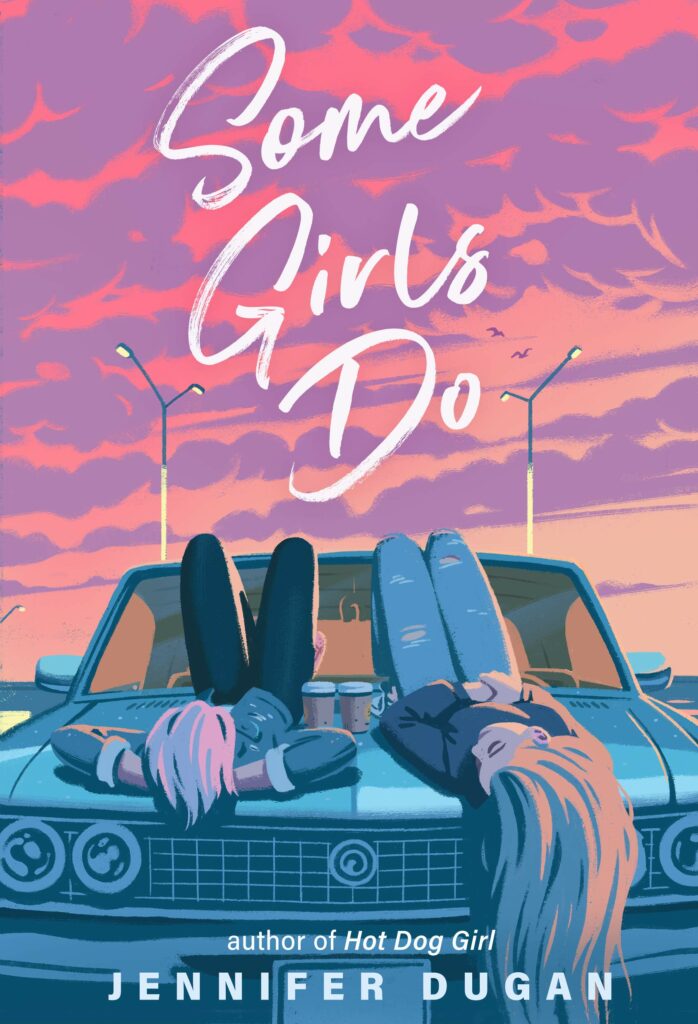 Get your copy of Some Girls Do by Jennifer Dugan here.