Hena Khan on her delightful new middle grade novel, Zara's Rules for Finding Hidden Treasure
"this is a deeply personal and special story to me, and that I honestly think it's my best writing."
Filled with joy, fun, a delightful cast of characters and a heartwarming message, Hena Khan's newest middle grade novel, Zara's Rules for Finding Hidden Treasure, is just further proof of what a gift Hena's writing is to the middle grade world. To celebrate the release of this gorgeous new story, we had the pleasure of chatting to Hena all about it.
---
Hi Hena, it's lovely to be able to chat to you today about your gorgeous new middle grade novel, Zara's Rules for Finding Hidden Treasure! For readers just hearing about it, how would you best entice them to pick up a copy of Zara's latest adventure?
Wow, thank you! I would tell them that the story is fast-paced fun with a relatable plot and lots of antics, but that it's also surprisingly deep with big ideas around what we trash, treasure, and why. We've got Marie Kondo in the book, the Hava Nagila, a shiny new bicycle, and a creepy old doll with blinking eyes—in other words, there's something for everyone! In all seriousness, I would tell them that this is a deeply personal and special story to me, and that I honestly think it's my best writing.
What inspired this chapter of Zara's story?
I lived in a house where nothing was thrown away, and that led to what we called the "junk room"—a place where you could find everything from outgrown clothes to embroidered pillow covers to old issues of National Geographic from the 1970s. That experience shaped a lot of how I think about saving, repurposing, or getting rid of things today. And I know that many people (kids included!) struggle with finding the right balance. I thought it would be fun to explore the theme through Zara's eyes, and it was cathartic to write many of the scenes.
What is it about writing for a middle grade audience you love so much?
I love the fact that the language can be direct and simple, and the plots can focus on everyday kid concerns, but still push readers to think deeply about things that impact them as they hopefully laugh at, connect with, and relate to my characters and stories.
View this post on Instagram
Zara is such a warm character to follow and one I'm sure readers of all ages and backgrounds can see parts of themselves in. Are there any aspects of Zara's character that come directly from your younger self?
Thank you! Well, Zara's closeness to her family and her love for the kids in her neighborhood comes straight out of my life, along with many of the specific things she does with them. I had a Naomi who lived across the street from me, and is still like a sister to me, and she and I had a tool shed clubhouse, a wagon-based business, big plans to break world records and more! It's so wonderful to mine my memories and to build parts of them into these books.
All of your books star Muslim main characters, for who Islam plays an intrinsic, natural and positive part of their life, something that's only been more common to see in literature in recent years. How important is it to you to write these characters?
It's essential to me, and I'm so grateful to be able to write stories that don't necessarily explain or highlight Islam, but simply make room for it to be part of my characters' lives. I grew up adoring characters who didn't look like me, or have families that operated like mine, but that never stopped me from relating to them or wishing I knew them in real life. And it makes me hopeful to know that kids who might not know Muslims in real life can grow to love Zara, Zayd and my other characters in the same way. At the same time, to know that Muslim readers feel seen and included in a way I never was is incredibly important to me.
Wastana Haikal's stunning illustrations are interspersed throughout the book. What's it like seeing these characters, who have always been in your head and words, come to life in this medium?
The part that impresses me the most is how well he captures expressions and emotions so well, and the incredible attention to detail that he includes in the illustrations. It's incredible to see the scenes and characters portrayed so cleverly, and the cover of the new book is phenomenal. I can imagine staring at it for hours as a kid and taking inventory of each item in the treasure wagon.
Finally, if Zara, Amina and the Mirza sisters were to meet at a party, how do you think they'd get on and if kid Hena were to be invited to this party, who do you think she'd find herself gravitating towards?
That is such an amazing question! I think Amina might be a little shy at first, but she would be excited to meet the Mirza girls and eventually find them to be the sisters she always wished she had. Zara would instantly charm all of them, and who knows, maybe even organize them into some kind of epic game! I can see little Hena loving each of these girls, and although I'm probably most like serious, quick-tempered, and bookish Jameela Mirza, I would probably want to be a bit more of a fun-loving, well-rounded leader like Zara.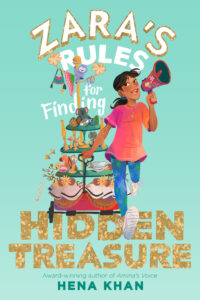 Get your copy of Zara's Rules for Finding Hidden Treasure by Hena Khan here.