F.T. Lukens on their romantic and magical new YA novel, Spell Bound
"as a lover of fantasy and speculative fiction, I want the worlds that I create to feel like a place where the reader would want to be"
To celebrate the release of their magical, romantic and brilliantly unique new YA novel, Spell Bound, we had the pleasure of talking to author F.T. Lukens about writing inspiration, the importance of seeing yourself in books to LGBTQIA+ reading recommendations and more.
---
We're thrilled to get to chat to you today to celebrate the release of your newest YA novel, Spell Bound! For readers just hearing about it, how would you best entice them to pick up a copy using just five words?
Rivals-to-lovers magical apprentices rebel together
How and when did the inspiration for Spell Bound hit you?
The ideas for Spell Bound came while I was driving home from DragonCon (a big SFF convention in Atlanta) and I was on the phone with my brother discussing magic systems. And the idea for magical wi-fi came up in that conversation as did the idea for electronic devices that could detect magic. And from there, I thought about how magic would work in a city setting and what type of conflicts could come about from that type of world. Once I had that part down, I started developing characters. I knew I wanted a sunshine/grump dynamic, and I knew I wanted a mentor figure with questionable motives. So worldbuilding came first for this novel and then characters.
View this post on Instagram
From the magic system to the Magical Consortium, the worldbuilding in Spell Bound is sensational! Did you have a favourite aspect to build?
My favorite aspect of the worldbuilding was actually coming up with the small details of the curses, hexes, and jinxes. In the B&N Special Edition of the book, there is a section that highlights different cursed objects and another that talks about the different cases the group handles. Also, developing the small adventures for Rook and Sun to participate in was so fun – from singing mice to the haunted house of cursed objects. I also love Herb the coatrack and the cursed welcome mat.
Rook and Sun are both equally brilliant characters, despite being so different. Do you see yourself in one more than the other and how well do you think you'd get on with the pair in real life?
Though I love both characters, Sun and I share a lot of similarities. We have the same personality basically. And we both are sensory defensive, have anxiety, take comfort in rules, and are awkward in social situations. Teenage FT also wore a lot of black and ball caps. This doesn't mean that I don't love Rook and don't see myself in him a bit. He's channeled his grief into ambition and despite all his hardships has retained his sunny disposition. And when I wrote this book, I had just lost my father to cancer the year before and as I write this interview, I just lost my mother to ALS. So, I can appreciate how Rook has kept his optimism and drive despite everything. As for the second part of this question, I'd probably get along best with Fable to be honest.
View this post on Instagram
One of the wonderful and standout aspects of Spell Bound and your books in general, is the LGBTQIA+ rep and the queer normative societies you've built. Can you tell us a little about why this is so important for you to include in the stories you create?
Since the start of my writing career, I've felt that it's important in my fantasy worlds that the characters feel real and accessible. And diversity, inclusion, and intersectionality are real life for young adult readers. And as a lover of fantasy and speculative fiction, I want the worlds that I create to feel like a place where the reader would want to be. When I was growing up, I loved reading sci-fi and fantasy books. And while there were characters that I related to and there were definitely stories that I loved, there wasn't a singular character that I could point to and say, 'yes, that character right there is like me.' Because while I'm certain there were books being written with queer characters and neurodivergent characters, I didn't have access to them. I didn't know where to look for them. So, it's important to me that I write stories where queer young adults can see themselves as heroes and can see that happy endings are possible. Spell Bound is particularly special to me in this regard as I do relate so much to the characters and that the narrative focuses on self-acceptance and finding a safe place to belong.
Are there any LGBTQIA+ titles you've read lately or are looking forward to reading that you'd like to put on everyone's radar?
I absolutely loved The Honeys by Ryan La Sala that came out last year. He has another one coming later this year called Beholder that looks fantastic. Also, Fake Dates and Mooncakes by Sher Lee is coming soon as well which is a joyful romcom that I enjoyed.
I recently read The Spells We Cast by Jason June which is a contemporary fantasy with a really interesting magic system that was wildly entertaining. Robbie Couch's If I See You Again Tomorrow is a time loop romance that I can't wait to read. Recent releases at the top of my TBR are The Wicked Bargain by Gabe Cole Novoa and As You Walk On By by Julian Winters.
Finally, are you currently working on anything new and if so, is there anything you can share with us about it?
I'm currently working on edits for my next novel which is another contemporary fantasy but this one incorporates gods and goddesses and deals made at a crossroads. More on that one will be revealed soon.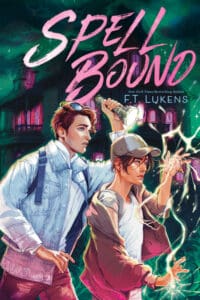 Get your copy of Spell Bound by F.T. Lukens here.