Cosy YA rom-com reads to snuggle up with this winter
Tis' the season to fall in love with a new winter rom-com
Grab a giant mug of hot chocolate (whipped cream and marshmallows are a must), pull on a pair of super fluffy socks, curl under the warmest of blankets and prepare yourself to fall in love with one of these gorgeously romantic, festive and cosy YA winter rom-com reads.
---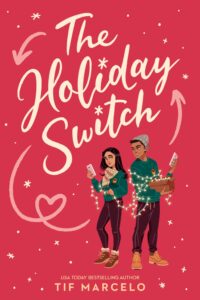 The Holiday Switch by Tif Marcelo
Lila Santos is ready for her last winter break of high school. The snow in her small town of Holly, New York, is plentiful, the mood is as cozy as a fuzzy Christmas sweater, and she's earning extra cash working at the local inn–AKA the setting of the greatest film of all time, Holiday by the Lake–while moonlighting as an anonymous book blogger.
But her perfect holiday plans crash to a halt when her boss's frustratingly cute nephew, Teddy Rivera, becomes her coworker. Lila is type A; Teddy is type "Anything but Lila's Way," and the two of them can't stop butting heads over tangled icicle lights and messy gift shop merch. But when they accidentally switch phones one afternoon, they realize they've both been hiding things from each other. Will their secrets–and an unexpected snowstorm–bring these rivals together?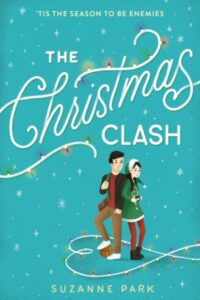 The Christmas Clash by Suzanne Park
Chloe Kwon can't stand Peter Li. It's always been that way. Their families don't get along either: their parents operate rival restaurants in the Riverwood Mall food court–Korean food for the Kwons and Chinese food for the Lis. Now it's the holiday season and Chloe's the photographer at the mall's Santa's Village, and Peter works at the virtual reality North Pole experience right across the atrium. It's all Chloe can do to avoid Peter's smug, incredibly photogenic face.
But it turns out the mall is about to be sold to a developer and demolished for condos. Eviction notices are being handed out right before Christmas. Their parents don't know what to do, and soon Chloe and Peter realize that the two of them need to join efforts to try to save the mall. Just when it seems like they can put aside their differences and work closely (very closely) together, they discover that the Kwon and Li feud goes far deeper than either of them realize…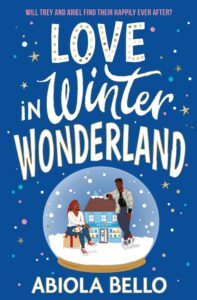 Love in Winter Wonderland by Abiola Bello
Trey Anderson is popular and handsome, and he works at his family's beloved Black-owned bookshop, Wonderland. Ariel Spencer is quirky, creative, and in need of a holiday temp job to cover her tuition for The Artists' Studio. An opening at Wonderland is the answer . . . and the start of a hate-to-love journey for Trey and Ariel. When Trey and Ariel learn that Wonderland is on the brink of shutting down, can they get over their differences and team up to stop the doors from closing before the Christmas Eve deadline?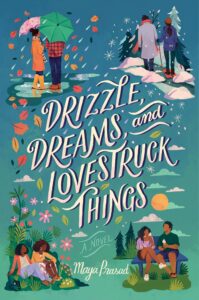 Drizzle, Dreams and Lovestruck Things by Maya Prasad
The Singh sisters grew up helping their father navigate the bustle of the Songbird Inn. Nestled on dreamy and drizzly Orcas Island in the Pacific Northwest, the inn's always been warm and cozy and filled with interesting guests—the perfect home. But things are about to heat up now that the Songbird has been named the Most Romantic Inn in America.
Nidhi has everything planned out—until a storm brings a wayward tree crashing into her life one autumn . . . and along with it, an intriguing construction worker and a yearning for her motherland. Suddenly, she's questioning everything she thought she wanted.
Avani can't sit still. If she does, her grief for Pop, their dad's late husband, will overwhelm her. So she keeps moving as much as she can, planning an elaborate Winter Ball in Pop's memory. Until a blizzard traps her in a barn with the boy she accidentally stood up and has been actively avoiding ever since.
Sirisha loves seeing the world through her camera, but her shyness prevents her from stepping out from behind the lens. Talking to girls is such a struggle! When a pretty actress comes to the Songbird with her theater troupe, spring has sprung for Sirisha—if only she can find the words.
Rani is a hopeless romantic through and through. After gently nudging her sisters to open their hearts, she is convinced it's finally her turn to find love. When two potential suitors float in on a summer breeze, Rani is swept up in grandeur to match her wildest Bollywood dreams. But which boy is the one she's meant to be with?
Ultimately, the magic of the Songbird Inn leads the tight-knit Singh sisters to new passions and breathtaking kisses—and to unearth the truest versions of themselves.
Whiteout by Dhonielle Clayton, Tiffany D. Jackson, Nic Stone, Angie Thomas, Ashley Woodfolk, and Nicola Yoon
Atlanta is blanketed with snow just before Christmas, but the warmth of young love just might melt the ice in this novel of interwoven narratives, Black joy, and cozy, sparkling romance—by the same unbeatable team of authors who wrote the New York Times bestseller Blackout!
As the city grinds to a halt, twelve teens band together to help a friend pull off the most epic apology of her life. But will they be able to make it happen, in spite of the storm?
No one is prepared for this whiteout. But then, we can't always prepare for the magical moments that change everything.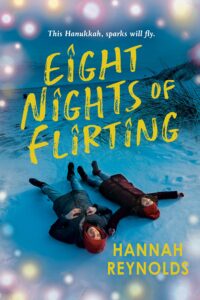 Eight Nights of Flirting by Hannah Reynolds
Shira Barbanel has a plan: this Hanukkah, she's going to get a boyfriend. And she has the perfect candidate in mind—her great-uncle's assistant, Isaac. He's reliable, brilliant, and of course, super hot. The only problem? Shira's an absolute disaster when it comes to flirting.
Enter Tyler Nelson, Shira's nemesis-slash-former-crush. As much as she hates to admit it, Tyler is the most charming and popular guy she knows. Which means he's the perfect person to teach her how to win Isaac over.
When Shira and Tyler get snowed in together at Golden Doors, they strike a deal—flirting lessons for Shira in exchange for career connections for Tyler. But as Shira starts to see the sweet, funny boy beneath Tyler's playboy exterior, she realizes she actually likes hanging out with him. And that wasn't part of the plan.
Amidst a whirl of snowy adventures, hot chocolate, and candlelight, Shira must learn to trust her heart to discover if the romance she planned is really the one that will make her happiest.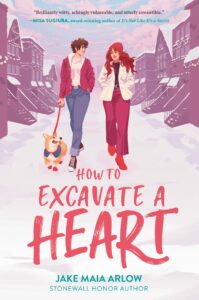 How to Excavate a Heart by Jake Maia Arlow
It all starts when Shani runs into May. Like, literally. With her mom's Subaru.
Attempted vehicular manslaughter was not part of Shani's plan. She was supposed to be focusing on her monthlong paleoichthyology internship. She was going to spend all her time thinking about dead fish and not at all about how she was unceremoniously dumped days before winter break.
It could be going better.
But when a dog-walking gig puts her back in May's path, the fossils she's meant to be diligently studying are pushed to the side—along with the breakup.
Then they're snowed in together on Christmas Eve. As things start to feel more serious, though, Shani's hurt over her ex-girlfriend's rejection comes rushing back. Is she ready to try a committed relationship again, or is she okay with this just being a passing winter fling?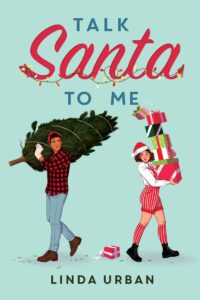 Talk Santa to Me by Linda Urban
Francie was born in a stable. Really. Granted, it was the deluxe model with the light-up star on the roof, one of the many Christmas items for sale at her family's Hollydale Holiday Shop. Their holiday gift empire also includes the Santa School, which was founded by Francie's beloved grandpa, who recently passed away.
Francie's always loved working in the shop, but lately Aunt Carole has been changing everything with her ideas for too-slick, Hollywood-inspired Santas and horrible holiday-themed employee uniforms. Aunt Carole's vision will ruin all the charm and nostalgia Francie loves about her family's business…unless she does something about it.
But this winter is about more than preserving the magic of Christmas. Francie is saving up for a car and angling to kiss the cute boy who works at the tree lot next door—hopefully it will be good enough to wipe her fiasco of a first kiss from her memory.
As the weather outside gets more and more frightful, can Francie pull off the holiday of her dreams?