Brenna Thummler on why she writes books that challenge young readers
"It is my belief that challenging or banning books assumes children are so weak and susceptible to moral and mental destruction that they can't be exposed to it on paper."
This guest post was written by Brenna Thummler, author and illustrator of Sheets and Delicates.
A book is not one fixed story. It is malleable, shaped by each individual reader and their experiences. A character's emotion, whether it be grief, joy, anger, or otherwise, may be understood universally, but felt personally. I have the luxury of sending readers to a place of my choosing, imagined by me, and I assume this is the closest anyone will get to feeling like a wizard. The problem is that fiction is never entirely fictional: These imagined worlds still have human concepts and emotions. And if I want to capture true humanity, I can't hope to write what each individual reader needs to hear. This is where my greatest fear lies.
Authors are accused of getting things wrong, of speaking out of turn, of writing dangerous content, and I don't doubt that many such accusations are legitimate. But it makes me think back to my senior year in college, when the idea for Sheets came to fruition. I was depressed and in the depths of a severe eating disorder. I remember reading about others' experiences with eating disorders, attempting to find a path out of my own. The victims would share their triggers but, unsurprisingly, their triggers were different from mine. What they warned people not to say, I desperately needed people to say, and it became clear that mental health is strictly individualized.
View this post on Instagram
We can't, however, avoid saying things altogether. Delicates features a new protagonist of color, along with subtle themes of death, depression, bullying, and suicide, and I was terrified to write it. It's strange when your book's release day looms and you think, "There's a chance a lot of parents and educators will be very upset with me." But I was more terrified to not write it. It's true: The more authors challenge their readers, the more their books are challenged back, but staying silent in literature is not the answer.
Parents have a right to be concerned about the effects a book will have on their kids. But fiction is just a controlled version of reality—a world separate from ours, but which plays host to all the same issues. Stories are safe environments for young readers to learn how to navigate their emotions, to identify internal and external problems that they're already facing, and to develop greater understanding and empathy. Stories provide solace in the fact that their readers are not alone. In referring to this, Stetson University psychology professor Chris Ferguson states, "…many children have already been exposed to these difficult situations in their real lives and books may provide an opportunity for children to explore their own conflicts with relatable characters."
It is my belief that challenging or banning books assumes children are so weak and susceptible to moral and mental destruction that they can't be exposed to it on paper. How must young readers feel if adults don't trust them to experience a challenge? Kids are human and they deserve to be celebrated as individuals, as well as prepared for inevitable adversity. We don't suddenly wake up one day as adults, with the ability to face the world after years of repression. Our experience with conflict starts from the moment we're born. Waiting until a "proper age" assumes that anyone below that age faces no mental health challenges.
View this post on Instagram
I grew up in a household where conflict was repressed. Crying was deemed pointless. Resolution meant waiting for the anger to subside and pretending like everything was okay—avoiding talking about the issues because such discussions would supposedly be worse than the silence. I wasn't exposed to books that would help, and I was either too afraid to talk about my emotional struggles, or too unaware of exactly what those struggles were. My battle with mental health over the last decade has not been from exposure to fiction. It has stemmed from the silence, and the inability to comfortably feel and discuss my thoughts or problems.
Recently I had the privilege of speaking with a class of seventh graders, who told me their favorite parts in Sheets. One girl was proudly vulnerable—the complete opposite of me at that age—and shared that she loved when Marjorie and Wendell stepped into the water at the end, finally able to face something that took lives away from them. With a grin, she said she cried and got "so emotional," even as she couldn't quite pinpoint why. To me, this proves that regardless of personal experiences and opinions on how sensitive topics are portrayed, emotions are universal.
Depression, loneliness, frustration: These are all strongly present in both Sheets and Delicates, and not in ways that I myself have experienced. I don't know what it's like to lose your mom, or to run a business as a teen, or to realize that your laundry is haunted. But I do know what it feels like to be overwhelmed and alone, and just as I use empathy to write my stories, I hope that readers will develop greater empathy themselves. It is not my intent to preach correct answers, but to open a dialogue and help readers ask the right questions.
View this post on Instagram
My goal as a writer is to continue ignoring the fear. To not write "depressing" books, but books that are emotionally complex. To not overwhelm kids with scary challenges, but to show they can overcome them. To not protect them from sad books, but with sad books, and consequently teach them how to tackle unfamiliar, uncomfortable feelings. To trust my readers. To tell the truth, and in doing so prove it won't hurt them.
Kids are intelligent and curious and bold. Rather than restrict literature, why not use these "scary" books as tools? Even if you don't agree with a book's content, it's the perfect gateway to spark those difficult conversations. Rather than knock on your child's door one day and say, "Hey, Molly. Let's talk about depression," you might instead sit her down to discuss the book's characters, what they went through, and how Molly felt about it. For books are both distant and close, real and not real, and act as the fictional map across nonfictional terrain. And it is our responsibility as authors to play the role of mapmaker—to help guide readers across the roughest and riskiest landscapes.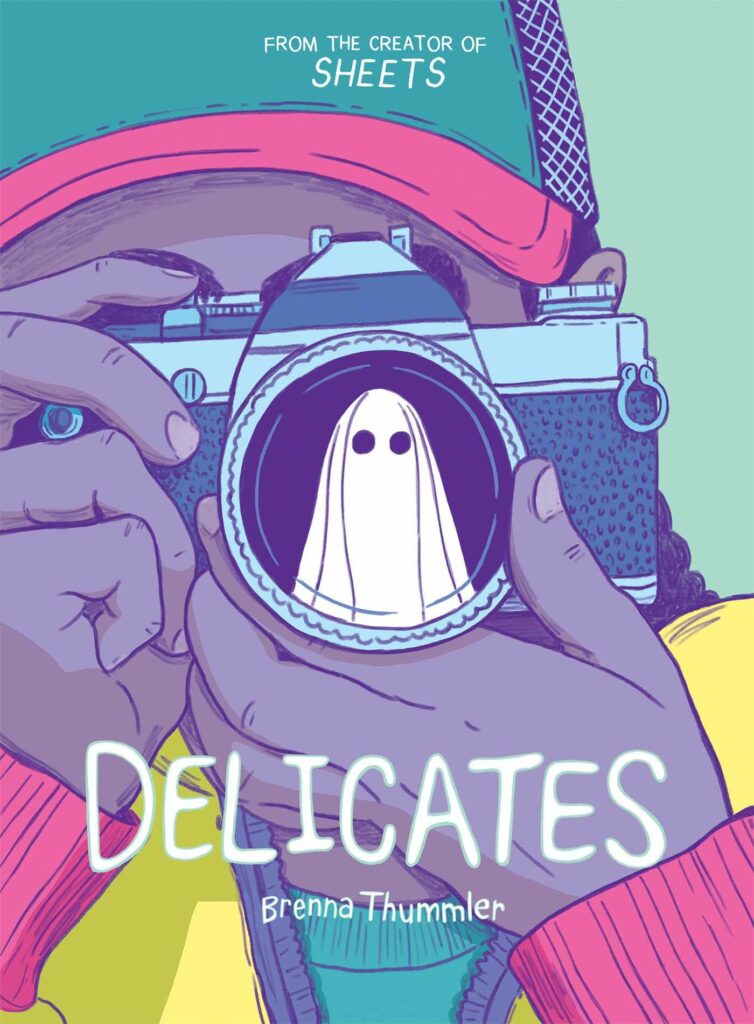 Delicates by by Brenna Thummler comes out 16th March 2021. Pre-order your copy here.