Books Remind Us We Are All Time Travelers by Chandra Prasad, author of Mercury Boys
"As Covid continued to wreak havoc around the world and millions of us were spending a lot more time at home, I spent more and more time in the 1800s."
This post was written by Chandra Prasad, author of Mercury Boys
In my upcoming young adult novel Mercury Boys (Soho Teen, Aug. 3), an intrepid group of high school girls discovers a way to visit people in the old photographs known as daguerreotypes. While the book mostly takes place in the present, historical interludes introduce a variety of characters from the 19th century: a plucky women's suffrage crusader, a roguishly charming pickpocket, and an injured Union soldier, among others. I love doing historical research and it was exciting for me to learn what these characters' lives might have been like. It was also an escape. As Covid continued to wreak havoc around the world and millions of us were spending a lot more time at home, I spent more and more time in the 1800s.
From the safe distance of my desktop computer, the 19th century came alive as I watched Robert Cornelius (Cornelius is the only real-life historical character in Mercury Boys; the rest are imagined) set up his tripod on a cobblestone street in Philadelphia, remove the lens cap from his wood camera, and dash in front of it to create the world's first-ever selfie. I stepped into Wesleyan Chapel in Seneca Falls, New York with three hundred others on a sweltering summer day in 1848 to listen to Elizabeth Cady Stanton and Lucretia Mott passionately argue in favor of women's right to vote. I paid for a ticket to New York City's Exhibit of Industry of All Nations, which was considered America's first World's Fair. The exhibit took place in a soaring, architectural marvel of a building called the Crystal Place, which was made of steel and glass and took up almost an entire city block. The Crystal Palace was like a dream that ended in a nightmare. A sweeping fire caused it to collapse in 1858.
Frequent fires. No antibiotics. An average life expectancy of 40 years. The nineteenth century was hardly a safe time in America—definitely no safer than the present. America's Civil War claimed more than 600,000 lives. Women frequently died in childbirth. Children succumbed in great numbers to diseases that are now preventable. Even so, I tried to see the past through rose-colored glasses—until I couldn't anymore. The more I researched Mercury Boys, the more distinctly I saw the connections between its era and ours. In my mind whatever line separated the two began to vanish.
View this post on Instagram
In the present, the Black Lives Matter movement has been gaining the momentum and visibility it has always deserved. George Floyd and Breonna Taylor have become names we cannot afford to forget. In the historical interstitials of Mercury Boys, the war ravaging the country was a reckoning over the unconscionable institution of slavery. In both the past and the present, the stakes couldn't be any higher. Moreover, the long, terrible shadow slavery has cast has never been more evident.
In my novel the girls use liquid mercury to "access" the people in daguerreotypes. The teens willingly handle a toxic substance that could have grave health consequences in order to forget their troubled lives for a little while. The more they use mercury, the more addicted they become. In the present, opioid overdoses and deaths are surging, and show no sign of slowing down.
In the 19th century historical interstitials of Mercury Boys, women had few rights. They couldn't vote. Married women had no control over property. Most professions, including medicine and law, barred women from entering. In the present, women's right to choose has been coming under attack in a number of states. As our courts become increasingly conservative, the prospect of Roe v. Wade being overturned has started to feel very real.
Philosophers from the earliest days have said that time is cyclical, and that history—both the bad and the good—is destined to be repeated. I suspect this is true. Because the more I read (and write), the more I realize that eras and people are radically interconnected. Working on Mercury Boys might have been a solitary pursuit, but it reinforced the notion that we are all bound to one another. Always have been and always will be.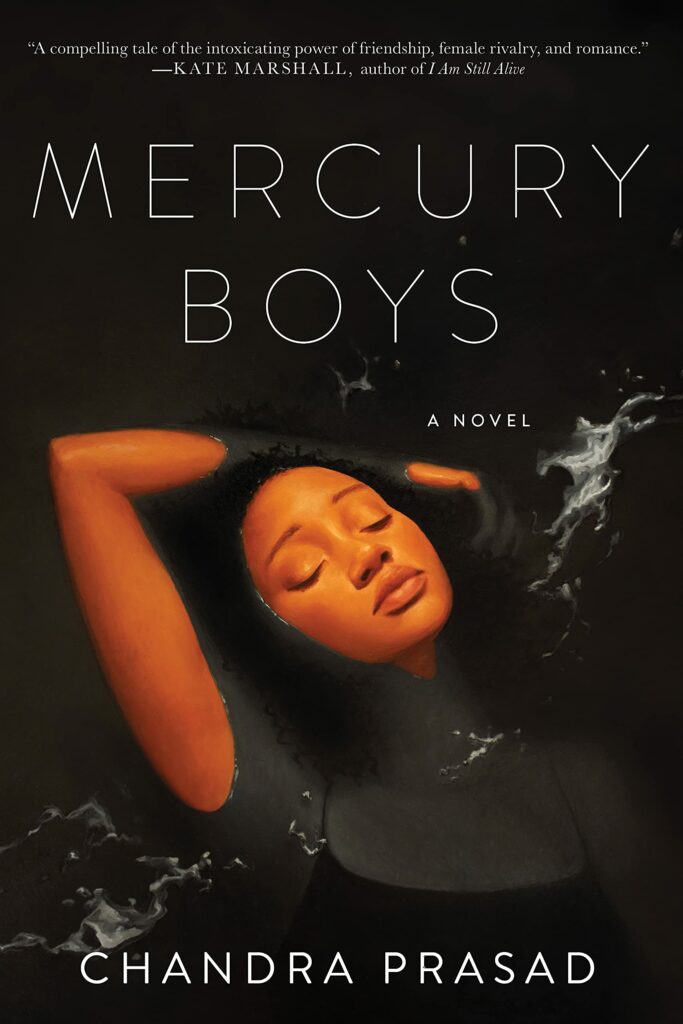 Get your copy of Mercury Boys by Chandra Prasad here.