B.K. Borison shares her most anticipated romance novels for the second half of 2023
(Go ahead and cancel all your plans for October now. The month is stacked.)
This post was written by B.K. Borison, author of In The Weeds.
I'm absolutely vibrating with excitement to get my hands on these romances from some truly spectacular authors.
I feel like 2023 has been an abundance of riches when it comes to romance novels, and there's no shortage of excellent, heart-pounding, toe-curling, vulnerable stories left to come in the second half of the year. Here are some of the books I am most looking forward to.
(Go ahead and cancel all your plans for October now. The month is stacked.)
---
In The Case of Heartbreak, Courtney Kae
Release: July 25, 2023
Do you like cinnamon roll men? Do you like cinnamon rolls? If your answer is yes, you don't want to miss Courtney Kae's latest. This queer romance between a pastry chef and his indie rocker crush is the perfect way to close out your summer.
With Love from Cold World, Alicia Thompson
Release: August 1, 2023
The cover of this stunner was the first thing to catch my attention in the second novel from Alicia Thompson. A workplace rivalry set in a winter-themed amusement park, I'm sure things will start to heat up between Lauren and Asa.
The Long Game, Elena Armas
Release: September 5, 2023
Elena has established herself as a slow burn affianado and I just know this book is going to serve. Two grumps. One an ex soccer star and the other an ex soccer executive. Trapped together in a quirky small town and there are … goats? I also here there's a smoking hot pottery scene. Elena serves up laughs, steam, and heart that will leave you coming back for more.
Things We Left Behind, Lucy Score
Release: September 5, 2023
2023 just might be the year of Lucy Score. The hotly anticipated conclusion to the Knockmeout Series is the story of Lucian and Sloane, a fiery enemies to lovers that I am absolutely feral for. I can't wait to see how these two opposites attract.
A Curse for True Love, Stephanie Garber
Release: September 12, 2023
I am so looking forward to the conclusion of this series, especially with how the last book ended. You'll find me huddled in my bed on September 12, my nose in a book. A Curse for True Love will finally reveal who will win the battle for Eva's heart, and my money (and hopes) are on Jacks.
Wildfire, Hannah Grace
Release: October 3, 2023
Her follow up to her sensational debut Icebreaker, Wildfire packs the same steam with a deep emotional punch. It's an absolute delight to read about Russ and Aurora's individual journeys as well as the path they travel as a couple. Plus, the steamy scenes might start your very own wildfire.
Wreck the Halls, Tessa Bailey
Release: October 3, 2023
Tessa Bailey and Christmas? Say less. The adult children of two former rockstars team up to try and get their parents to perform a Christmas Eve concert? SAY LESS. I'm looking forward to settling in front of the fire with Tessa's signature heat, charm, and wit. Marshmallows optional.
Better Hate Than Never, Chloe Liese
Release: October 10, 2023
I'm going to go ahead and humble brag (again) that I had the pleasure of reading this book early and it is an absolute stunner. Chloe is so talented at writing characters with earnest vulnerability. Her care and love for them is reflected in every word on the page, and Christopher and Kate are no exception. A childhood enemies to lovers with enough tension to have you fanning your face, you don't want to miss this one. Trust me, please.
Hopeless, Elsie Silver
Release: October 13, 2023
Save a horse, ride a cowboy. Especially if Elsie Silver is the one writing the cowboy. I can't wait to get my hands on the fourth installment of the Chestnut Springs series. Elsie write sexy with a dash of vulnerable that will leave your toes curling and your heart pounding.
Iron Flame, Rebecca Yarros
Release: October 31, 2023
Rebecca Yarros took the world by storm earlier this year with Fourth Wing, and like the benevolent queen she is, she is bestowing another installation in the romantasy series within the same year. Add exclamation points here!!! I'm eager to see how Xaden and Violet continue to grow together … or apart in this sexy, magical, dragon-filled romp.
Do Your Worst, Rosie Danan
Release: November 14, 2023
I had the distinct pleasure of getting to read this book early, and there is one line that sent me strolling around my apartment. I had to calm down before I could continue. It's whimsical, sexy, smart as hell, and deliciously quick. I think it's Rosie's best work to date. Definitely make sure your calendars are marked for this one.
What books are you looking forward to in the second half of the year?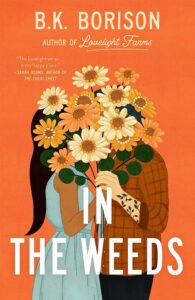 Get your copy of In The Weeds by B.K. Borison here.