Aneesa Marufu on her captivating debut YA novel, The Balloon Thief
"even if readers cannot relate to a story about two friends saving the world in a hot air balloon, they can relate to the feelings of prejudice and unbelonging that the two characters are facing"
This post is sponsored by Chicken House Books.
With adventure, magic, travel, friendship and fantastic discussions of misogyny and racism, Aneesa Marufu's YA debut, The Balloon Thief, is an exciting, captivating and transportive read you won't want to put down and we had the pleasure of talking to Aneesa all about it.
---
Hi Aneesa, it's lovely to talk to you today to celebrate the release of your debut YA novel, The Balloon Thief! How does it feel knowing this story that's been all yours for so long is now out in the world and in the hands of readers across the world?
It is honestly such an incredible feeling, although I would probably best describe it as equal parts exciting and nerve-wracking! For so long this has been a book that was only read by a handful of people, and now that it is finally out in the world, it is slightly daunting knowing that people will read my book and form opinions – and not all of them will be positive! I suppose that is the reality of being an author and putting your work out there. The best part of this journey has definitely been reading the lovely reviews and seeing how many readers have connected with my story in some way, and that has made what was a long journey to publication completely worth it!
Can you tell us a little about the inspirations behind the story of The Balloon Thief?
My own experiences with racism and Islamophobic bullying as a teenager are what inspired the themes of racism, extremism and terrorism that feature in the book. Growing up as a British Pakistani and a Muslim I often felt I never quite fitted in, I didn't know where I belonged, I didn't feel wholly accepted by society. I wanted to write a book that tackled these issues in a fantasy world, where I would be free to explore these themes without the constraints of the real world. The result is a story about two main characters from opposing races who are forced to put their differences aside to tackle a greater threat, and in doing so discover that they are not as different as they previously thought and that their prejudice and preconceptions about the other come from a place of fear and a lack of understanding. I think this is an important message that is highly relevant in today's world and that a lot of readers will be able to relate to.
View this post on Instagram
As well as being a fantastical adventure filled with magic and friendship, The Balloon Thief also brilliantly explores themes like racism and misogyny. How did you go about finding a balance between these two aspects of the story whilst writing?
I think what has always drawn me to fantasy as a genre is the fewer limitations to what you can create and explore. When you remove the real-world element you are no longer restricted by historical and cultural accuracy, meaning that as an author you can explore themes and take them to extremes, discover their outcomes in this fantasy world and how they affect the characters, the type of people they are forced to become, and the decisions they have to make. Exploring everyday themes like racism and misogyny within a fantasy world adds that sense of realism to a story that can make it much more relatable, even if readers cannot relate to a story about two friends saving the world in a hot air balloon, they can relate to the feelings of prejudice and unbelonging that the two characters are facing.
Khadija is such a strong and exciting character to follow and one I'm sure many readers will be able to relate to in some way or another. Are there any parts of her you see yourself in or any ways in which you're totally different?
I first began writing Khadija's character with my teenage self in mind. If I was faced with the opportunity of an adventure in the form of a rogue hot air balloon, I imagine I most certainly would have leapt at the chance! Khadija is determined and headstrong, but she is also very mistrusting and fearful, especially towards Jacob initially. As the book unfolds and her prejudice begins to melt away, we see the caring and protective side to Khadija's nature, which are the qualities I feel I connect with the most about her.
View this post on Instagram
If you could jump on a hot air balloon and travel anywhere in the world right now, where would you go and why?
It would have to be Australia. Somewhere warm and beautiful with clear skies and glorious sunsets!
If you could put a copy of The Balloon Thief in teen Aneesa's hands, what do you think her reaction would be?
I think she would be pretty amazed that I finally accomplished what she always dreamed of doing, and hopefully it would convince her that there is nothing lame about enjoying books!
Finally, do you currently have any projects in the works and if so, is there anything you can tell us?
I am one of those people who can't focus on one thing at a time, so I am currently jumping between three different projects, all YA fantasies, two of which are standalones, although I can't say much at the moment unfortunately!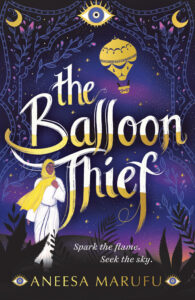 Get your copy of The Balloon Thief by Aneesa Marufu here.