Abiola Bello on her new YA rom-com, Love in Winter Wonderland
"I didn't think that I could write it but I'm not one to back away from a challenge."
To celebrate the release of her gorgeously cosy and romantic, winter YA rom-com, Love in Winter Wonderland, we had the pleasure of chatting with Abiola Bello all about rom-com's, dream movie castings, writing inspirations and more.
---
Hi Abiola, we're so excited to have you on the site today to celebrate the release of your new YA rom-com, Love in Winter Wonderland. For readers just hearing about this perfectly wintery read, how would you best describe it to them?
Thanks for having me! I would describe it as a love story set in a Black owned Hackney bookshop that has themes of community, grief, the importance of family and the arts.
Can you tell us a little bit about the inspiration behind Trey and Ariel's story?
It was the lack of romance stories featuring Black people that was really the idea around the book, especially ones set at Christmas time. When my agent asked me to think of any I couldn't and that is a massive problem.
Having previously written middle grade fantasy, what was it like switching to writing a YA rom-com?
Daunting! I didn't think that I could write it but I'm not one to back away from a challenge. It was surprisingly easier than I thought it was going to be but if my agent hadn't of pushed me I don't think I would have wrote it. So I'm glad she did.
Love in Winter Wonderland ticks all the boxes for the perfect Christmas rom-com! Do you have a favourite rom-com movie or book you find yourself recommending each year?
Thank you! I love the 90's rom-com movies so Never Been Kissed, 10 Things I Hate About You, Save The Last Dance, She's All That, The Best Man. And with books Holding Up The Universe by Jennifer Niven, Excuse Me While I Ugly Cry by Joya Goffney, Before I Fall by Lauren Oliver, Spellbound and Jemima J by Jane Green, Nothing Burns As Bright As You by Ashley Woodfolk, To All The Boys I've Loved Before by Jenny Han. The list is actually endless so I'm not sure why I doubted that I could write a rom-com! I can devour a Jackie Collins novel but not sure if that's rom-com…
View this post on Instagram
I think anyone who has read Love in Winter Wonderland would agree that it would make the most incredible Christmas movie! If it were to be adapted to screen, do you have a dream casting for Ariel and/or Trey?
Oh I love that! And fingers crossed. There isn't a Black British girl I've seen that I thought would make a good Ariel so maybe she's an undiscovered beauty? But I'm holding out for Damson Idris as Trey. Damson in a rom-com – the girls will run to the cinema!
If you had to describe both Trey and Ariel using one Christmas song, which would you choose for them individually, as a couple and why?
For Trey it would be Loneliest Time of Year by Mabel because he's so stressed about Wonderland that he can't enjoy the build up to Christmas and for Ariel it would be Christmas Love by Ashanti because she's anxious about it being the first Christmas without her dad but she's gotten close to Trey and that's brought her so much joy.
Together maybe Holiday Celebrate by Toni Braxton because it's about being so excited to be with the person you're into and celebrating together. It's a song about longing for someone and kissing them which is basically Trey and Ariel throughout most of the book!
Finally, do you have any favourite 2022 reads you'd like to recommend?
I've read so many fantastic books but I would recommend The King Is Dead by Benjamin Dean, When Our Worlds Collided by Danielle Jawando and Bad Things Happen Here by Rebecca Barrow.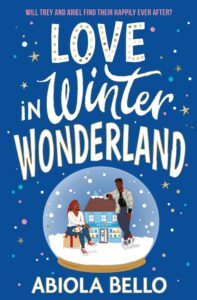 Get your copy of Love in Winter Wonderland by Abiola Bello here.