GOT7's Jinyoung, Park Hae Soo, Sol Kyung Gu and more are ruthless spies in Yaksha
Yaksha: Ruthless Operations will be released worldwide on Netflix on April 8
Netflix have released the official trailer and poster for the highly anticipated Korean spy movie Yaksha: Ruthless Operations.
Some of the finest Korean actors, Sol Kyung Gu, Park Hae Soo, Yang Dong Geun, Lee El, Song Jae Rim, and GOT7's Jinyoung star in this spy action movie packed with thrill. It follows the Black Ops team, a secret operations team under the National Intelligence Service (NIS) led by "Yaksha" in Shenyang, China – known to be the most prominent front for spies.
The Black Ops team, led by Ji Kang In (Sol Kyung Gu), go under limelight and scrutiny when prosecutor Han Ji Hoon (Park Hae Soo) from the Seoul Central District Prosecutors' Office joins them after a demotion.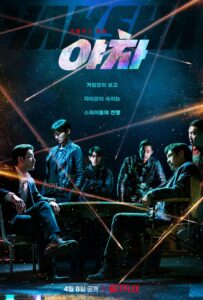 The movie will unfold the battle between the Black Ops team, the special inspector prosecutor, and intelligence agents from other countries. The team operations are questioned when the prosecutor joins. The team leader – and his team – start to mess up with spies in the Shenyang region.
The trailer starts with the lines "I heard this city has the highest density of spies in the world" and introduces the Black Ops team members getting ready for their operation. The sequence shows Han Ji Hoon following the team and the special unit's distrust in his regards. The movie features a battle between spies from various countries in Northeast Asia, including Japan, China, and North Korea.
Yaksha: Ruthless Operations is directed by Na Hyun, who directed 2017's The Prison.
Watch the trailer for Yaksha: Ruthless Operations below.
"Yaksha: Ruthless Operations" will be released worldwide on Netflix on April 8.