Twitter
She-Hulk Recap: Episode 5 | She-Hulk finally gets a new wardrobe
It's Titania vs. Jen in the latest episode, "Mean, Green, and Straight Poured Into These Jeans."
With only four more episodes left, She-Hulk: Attorney at Law's fifth episode brings more Titania (Jameela Jamil) and better suits for Jen (Tatiana Maslany). Episode five titled, "Mean, Green, and Straight Poured into These Jeans", begins with a parody of an influencer's make-up, wellness, and skincare brand. If you remember, last week's episode ended with Titania suing Jen for ownership of the name, She-Hulk; so naturally, Titania is exploiting Jen's name and using it as her brand's name. While Jen can't escape Titania's popularity, she has been taking this lawsuit in stride.
But to try and stop Titania, Jen and Nikki (Ginger Gonzaga) still decide to visit her at her pop-up at The Grove; and unfortunately for Jen, Titania has become quite the popular influencer. As Jen is looking at all the products Tatiana is selling,she remarks, "She's literally selling snake oil." (That's never a good sign.) Jen confronts Titania but it's no use. Titania will continue to sell products using She-Hulk's name.
If you had fun watching Madisynn and Wong team up last week, Nikki and Pug (Josh Segarra) make for another fun and dynamic duo. Pug needs a favor from Nikki. He wants her to stand in line with him waiting for a sneaker drop. Apparently, Iron Man Threes are dropping and Pug needs one to wear and one to show off. Nikki only agrees when Pug mentions his "Drip Broker." (A possible reference to the "Power Broker" from The Falcon and Winter Soldier). Being the good friend Nikki is, Nikki wants to meet this drip broker to find new clothes for Jen. Cut to them showing up at a Bobo Cafe; it's apparently a front for a superhero clothing business. They don't exactly meet the drip broker just someone who knows him and who sells knock-off Avengers merch; misspelling the Avengers for "Avongers." and "Avingers."(Not going to lie, I would totally wear that merch). It's a funny bit that ultimately leads Nikki and Pug to make contact with this mysterious fashion designer.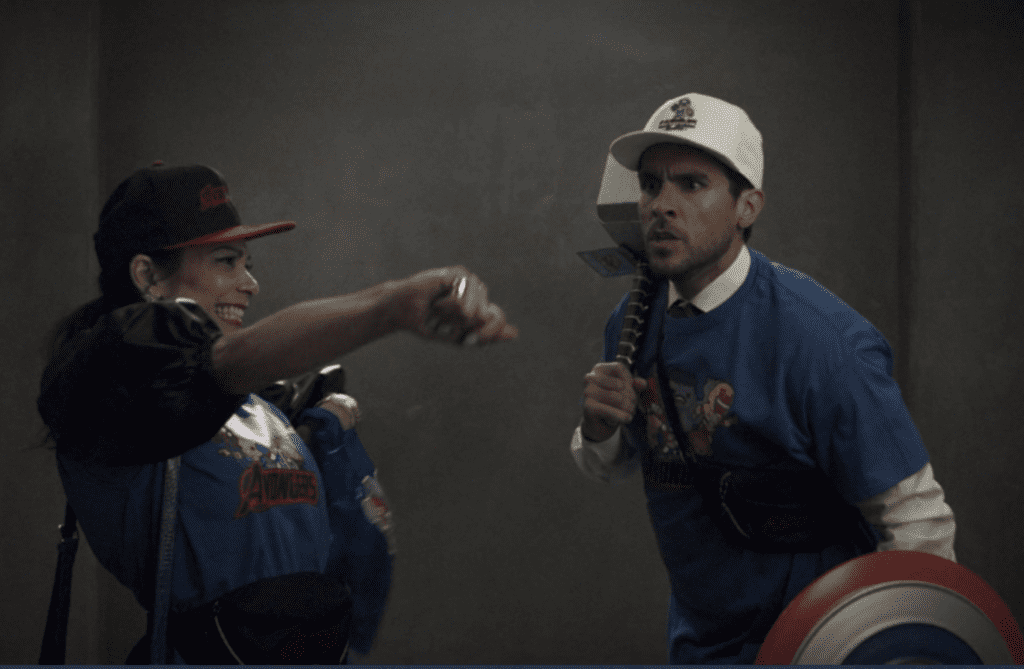 Jen was going to let Titania's lawsuit go until her boss brings her in and says, "No one hires a firm that can't handle its own messes." So, while Jen can't represent herself, Mallory Book (Renée Elise Goldsberry), Jen's co-worker who we briefly met in episode three, begrudgingly takes on Jen's case. Mallory asks Jen why she never trademarked her name. Jen responds, "Did Doctor Strange have to trademark his name? Did Thor?" Mallory rightfully points out that she just named two Avengers who actually use their real names… Anyway, Mallory's plan of attack is to countersue Titania. They just need to prove that Jen was using the name She-Hulk in a professional capacity before the trademark date. And before Mallory represents Jen, she demands, "If you're going to be my client, you need to dress like you respect yourself, and not like a football player pleading no contest to a DUI." Harsh but Mallory's not wrong! Thank god for Nikki!
Meet Mallory Book! In tomorrow's episode of #SheHulk: Attorney at Law on @DisneyPlus 💥💚 pic.twitter.com/4u8qgfBG6Q

— RenéeEliseGoldsberry (@ReneeGoldsberry) September 14, 2022
For Jen to win this lawsuit, she will need to prove a pattern of personal use of the name, She-Hulk. But before the second hearing, She-Hulk and Nikki finally meet the drip broker. It's revealed that the drip broker is famous fashion designer Luke Jacobson (Griffin Matthews). Luke is hesitant to help She-Hulk as he has never heard of her. But seeing as he has never fitted a Hulk before, he agrees to design a suit for Jen and She-Hulk. Nikki and Jen leave his office and are now eating lunch together, reminiscing how Jen went on those terrible dates. While it's mortifying for Jen, it actually gives her a way to win this case. Jen went on those dates as She-Hulk, meaning she self-identified as She-Hulk prior to the trademark date!
Titania and She-Hulk's big fight…IN COURT. #SheHulk pic.twitter.com/unxrKHst91

— She-Hulk by #Titania (@SheHulkOfficial) September 14, 2022
The four men She-Hulk went on dates with testify, and while it's super embarrassing for Jen, those testimonies win the case for Jen. As expected, Titania is not pleased and assures Jen this feud isn't over. In a nice moment after the hearing, Mallory tells Jen she deserves better. Sensing they might be becoming friends, Jen offers to buy Mallory a drink. She accepts and they bond over being women in a male-dominated workplace.
The episode then ends with She-Hulk getting her suits from Luke and while we never actually get to see the suits he designed, we do see something else. We see that a superhero helmet has been left out by accident… a yellow Daredevil helmet. That's right, he's back baby!!!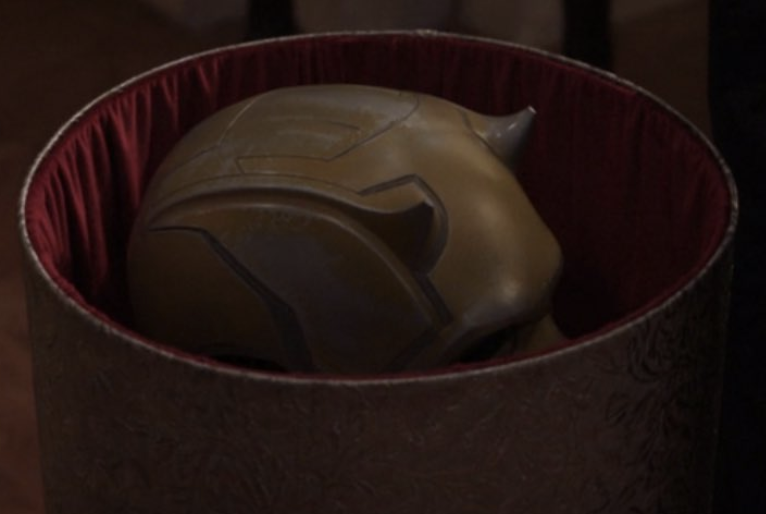 I had a great time with this episode. My biggest complaint so far is Nikki falling into the "token women of color best friend trope." I love her and Jen's relationship but Nikki deserves to be more than just her best friend. That aside, I'm still excited to see where this series goes and can't wait to see Matt Murdock back in the MCU.