Disney+
Hawkeye hits the mark with its series premiere
The holiday season is in full swing as Marvel's Hawkeye finally premieres on Disney+.
The holiday season is finally among us and when there's a new season, there's also a new season of television! Marvel's new series, Hawkeye, has finally premiered on Disney+ with two new episodes.
Kick off the holiday season with Marvel Studios' #Hawkeye! The first two episodes are now streaming on @DisneyPlus. pic.twitter.com/N4CXE1YrmV

— Hawkeye (@hawkeyeofficial) November 24, 2021
The first episode, "Never Meet Your Heroes," goes back in time to 2012 where viewers are first introduced to a young Kate Bishop (Clara Stack). Viewers are taken back to the Battle of New York, and Kate watches as Clint Barton/Hawkeye (Jeremy Renner) fights off the Chitauri. Inspired and in awe of Clint, Kate aspires to be just like him.
As Kate and her mother, Eleanor Bishop (Vera Farmiga), scramble to leave their home because of the destruction the battle had caused, Kate learns that her father, Derek Bishop (Brian d'Arcy James), has died.
Fast forward to the present day, which just so happens to take place two years after Avengers: Endgame, Clint is spending time with his kids in New York City for Christmas.
Part of his time in the city with his kids includes going to see the Broadway show Rogers: The Musical and I can wholeheartedly say that though I was amazed and intrigued by this musical, I can also understand the discomfort that Clint was feeling.
Kate Bishop (Hailee Steinfeld) is now 22 years old and seems to be navigating adulthood. but also dealing with the fact that her mother is engaged to Jack Duquesne (Tony Dalton).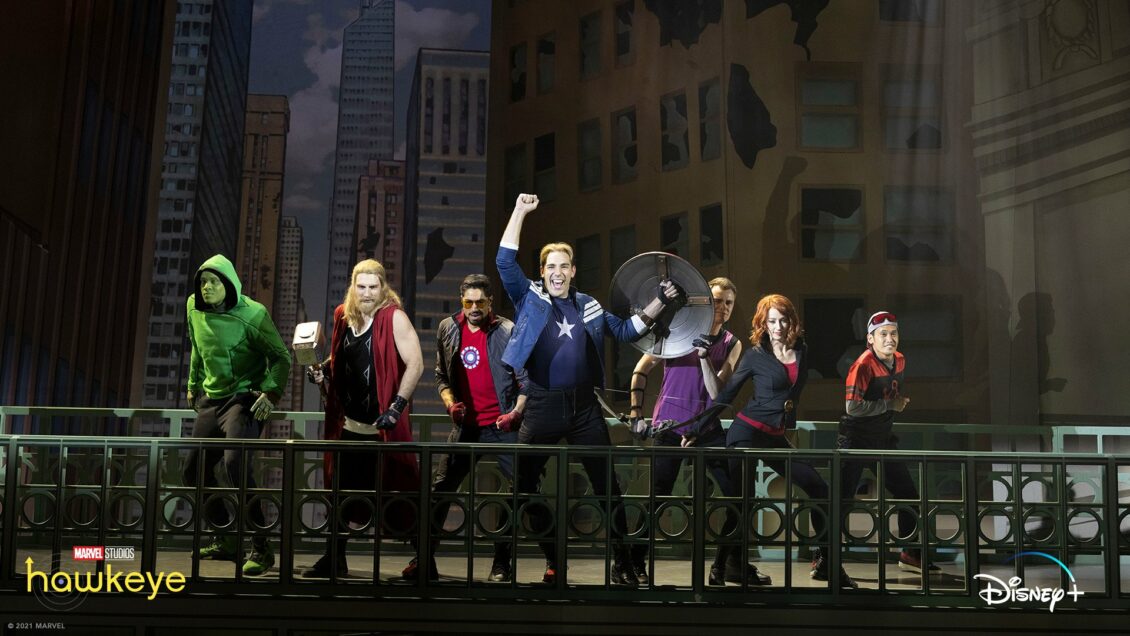 While attending a charity auction with her mother, Kate learns that her mother is engaged to Jack Duquesne (Tony Dalton) and also discovers a black market auction going on underneath which is selling items from the Avengers Compound — one item just so happens to be Clint's old Ronin suit.
While watching the charity auction, Kate sees her mother's fiancé and his uncle Armand Duquesne III ( Simon Callow) betting on some of the items but the event is abruptly stopped by the Russian street gang known as the Tracksuit Mafia.
Kate manages to get her hands on Clint's Ronin suit and while in disguise, she's able to escape the gala while also rescuing a dog that she had seen earlier that night. In tracking down Armand back to his home, Kate discovers that someone had been there before and has murdered him.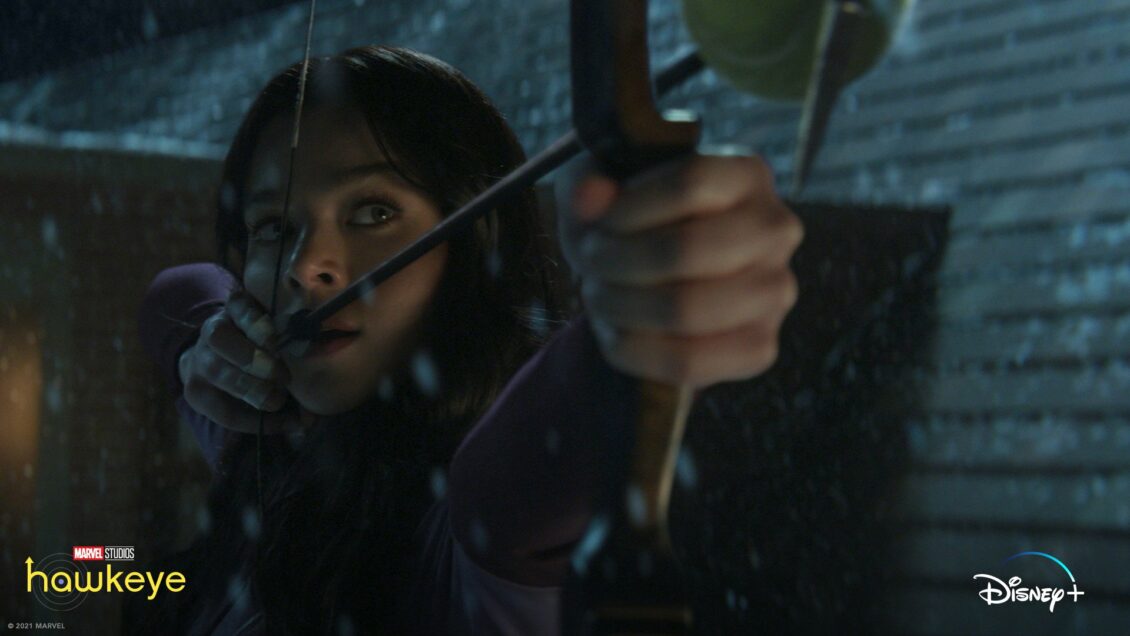 Fleeing the scene before she gets caught, Kate gets cornered by the Tracksuit Mafia. After seeing on the news that the Ronin has returned, Clint tracks down Kate and saves her from getting hurt.
In episode two, "Hide and Seek," after escaping the Tracksuit Mafia, Kate and Clint go to her apartment to find safety but minutes after arriving, the Tracksuit Mafia are able to track Kate down and they set her apartment on fire.
While escaping the fire, Clint and Kate leave the Ronin suit behind, with Clint mentioning that he'll come back for it. Finding refuge at her aunt's apartment, Clint tells Kate to stay while he goes back to retrieve his old suit.
However, when arriving back at Kate's apartment, Clint poses as a firefighter to get inside and finds that his suit has gone missing. As he goes back to get his things that he stashed in a fire truck, Clint notices a sticker on the truck that says 'NYC Larpers.'
Returning to Kate's aunt's apartment, Clint manages to track down his suit and the next morning, he sends his kids back home and promises them that he'll be back by Christmas Day.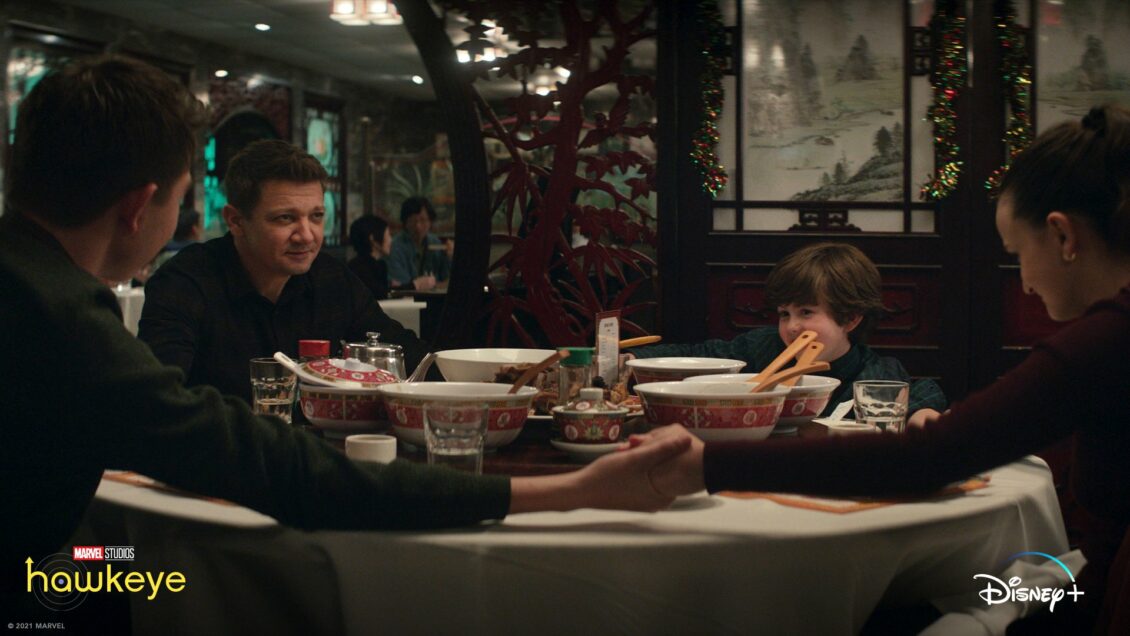 Clint tracks down his suit to a LARP (live action role-playing) event in the park after walking Kate to her job. In order to get his suit, Clint has to join the event and fight the other Larpers. Clint finds the firefighter who took the Ronin suit and battles him for it, all while Kate is dealing with her mother and her mother's fiancé Jack whom she suspects is involved in his uncle's death.
Later on, while at the dinner she promised her mother she would attend, Kate tries to prove to her mother that Jack is suspicious and not trustworthy over a fencing duel. Meanwhile, Clint is stashing his suit in a locker at a gym and calls his wife Laura Barton (Linda Cardellini) to let her know that he still has a few things he has to take care of before he gets to come back home.
After leaving the dinner with her mother and Jack, Kate tries calling Clint but he doesn't answer due to the fact that he has allowed the Tracksuit Mafia to track him down and be captured by them.
"Barton and Bishop make a classic double-act." Marvel Studios' #Hawkeye is streaming now, only on @DisneyPlus. pic.twitter.com/OJQninWnLS

— Hawkeye (@hawkeyeofficial) November 26, 2021
Kate tracks Clint's location and while he's trying to figure out who the Tracksuit Mafia's leader is, Kate falls down from the roof and has become captured by the group as well. It's at the end of the episode when viewers get to see that the leader Clint was trying to talk to is none other than Maya Lopez/Echo (Alaqua Cox).
As the MCU continues to expand on its stories and characters, Hawkeye is not only a great show to watch during this holiday season but just from the first two episodes, it's proven to be a great expansion on what life has been like for Hawkeye himself.
As this series will have six episodes, so far, the future of the MCU continues to look very interesting and Hawkeye will surely be another series that fans will enjoy and love.
Marvel's Hawkeye is now available to watch on Disney+.