Five highlights of the Harry Potter Reunion
The Harry Potter 20th Anniversary Reunion graced our screens over the weekend and provided us with some memorable moments.
If you haven't watched the Harry Potter 20th Anniversary Reunion: Return to Hogwarts special yet, then this is your warning to stop scrolling now to avoid any spoilers. However, if you have already watched it then scroll ahead to look back at the highlights of the two-hour exclusive.
1.Tom Felton and Emma Watson confessing their love
Tom Felton (Draco Malfoy) and Emma Watson (Hermione Granger) discussed the romance rumours that have swirled around them for years. Every time the pair have addressed the rumours, they've insisted that nothing has happened and Emma confirmed this once again by saying "nothing has ever, ever, ever, ever happened between us romantically".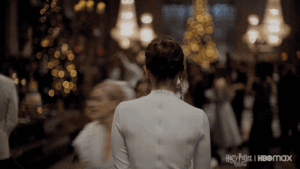 Although, Emma confessed she still has a "lot of love" for Tom and he admitted to knowing of her crush back in the day and that he "always had a soft spot for her, and that continues to this day". Emma also talked about when she "fell in love" with Tom and it was when the cast was assigned to draw what they think God looks like and Tom drew "a girl with a backward hat on a skateboard".
2. Rupert Grint repeating 'we're family'
Accio tissues! Rupert Grint (Ron Weasley) shared an emotional moment with Emma Watson as they sat down and took time to reflect on their ten years spent together on the Harry Potter set at Leavesden Studios.
Emma said that she feels like "you're a pillar of my life" to which Rupert responded that "we grew up together" and "we are family". When talking about what the experience meant to them, Rupert again repeated that "they're like family" and that they're "so intrinsically linked and they're incredibly important to me".
3. Daniel Radcliffe reuniting with Gary Oldman
Daniel Radcliffe's (Harry Potter) relationship with Gary Oldman (Sirius Black) is a fan favourite so it was obvious that when the pair reunited that the fandom was going to melt. When Gary first started in the series, in Harry Potter and the Prisoner of Azkaban, director Alfonso Cuarón picked up how the bond between the two actors was just like Harry and Sirius.
Alfonso talked of how "Dan was at first a bit daunted and Gary was amazingly generous as a person but also as an actor. He immediately embraced him and included him in the acting process. It was really sweet to see the two of them, and it was almost as if it was mirroring that relationship…"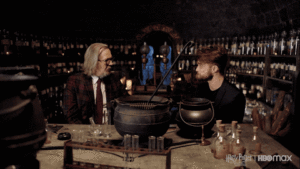 Daniel then talked to Emma Watson and Rupert Grint about how excited he was when he found out that Gary would be starring alongside him in the film. Emma laughed as she recalled to Daniel: "I remember you giving me the Gary chat. You were like 'listen, Emma, you need to be cool because [of] Gary Oldman… it's a really big deal and you need to be cool.'"
4. Tribute to Alan Rickman, Helen McCrory and Richard Harris
There was a beautifully fitting tribute to much-loved Potter cast and crew members during the reunion exclusive. Some of the actors talked about their fond memories with cast members such as Alan Rickman (Severus Snape), Helen McCrory (Narcissa Malfoy) and Richard Harris (Albums Dumbledore).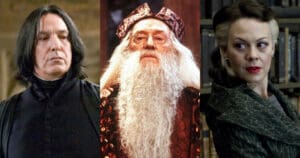 Tom Felton laughed, telling Matthew Lewis (Neville Longbottom) and Alfred Enoch (Dean Thomas) that when he first met Richard Harris he thought he was "a tour guide". Tom also choked up as he admiringly remembered Helen McCrory, who played his mother in the franchise, saying that she "taught me a lot".
Emma Watson said that "Alan Rickman never talked to me like I was a child. He always took my thoughts and opinions very seriously, which I was always very touched by." Ralph Fiennes (Lord Voldemort) added; "I was a little intimidated by him. His precision, his expert delivery of lines. We sort of went toe-to-toe in a funny way, with Snape and Voldemort. Two actors can relish metaphorically fencing with one another like that. Alan was a magician in that way, as an actor."
The reunion ended in a very special yet subtle tribute to Alan Rickman, with his iconic yet heartbreaking line "Always". You can remind yourself of the scene down below.
5. Daniel Radcliffe reading the love letter that he sent to Helena Bonham-Carter
One of my personal favourite highlights from the reunion was Daniel Radcliffe reading aloud the love letter that he sent to Helena Bonham-Carter (Bellatrix Lestrange) during the filming of Harry Potter and the Order of the Phoenix.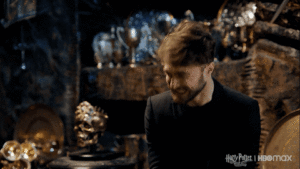 Daniel read the love letter that he sent to his co-star when he was approximately 17 years old: "Dear HBC, it was a pleasure being your co-star and coaster in the fact I always ended up holding your coffee. I do love you and I wish I'd just been born ten years earlier so I might've been in with a chance. Lots of love and thanks for being cool."
Helena brushed it off with a joke, saying to Daniel that she will "treasure it".
Did we manage to cover your favourite highlight from the Harry Potter 20th Anniversary: Return to Hogwarts? If not, let us know what your favourite part was down below in the comments.