20 facts you didn't know about the Harry Potter and the Philosopher's Stone film
Are you a die-hard Harry Potter fan? Then you might already know these 20 facts about the first movie!
This year marks the 20th anniversary of the release of Harry Potter and the Philosopher's Stone, believe it or not! To mark the occasion, we did a bit of digging and found 20 facts you didn't know about the film that kickstarted The Chosen One's journey.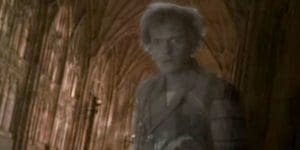 1.Peeves was supposed to be in the film
In the Harry Potter books, Peeves the poltergeist and troublemaker was arguably quite a big character who was always mentioned. However, the films don't include him. Although, the role was cast and given to Rik Mayall unfortunately it was decided that all of Peeve's scenes should be permanently cut.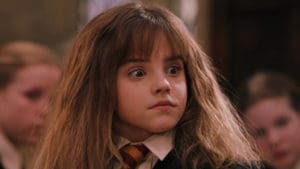 2. J.K. Rowling believed Emma Watson was perfect for Hermione
J.K. Rowling revealed that the first time she ever spoke to Emma Watson, over the phone, she knew that she would be perfect for the role. Rowling said: "She spoke for, like, 60 seconds at least before drawing breath…"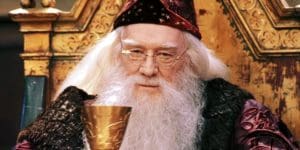 3. Richard Harris turned down the role of Dumbledore
Richard Harris almost didn't play the iconic role of Dumbledore as he turned it down three times. The only reason he took the role, in the end, was because his granddaughter told him she'd never speak to him again if he didn't do it.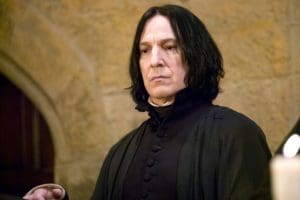 4. Alan Rickman was always the favourite for Snape
J.K. Rowling hand-picked Alan Rickman for the role of Professor Snape and even wrote about the character with him in the back of her mind. She even trusted Rickman so much that she disclosed information with him about Snape's character that wouldn't be revealed till the final book/film.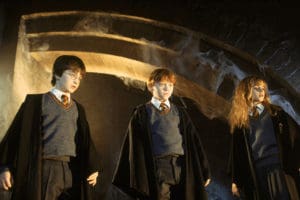 5. Some scenes had to be shot twice
In the UK, the first Harry Potter film is known as Harry Potter and the Philosopher's Stone but in the US it is known as Harry Potter and the Sorcerer's Stone. So because of this slight title change, the actors had to shoot scenes twice where they would say 'Philosopher's Stone' or 'Sorcerer's Stone'.
6. The cast reactions were real
In the first scene that includes the Great Hall, the casts' reactions were completely real. None of the young actors had seen the Great Hall at all till they shot for that particular scene.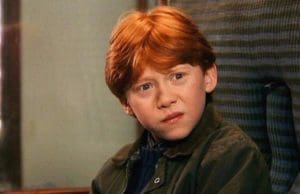 7. Rupert Grint landed his role in an unusual way
Rupert Grint was cast for the role as Ron Weasley after he sent in an audition tape. Sounds normal, right? Well, his audition tape included him dressed up as a female drama teacher rapping about how desperate he was for the part.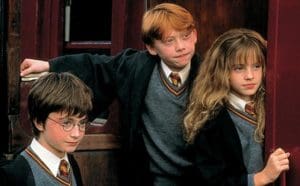 8. The last scene was the first one shot
If you're a hardcore Potter fan, you will know that the last scene of the first film is when Hagrid waves off the Golden Trio after they board the Hogwarts Express to go home. This scene was actually the first scene to be filmed for the entire franchise, which makes it even more wholesome than it already was.
9. Emma Watson was supposed to wear fake teeth
The books constantly mention how Hermione has bushy hair and buck teeth and the film was meant to portray this. However, when Emma Watson was fitted for fake teeth, she couldn't talk properly with them and they eventually had to stop altering her appearance.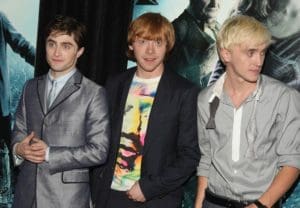 10. Tom Felton auditioned for Harry and Ron
Tom Felton, who played the infamous Draco Malfoy, revealed that he didn't initially audition for the Slytherin prefect. He first auditioned for the roles of Harry and Ron, and dyed his hair for both, but was turned down. Felton then bleached his hair and auditioned for Draco, and the rest is history.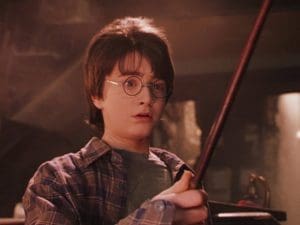 11. Harry never casts a spell
In Harry Potter and the Philosopher's Stone, Harry doesn't cast one single spell in the entire movie. This was spotted by some eagle-eyed viewers and you definitely can't unsee it.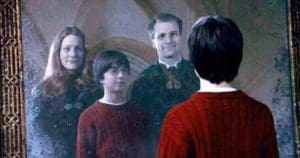 12. J.K. Rowling was offered a role
J.K. Rowling was offered to play the part of Lily Potter when she appears in the Mirror Of Erised. Rowling turned it down as she didn't think she was a good enough actress and the role went to Geraldine Somerville.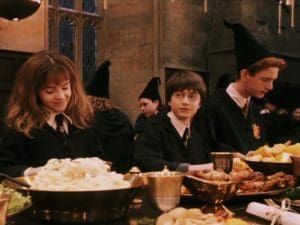 13. The food is all real
In each of the Great Hall feast scenes, all of the food is 100% real. Warwick Davis admitted that it could sometimes be sat there for "four days". For the later Harry Potter films, the food was frozen and they made moulds so that it didn't leave unpleasant smells on set.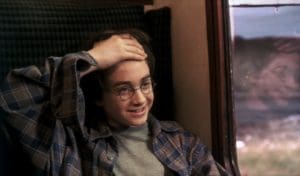 14. Daniel Radcliffe was supposed to wear contact lenses
One of Harry Potter's most prominent features (in the book) are his green eyes, that he shares with his mother. Daniel Radcliffe, however, has blue eyes and was tried for green contact lenses but had an allergic reaction to them so he couldn't wear them.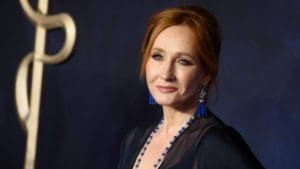 15. Everything had to be passed through J.K. Rowling
Only four of the Harry Potter books had been released by the time the first film was released so the only person that knew the full story was J.K. Rowling herself. All of the scripts had to be approved by her and she even changed one line in the film as it was going to contradict something in her then-unreleased Harry Potter and the Order of the Phoenix. It is still unclear as to what this particular line was.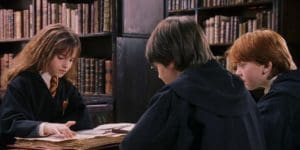 16. Bodleian Library made exceptions
The Restricted Section scene that was filmed in the Bodleian Library in Oxford had to be approved. The historic library has strict rules about flames in there but it was allowed for this film and it was the first time the rule was broken in hundreds of years.
17. Many different books were used
In Dumbledore's office, there are several books on the shelves. Unfortunately, none of these books are spellbooks but instead, they're yellow pages and phone books.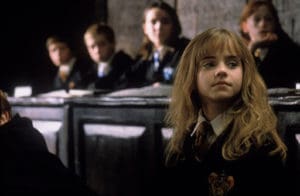 18. Emma Watson almost didn't audition
We almost didn't get the perfect Hermione Granger! Watson wasn't fussed about auditioning when casting directors came to her school. It was Watson's teacher that convinced her to audition and she was the last girl in her school to do so.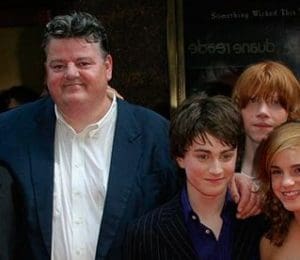 19. Daniel Radcliffe and Rupert Grint changed the language on Robbie Coltrane's phone
Robbie Coltrane revealed in an interview that Daniel Radcliffe and Rupert Grint changed the language on his phone to Turkish then handed it back to him. Coltrane had to get the hair designer's Turkish father to help change it back.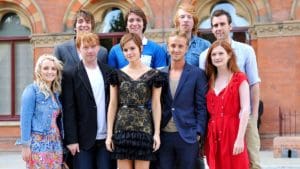 20. J.K. Rowling wanted an entirely British cast
It was very important to J.K. Rowling that the whole cast of Harry Potter was British. Hogwarts is a British school and she envisioned it to be full of British students and Professors so therefore wanted the actors to model this.
Did you know these facts or any of them new information to you? Let us know in the comments! Also, let us know how you are celebrating 20 years of Harry Potter and the Philosopher's Stone by sending us a tweet or tagging us on Instagram.