Ghostface slices into The Big Apple in Scream VI
Scream VI s a bloody, nail-biting, and suspenseful addition to the franchise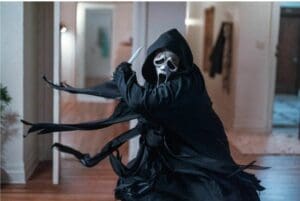 Last year's legacy sequel, Scream, successfully relaunched the franchise by introducing a fresh batch of victims for the Ghostface killer to terrorize. Scream VI continues to expand on the characters introduced in last year's installment by taking the franchise somewhere it has never been before: New York City.
Picking up roughly a year after the previous film, Scream VI begins by catching viewers up with the lives of our survivors: Samantha Carpenter (Melissa Barrera), her sister, Tara (Jenna Ortega), and twins Mindy and Chad Meeks-Martin (Jasmine Savoy Brown and Mason Gooding). Tara, Mindy, and Chad are now attending the fictional Blackmore University, and Samantha has tagged along for a fresh start and to keep a close eye on her sister. But, unfortunately, it isn't long before killings begin again, and a new killer targets the gang and their new friends. Together, and with the help of legacy survivors Gale Weathers (Courtney Cox) and Kirby Reed (Hayden Panettiere), the gang will have to fight like hell to survive and discover who is behind the mask this time.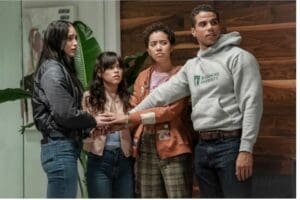 Scream VI was a thrill from beginning to end. One of the most exciting parts of the film is always the opening kill. I am in awe of the franchise's ability to develop openings that haven't been done before. We get cameos from Samara Weaving and Tony Revolori in a creepy and suspense-filled introduction that completely subverts expectations and sets up a thrilling mystery that will leave readers on the edge of their sets.
Barrera and Ortega are genuinely the MVPs of their film. Barrera has settled into playing the franchise's new tortured Final Girl, who lives in the shadow of her father's legacy. Barrera does an excellent job portraying Sam's battle with her inner darkness. She's truly the daughter of the infamous killer, Billy Loomis, but she strives to conquer her inner killer instinct and direct it toward protecting herself and those she loves. Ortega continues bringing subtle and quiet vulnerability and strength to her character, Tara. The character struggles to overcome the trauma caused by the previous film's events. She is growing frustrated with her big sister's suffocating presence in her life as a protector. Although each actress is talented in her own right, it's when Barrera and Ortega are together that they shine. The chemistry between these two actresses is palpable and engaging.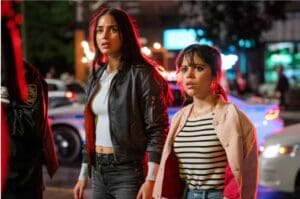 Brown and Gooding return as the comedic relief characters, Mindy and Chad. Gooding continues to portray Chad as a stereotypical jock, but it's clear that the previous film's events have matured him a bit. He also enjoys the beginnings of a romance with Ortega's character. The two are adorable together on screen, and it's a movie romance I'm rooting for. Savoy continues to charm the movie fanatic Mindy. Savoy can portray a range of emotions in quick succession, and it's always a pleasure to watch her on screen. I'm hoping these two actors and their characters break out of their supporting character roles in the future and take center stage.
Courtney Cox and Hayden Panettiere return as legacy survivors, Gale Weathers and Kirby Reed. Gale is her usual self and has ended up on the Carpenter sisters' wrong side after writing a book about the previous film's events. Unfortunately, she doesn't paint Sam in the best light, and neither sister is happy with her. Although Gale is her fame-hungry self, as always, she's still willing to help catch the killer. There's an electrifying chase scene during which Gale gives Ghostface the business. Courtney Cox always sells Gale's survival instinct, wit, and strength.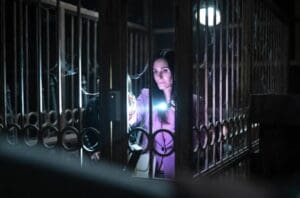 Panettiere's return as Scream 4's fan favorite, Kirby Reed, is also exciting. After her character's fate being cryptic for over a decade now, it was nice to learn that the witty, pop culture-savvy genre nerd had survived the events of the 2011 killings and is now an FBI agent determined to protect the innocent. Panettiere does an excellent job embodying the character after all this time and adding new layers. She's a joy to watch.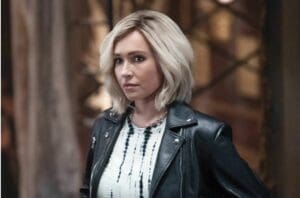 Newcomers Jack Champion, Liana Liberato, Dermot Mulroney, Devyn Nekoda, and Josh Segarra do a good job in their respective roles as well.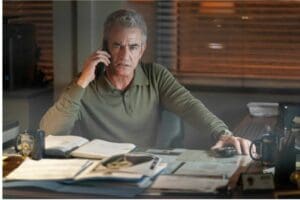 Overall, Scream VI, is a bloody, nail-biting, and suspenseful addition to the franchise.
Scream VI is now streaming on Paramount Plus.