Viewers will love Dungeons and Dragons: Honor Among Thieves
Full of fantasy and action, viewers will love Dungeons and Dragons: Honor Among Thieves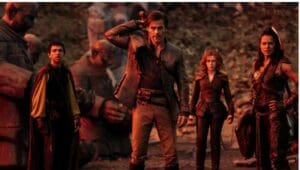 Since its debut as a tabletop role-playing game in 1974, Dungeons and Dragons has spirited young adults and adults alike away to faraway fantasy lands full of adventure, magic, and betrayal. Dungeons and Dragons: Honor Among Thieves will appeal to fans of the game and general audiences alike with its fantasy heist angle, beautiful special effects, and an all-star cast at its center.
The film opens with Edgin Darvis (Chris Pine) and Holga Kilgore (Michelle Rodriguez) pleading to their parole board for their freedom after two years of being incarcerated. Through Edgin's narration, he catches viewers up on how the pair ended up imprisoned in the first place. Edgin was once a member of an order of peacekeepers known as the Harpers. After his wife is murdered by the minions of a powerful Red Wizard, Edgin forms a group of thieves along with Holga and raises his daughter, Kira (Chloe Coleman), as a single father. While searching for a relic with the power to resurrect his deadly departed wife, Edgin and Holga are captured and sent to prison.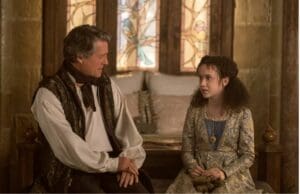 The story kicks into gear when they escape and discover that their former friend, Forge (Hugh Grant) has become the lord of Neverwinter. It becomes clear that Forge isn't the person the pair thought he was and has even managed to turn a teenage Kira against Edgin. When it's revealed that Forge orchestrated the pair's capture with the help of a powerful Red Wizard by the name of Sofina (Daisy Head). Edgin and Holga soon realize that to save get their revenge, rescue Kira, and ultimately, save all of Neverwinter, they'll have to reassemble the team. The team in question includes Simon (Justice Smith) a sorcerer with unpredictable and unreliable magic; Doric (Sophia Lillis) a spirited shapeshifter; and Xenk (Regé-Jean Page), a near-immortal paladin who has resigned himself to living a peaceful life.
This film was fun from beginning to end. Directors John Francis Daley and Jonathan Goldstein did an excellent job bringing this fantasy-filled, action-packed, whimsy magical world to life. The film feels like an Ocean's Eleven film set in a fantasy land, which gives it a special edge. The film also grounds itself by centering the core theme of family, both the one we're connected to by blood and the one we're connected to by choice. This team of misfits cares for each other deeply, and it really adds a lot of heart to the film that could have been a simple fantasy-heist film.
Pine gives a charming and heartful performance as Edgin. He loves his deceased wife and daughter dearly and wants to reunite his family. He isn't a perfect father, but he's trying his best to do what's right. Rodriguez gives a great performance as the tough, but sensitive Holga. The film takes time to revisit Holga's ex-boyfriend (Bradley Cooper) and we learn that she has given up a lot in the name of traveling with her friends. If there's a sequel, I hope to see Holga find love.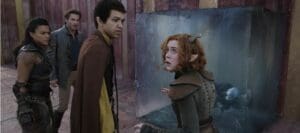 Smith, Lillis, and Page do an excellent job in their roles as well. Each is hinted at having a backstory that ranges from fascinating to tragic. Again, if there are sequels, I hope to see their backstories expanded on. Smith and Lillis especially seem to have a budding love story in this one, and it'll be exciting to see what develops between them in the future.
Grant and Head are deliciously devious as our lead villains. Grant has a charm that makes you want to like and trust him even when you should despise him. Head brings such a quiet and terrifying beauty to Sofina. She's an absolute joy to watch.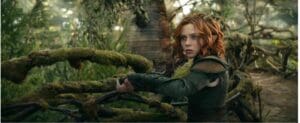 Lastly, I must talk about the look of the film because it's a feast for the eyes. As you'd expect, the whimsy magical scenes and settings in this movie are astounding. Whether the characters are being chased by a dragon in a fiery cavern or battling panther-like creatures in a gladiatorial game, the film highlights the larger-than-life fantasy aspects perfectly.
Dungeons and Dragons: Honor Among Thieves is a thrilling, action-packed, fantasy film full of insanely interesting characters and a cast that manages to be appealing and thrilling in their respective roles.