KpopHerald
BTS is getting ready to hit the stage in LA next month. They'll be playing live for four sold-out nights at SoFi Stadium to thousands of ARMYs, and we couldn't be more excited to watch them perform live again.
This Sunday, all the way from South Korea, BTS held a live version of Permission To Dance On Stage, giving us a taste of what is coming.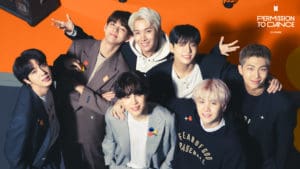 Kicking off with "ON," BTS gave us a glimpse of what could've been Map Of The Soul Tour with a stage full of dancers and killer choreography. And even though V had to refrain from performing due to an injury, all seven of them fiercely took over the stage.
Taking us down memory lane, the group performed some of their greatest hits like "DNA," "IDOL" and "Fake Love" and some of ARMY's favorite songs like "Blood, Sweat & Tears," "Silver Spoon" and "I Need U."
With a live band and a whole new dance break, BTS performed their Hot 100 No. 1 singles "Dynamite" and "Butter." In a huge bed, they sang "Life Goes On" and moved to a big couch to sing a remixed version of "Boy With Luv."
The song that stood out the most definitely has to be "Black Swan" with that beautiful intro full of feathers and giving each member a moment in the spotlight before the actual performance of the song.
If you liked their latest album BE, you'll be pleased to know that BTS performed four of the album's songs: "Blue & Grey," "Telepathy," "Stay" and "Dis-ease." Now, if you were looking forward to some of their good oldies, the group added "Dope," "Airplane pt.2" and "Save Me."
The encore came to make us all tear up a little with "Young Forever" and "Spring Day."
During their speeches at the end of the concert, the members shared their choice to make it about the seven of them and not to add solo performances to the setlist, so expect to see a lot of the whole group on stage in LA. The speeches also took an emotional turn when RM shared his hardships and V told us how sorry he was for not being able to perform. At the end, they all left the same message of how much they miss and can't wait to see ARMY again.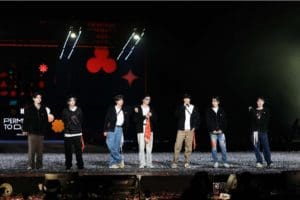 BTS finished up with their latest single, "Permission to Dance," the perfect way to wrap up another successful virtual concert.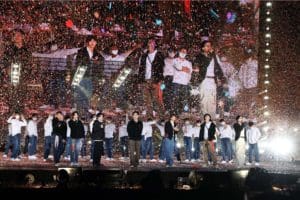 We can't know for sure if they'll be sticking to this setlist for the LA concerts, but we definitely got to see so much of BTS on the stage this Sunday, so we have much to look forward to. We also want to finally see the moment they'll be reunited with ARMY next month! It'll be such a special time.