Positions is Ariana Grande's sixth (and arguably most anticipated) album. Her fans and I had been waiting for months when it was finally been released on October 30, 2020. But Miss Grande keeps spoiling us, and she dropped a new music video this week from her second single off Positions, "34+35."
If you've already heard the song, you might've noticed that Ariana isn't too innocent in her lyrics. The singer noted earlier in an interview with Zach Sang that she thinks that the song is ridiculous, funny, and stupid. "We heard the strings that sounded so Disney and orchestral, and full, and pure. And I was like, 'Yo, what's the dirtiest-possible, most opposing lyric that we could write to this?'"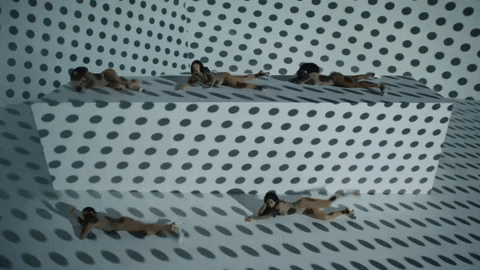 But in the new music video, it's the opposite. Ariana hits the laboratory and is serving us with a bit of choreography. Directed by Director X, it starts right away with Ariana sitting next to a white wall with big black dots, followed by her in a lab coat while walking in a laboratory where she wants to program herself as a fembot. Which brings us to the masterpiece from the video where you see Ariana dancing with a group of varied people as fembots, inspired by the Austin Power fembots.
The video has a unique ending where they give us a little sneak peek from the behind the scenes, where you can see Director X narrating in a hilarious way.
Are you curious or do you want to see the video again? (I mean, I want to!)
Check it out below.