Following a countdown of cryptic Instagram posts, Taylor Swift finally dropped her highly anticipated single, 'ME!', on Friday and boy, is it a banger. The song is a catchy self-love anthem about "embracing your individuality and owning it," featuring Panic! At The Disco's Brendon Urie.
The pop star also kicked off this new era with an accompanying music video that's already made history by racking up 65.2 million views in its first 24-hours, breaking multiple YouTube and Vevo records including the biggest female and solo debut.
It turns out the old Taylor isn't really dead, as the video is a stark contrast to the edgy vibe of Swift's previous album, 'reputation'. The sparkly spectacle can best be described as pastel perfection, transporting viewers to a magical dream world filled with rainbows; unicorns; and butterflies, while also conveying a heart-warming message.  It's an instant mood-booster and we kinda wanna live there forever.
As fans expected, the video is jam-packed with secret messages and 'easter eggs' that either relate to Swift's life or give hints about TS7. Taylor even took to Twitter to announce that the titles of both the upcoming album and second single are revealed within the video, but nobody has managed to guess it yet.
https://twitter.com/taylorswift13/status/1121916103373074432
Even the most eagle-eyed of viewers haven't spotted everything, so let's get practising our detective skills. Buckle up because we've re-watched the video hundreds of times (as if we needed an excuse) and have found 9 clues you may have missed:
1. The snake exploding into butterflies

The opening sequence can be interpreted as symbolising the end of the previous era and represents Taylor's glow-up from a snake (the false image attached to her reputation) to a butterfly (living freely as her true self.)
FYI: a group of butterflies is known as a 'kaleidoscope', leading many fans to believe that will be the title of her new album. We'll come back to this later.
2. There's no place like home
Pennsylvania – Christmas Tree
LA – Palm Trees
London – Skyline
Nashville – Cowboy boots

All home to Taylor!!@taylorswift13 @taylornation13 #MEmusicvideo #MeoutNOW pic.twitter.com/F9iFYVYUZN

— Philly/Nashville Swiftie! (@beenherealalong) April 27, 2019
One of the first things we see is a Christmas tree in the background of the room, despite it clearly not being winter, as we learn when Taylor exits through a corridor showing sunny palm trees outside the window.  Bizarre, right? Well, it all makes sense when you consider that Taylor grew up on a Christmas tree farm in Pennsylvania and Swifties recognised it as a symbol of her childhood home.
In fact, there appear to be references to multiple cities throughout the video. Palm trees representing LA, Nashville cowboy boots and a skyline showing London's Big Ben – all of which are places Taylor has called home or often resides.
This lead many fans to speculate that the album may be centred around the theme of home. Not entirely convinced? The video also gives off strong Wizard of Oz vibes and appears to recreate the Emerald City, as well as depicting a rainbow brick road.
3. The cats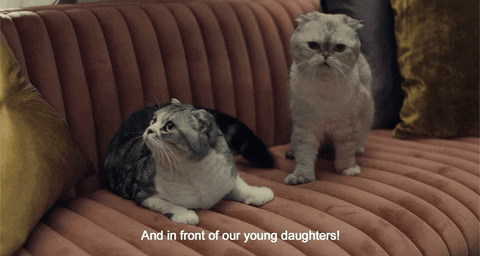 These fur babies and Taylor's on-screen 'daughters' making a cameo appearance are her much-loved Scottish fold cats – Dr. Meredith Grey and Detective Olivia Benson.
4. The chickens in sunglasses
The Dixie Chicks and Taylor Swift have a cute Twitter moment after the trio was featured in a picture frame in the "ME!" music video! #MeOutNow pic.twitter.com/LYV1BlPW9z

— Taylor Swift News (@Swift_Alert) April 26, 2019
Yep, you read that right. There are pictures on the wall of chickens wearing sunglasses (perhaps a nod to the song's lyric about 'cool chicks') but more interestingly, accompanied by a portrait of the Dixie Chicks. This lead many fans to muse about a potential collaboration as Taylor mentioned them in a recent Elle UK essay, alongside Panic! At The Disco.
5. The old Taylor's fighting
YOU CAN SEE THE OLD TAYLORS FIGHTING WHEN SHE WALKS OUT OF THE CLOUDS. OMG HER MIND pic.twitter.com/FfxYuxG6mu

— Deena (@swift_and_vine) April 26, 2019
If you look closely, you can see people in the shadows of the clouds who appear to be the old Taylor's fighting each other from the 'Look What You Made Me Do' music video. Blink and you'll miss it, but it's there.
6. There are 13 clouds and 7 briefcases
Taylor asked us to "count the number of briefcases and clouds" that are in the "ME!" music video. There are SEVEN briefecases and THIRTEEN clouds. 7/13, July 13th. Yes, there is also a wax seal on July 13! pic.twitter.com/PNadc8zGVB

— TSwiftinAsia (@TSwiftinAsia) April 26, 2019
Taylor instructed fans to pay attention to the numerology within the video and encouraged them to count the number of briefcases and clouds. There are 13 clouds and 7 briefcases which many see as a hint to the date 13th July. The album release date? The second single? Something else entirely? Nobody knows, but something is definitely happening as it's marked with a wax seal on Taylor's official 2019 calendar.
7. The kitten
We've already seen Meredith and Olivia, but Taylor introduced us to her newest addition in this video. She later confirmed fans' theories that it was hers, in an Instagram live, and revealed she adopted him on set after learning he had no home. His name is Benjamin Button and he's adorable.
8. The sign in the background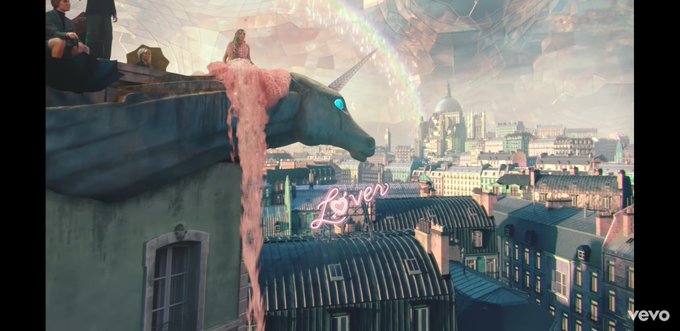 There's literally a neon sign saying 'Lover'. You can't get more obvious than that.
9. The kaleidoscope heart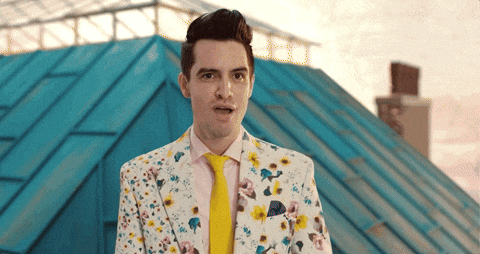 We told you kaleidoscopes would be important. Is this scene a visual representation of the Welcome to New York lyric 'kaleidoscope of loud heartbeats under coats' or is another hint about the upcoming album name?  Discuss.
PS. Here's more evidence of the kaleidoscope theory:
So in @taylorswift13 new video it looks like she's trapped in a kaleidoscope and there's the though back lyric reference and in the end there dancing in a kaleidoscope and if a group of butterflies is called a kaleidoscope dose this mean her new album is called kaleidoscope pic.twitter.com/GoQkrDvI9V

— taylorfan40 (@Taylorfan40) April 27, 2019
Aaaand that's it. Our brain hurts. Spotted any clues that we missed? Tweet us at @unitedbypop.