"Everyday I'm trying not to hate myself / But lately it's not hurting like it did before / Maybe I am learning how to love me more."
These are a few of the empowering lyrics from Sam Smith's brand new 13-track pop album GLORIA released on January 27th. GLORIA features singer-songwriter Jessie Reyez (on 3 songs!), Jamaican singer Koffee, pop legend Ed Sheeran, and dance hit-maker Calvin Harris. As a full body of work, GLORIA feels the most cohesive out of all of Smith's full length albums, with each song serving a distinct purpose in the overarching story of self-love. GLORIA is authentic, joyous, and hopeful. This album is a must-listen because Sam Smith has fully settled into themselves and their voice.
https://twitter.com/samsmith/status/1618760705146077184
GLORIA is Smith's first project release of new music since their Love Goes album during the height of the global pandemic in 2020. The intimacy of the lyrics reveals Smith's inner growth and how songs like "Perfect," "How To Cry," and "Who We Love" illustrate the journey of Smith's real life. This is also the first album where fans are seeing an unapologetically confident side of Smith as they enthusiastically embrace their sexuality in songs like "Gimme" and "I'm Not Here To Make Friends." These dance-club hits are something that Smith has embraced into their discography, refusing to be pigeon-holed into only being a ballad singer.
The album's title track, "Gloria" stands out among the others because it is a dramatic symphony of vocals. The song is a full choir of echoing high and low harmonies, with Smith's voice growing louder and more powerful as the song continues. This song is the most unique of the track list as it's completely different to anything Smith has done before. "Gloria" is the 12th track on the album, but it seems like it would be a better introduction to the project.
Out of the three collaborations with Jessie Reyez, "Perfect" is the strongest sonically, with the slower, more sensual tempo allowing both Reyez and Smith's delicate voices to shine. This song is Smith's strongest vocal performance on GLORIA, as they add perfectly placed hidden background vocals in the chorus building up to the beautiful guitar solo. This is the type of song that will be exciting to hear live on the GLORIA tour later this year.
"How To Cry" is the album's hidden gem, an acoustic song revealing Smith's maturity in relationships as they reminisce about a former partner who didn't know how to express their emotions. In this song, Smith holds the power and instead of begging for their partner to stay, decides that it's wiser to move on from the relationship. This song feels like a full circle moment for Smith in the way they conduct themselves in romantic relationships, and who doesn't love growth?
"Six Shots" is R&B Sam Smith with a heavy bass instrumental. Smith uses their lower range in this song that matches the sensual vibe of the lyrics: "Better with the lights on / We can play my favorite song / Looking at me, take one shot, two shots / Hit deeper, taste sweeter."
"I'm Not Here To Make Friends" featuring Calvin Harris and Jessie Reyez is an upbeat dance song that begins with some words of wisdom from queer icon RuPaul that sums up the theme of the album: "If you can't love yourself how the hell are you gonna love somebody else?" This instrumental of this song has a funky disco vibe that Harris is so well known for. This is the second collaboration between Smith, Reyez, and Harris, with their first being "Promises" off of the Love Goes album.
"Who We Love" featuring Ed Sheeran is one of the strongest collaborations on the album, with a worldly message to conclude the album. It's surprising that this song is Smith and Sheeran's first collaboration because their voices fit together so well in this heartfelt duet. Though they are both pop powerhouses with higher vocal ranges, the differences in their tones makes the song more dynamic and exciting as they ping-pong from verse to verse.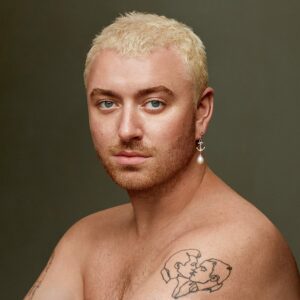 Album Rating: 9.5/10