Miley Cyrus is the most versatile artist of this generation – full stop. Many of her fans have grown up with her from her Hannah Montana days to her most recent announcement of new music in 2023. Throughout her career, she has made her mark on so many different genres, creating hits in modern pop, country, rock, R&B, and alternative music. Now after a two-year hiatus, she has announced her official return with new single "Flowers" coming next week. To celebrate the beginning of a new Miley Cyrus era, we've ranked her ten best song releases to date.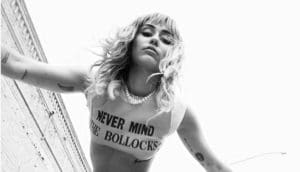 #10
D.R.E.A.M. (feat. Ghostface Killa)
YouTube
Coming in at #10, this song from Cyrus's 2019 Album She Is Coming. It's categorized as "chill pop" with an intentional message from the acronym 'D.R.E.A.M.' which stands for the phrase "Drugs ruin everything around me." The beat of the song makes it so catchy and the perfect add to any background playlist.
#9
Every Rose Has Its Thorn
YouTube
Coming in at #9 is a deep cut from Miley's 2010 album Can't Be Tamed. This song is the perfect mix of pop and country, some of what Cyrus does best. It's a crime that more people don't know about this song!
#8
Someone Else
"If you're looking for love, know that love don't live here anymore
He left with my heart
They both walked through that door without me"
At #8, this song is from Cyrus's iconic 2013 Bangerz album that was mainly pop/r&b music. This song has skillful production and shows off Cyrus's incredible vocal ability as she sings a harmony over the melody during the song's chorus. The song's instrumental makes it feel like a party hit, but the lyrics describes a broken heart.
#7
Angels Like You
YouTube
This song is one of Cyrus's strongest vocal performances off of her most recent album Plastic Hearts. If anyone can sing a power ballad, it's Miley Cyrus. It's the perfect heartbreak song that fits so well with Cyrus's edgy tone that has so many layers of emotion:
"It's not your fault I ruined everything
And it's not your fault I can't be what you need
Baby, angels like you can't fly down here with me"
#6
Party In The USA
YouTube
This song is a timeless classic that Cyrus recently performed at her annual Miley's New Year's Eve Party on NBC. It's the lead single from her 2009 Album The Time Of Our Lives and her most streamed song to date. Yes, this song may be 14 years old, but it still awakens the carefree kid inside us all.
#5
Wrecking Ball
YouTube
This song changed the course of Cyrus' career and is a multi-platinum hit off of her 2013 Bangerz album. This song is still Cyrus's only #1 on the Billboard Charts. Everyone remembers where they were when the "Wrecking Ball" music video dropped because it literally broke the internet with 1.1 billion views.
#4
Midnight Sky
YouTube
This song was the first single from Cyrus' 2020 rock album, Plastic Hearts, and proved that rock was her niche as she sang so effortlessly with her tone fitting so well into the genre. The song lyrics are relatable and authentic as Cyrus sings them with confidence. This song is arguably one of the best from the Plastic Hearts era.
#3
We Can't Stop
YouTube
This is the ultimate party song that defined the year 2013 and officially went Gold in 2018. When people think of Miley Cyrus, they think of this absolute banger from her Bangerz album.
#2
Adore You
YouTube
This song is an underrated gem from the Bangerz Album and the perfect love song.
#1
The Climb
YouTube
Coming in at the #1 spot is a song that went multi-platinum from the Hannah Montana The Movie soundtrack. It is an inspirational ballad that has spanned generations, and to think she gave us this pop-country hit at just 17 years old.
A few honorable mentions: 'Hate Me' (Plastic Hearts), 'Drive' (Bangerz), '7 Things' (Breakout)