23rd July is one of the most special, if not the most special, days in a Directioner's calendar. It marks the day that five solo artists – known as Niall Horan, Liam Payne, Louis Tomlinson, Harry Styles and Zayn Malik – were put into a band during the boot camp stages of The X Factor UK. This band later became the biggest band in the world (but you know all this), and since their hiatus in late 2015, fans are begging for a reunion.
Each year, the 1D boys are never shy to express their thanks to their fans by hopping on Twitter and Instagram. To mark the 23rd July this year, I've decided to take Directioners on a little trip down memory lane by showing every 23rd July since 2010 and what One Direction themselves did each year to mark the day. Let's take a look at all of the nostalgic tweets!
23rd July 2010
This is the day that started the journey of the biggest band of all time. Niall, Liam, Louis, Harry and Zayn were all made a part of One Direction when Simon Cowell suggested they'd work well together, at The X Factor UK's Bootcamp stages. All five, thankfully, accepted the offer and later became One Direction and made it all the way to the final of the show.
23rd July 2011
To mark the first year anniversary of One Direction, the boys did a UStream chat that was live-streamed. During the video, the boys thanked their day-one fans and chatted about what they wanted to achieve in the future.
23rd July 2012
In the summer of 2012, the popular band had just finished their first-ever tour which took them all around the UK, Australia and North America. The night before, on the 22nd, they wrangled three Teen Choice Awards so the boys were probably resting up. Niall and Zayn both did tweet that day to show their gratitude towards fans.
23rd July 2013
July of 2013 saw One Direction right in the middle of their second tour, where they'd upgraded to arenas and were now playing to audiences all across the globe. 23rd July was their only day off in a week with a show in Dallas on the 22nd and a show in Denver the day after. Another year and another 'thank you' tweet was sent to fans, here is Louis' from that year.
4 years. Thank you to everyone who is involved in this. I feel so lucky to be part of it. Everyone who has worked with us thank you..

— Harry Styles. (@Harry_Styles) July 23, 2014
23rd July 2014
Again, this summer also saw the boys in the middle of another tour. The 'Where We Are' tour was the biggest tour they did, selling out stadiums globally and Wembley Stadium three nights in a row. The 23rd July was included in their break before their North America leg kicked off. All of the boys tweeted to thank their fans for four years of support but it was Harry's tweet (above) that got the most love.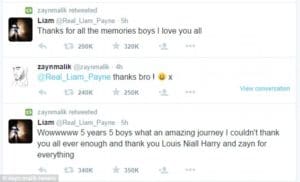 23rd July 2015
This anniversary was arguably the hardest for Directioners, as it was the first anniversary of the band without Zayn. It again fell on a day that One Direction had off, from their fourth and final headline tour. Liam tweeted his annual tweet of thanks to fans and to every fan's delight, Zayn actually replied despite not being a part of the band for a long five months.
Louis has a message for you! #6YearsOf1D pic.twitter.com/uslf7Eglck

— One Direction (@onedirection) July 23, 2016
23rd July 2016
This was the first anniversary since One Direction announced their 18 months (*eye-roll*) hiatus. On this day, Louis posted a video message to fans from the official One Direction account. All four of the boys tweeted to fans, with Liam even calling One Direction his "home".
1. Thank you.
2. Thank you.
3. Thank you.
4. Thank you.
5. Thank you.
6. Thank you.
7. Thank you.

Love you. H

— Harry Styles. (@Harry_Styles) July 24, 2017
23rd July 2017
As usual for this day, Directioners managed to get several One Direction related hashtags trending on Twitter. Liam and Louis picked up on this and even used the hashtags themselves to express their gratitude and communicate with their fans. Niall and Harry also tweeted their annual thanks to fans, with Harry listing seven separate ones standing for each year.
A whole lotta history… this Monday is an important anniversary for the guys, it's been #8YearsofOneDirection

To celebrate, it's time to relive all the hits this weekend by streaming the official playlist and tweeting which tracks you are listening to https://t.co/H09htTye18 pic.twitter.com/Pus8wudY7T

— One Direction (@onedirection) July 20, 2018
23rd July 2018
The official One Direction Twitter was used all of this day, sending fans into meltdown over a possible reunion between the five members. The HQ used the fan-made hashtag to interact with fans, to post lyrics and to draw attention to the specially made playlist for that day. Again, all of the boys tweeted their fans to show their gratitude. Niall even had his own solo show in Nashville that night but still managed to tweet his long-time supporters. Harry had just finished his first solo shows for Live: On Tour.
https://twitter.com/thexfactor/status/1153593324588163076?s=21
23rd July 2019
The boys all jumped on the fan-made hashtag again in 2019. The X Factor even decided to get involved with the annual 1D event and even posted on their Twitter about the anniversary.
23rd July 2020
Last year's anniversary was One Direction's tenth year anniversary! Fans were determined for a reunion, even a Zoom reunion, but alas it never happened. The boys were all as sentimental as ever, on Instagram and Twitter. Even the 1D account jumped in on the action by adding special 4k music videos for the bands hit songs, you can watch any of them here.
It has been a wild ride over the last 11 years, and being a Directioner is such an exciting thing, even though the band aren't formally together anymore. Let's all keep a close eye on their socials on the 23rd to see what they post for the 11th anniversary!