WHAM! are celebrating 40 years since forming this year and have got some exciting things coming for their lifelong fans. Releasing timeless number one hits, such as 'Club Tropicana' and 'Freedom', it's no surprise that George Michael and Andrew Ridgeley fast became one of the UK's best loved pop acts after forming in 1981.
WHAM! The Singles: Echoes From The Edge of Heaven is a case jam-packed full of their top singles, all in 7" vinyls. Including; 'Young Guns (Go For It)', 'Wake Me Up Before You Go Go' and 'Last Christmas' as well as many, many others. WHAM! have sold over 30 million records worldwide and their amazing legacy continues with these new re-releases.
It is also available in multiple additional formats: 10CD box set, 2LP coloured vinyl, 2LP black vinyl, CD and digital.
WHAM! released just eleven singles as a duo and incredibly five achieved number one in the UK, with three others being chart toppers in the US. The band eventually disbanded in 1986 with George Michael going onto an extremely successful solo career.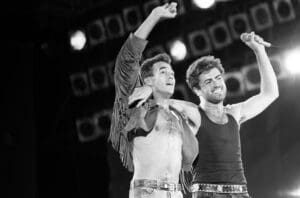 This is not the only exciting thing that is coming for fans this year… There is set to be a WHAM! documentary being released on Netflix this July. For the first time, told in their own words, WHAM! will discuss their insane success. There will be tonnes of never-before-seen footage of George and Andrew, promising to be a must-see for fans across the globe.
This year is looking to be a really exciting year for WHAM!'s original and new superfans. You can pre-order WHAM! The Singles: Echoes From The Edge of Heaven here.