Harry Styles is on the cover of Rolling Stone's newest issue as the publication's first global cover star, appearing on their US, UK, and Latin American covers, with 14 editions of the magazine soon appearing on newsstands globally.
Presenting our first-ever global cover star: The world's most wanted man, @Harry_Styles.

The pop icon opens up about his huge year, his two new films, his fans' relationship with Olivia Wilde, activism, sexuality, therapy, and more.

Story/Photos: https://t.co/LyaBapDXdL pic.twitter.com/7ntvXjgJPZ

— Rolling Stone (@RollingStone) August 22, 2022
In the cover story, Harry talks about creating Harry's House during the peak of the pandemic, becoming a leading man in the upcoming films Don't Worry Darling and My Policeman, and his efforts to compartmentalize in order to create a work-life balance.
He discusses Harry's House's beginnings when he "moved in" to Malibu recording studio Shangri-La with producers and co-writers Kid Harpoon and Tyler Johnson. "We didn't really know what we were going in for," said Harry. "It just felt like sitting at home doing nothing might feel better if we all move in together and try to make some music." Once his 2021 iteration of Love on Tour got back up and running, Harry's House was complete.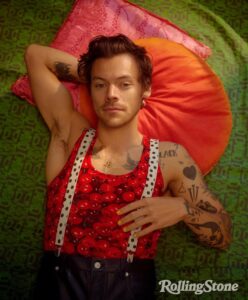 It turned out that Don't Worry Darling director Olivia Wilde was intrigued by Harry as an actor when she saw him in Christopher Nolan's Dunkirk. He was cast in the film alongside Florence Pugh, and shortly after that film wrapped, Harry started shooting My Policeman, the romantic drama set in the 50s centered around a gay love story, which he calls "very human."
"I think everyone, including myself, has your own journey with figuring out sexuality and getting more comfortable with it," said Harry, addressing the ever-present "queerbaiting" rumors. "Sometimes people say, 'You've only publicly been with women,' and I don't think I've publicly been with anyone. If someone takes a picture of you with someone, it doesn't mean you're choosing to have a public relationship or something."
His current relationship with Olivia Wilde is one of the things he's trying to keep to himself by setting boundaries, although he does fear he's being hypocritical for wanting privacy. "I've never talked about my life away from work publicly and found that it's benefited me positively," he said. Harry also mentioned wanting to be more vocal about racial and gender equity, especially during the global movement on working to end racism in 2020.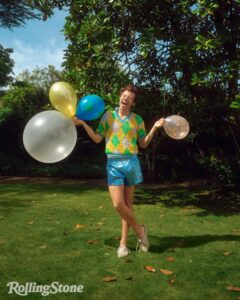 We learned a few new things about Harry from this interview as well, like the fact that he had tonsillitis during One Direction's first show at Wembley Stadium in 2014. He might also catch up on the most recent season of Love Island, which he says he was "gutted" to miss. (Do we think he'll be on Team Ekinde or Damiyah?) Oh, and he mentioned that he has already started writing his next album. "I think all of us are so excited to get back to it," he said. "Which feels insane because we've just put an album out."
Read Harry's Rolling Stone cover story here.
Featured Image source