Youtube
When I woke up this Christmas Eve, I had no idea that Jimin or V would drop a Christmas song out of nowhere and bring so much joy on this day.
Jimin's "Christmas Love" is a bright, cheerful song that sounds almost like a child's version of what Christmas is like — so pure and innocent.
여러분 선물이 도착했습니다 😁#JIMIN#Happy_Holiday#Christmas_lovehttps://t.co/QglYR77fHv

— 방탄소년단 (@BTS_twt) December 24, 2020
"Everyone, your present has arrived."
Jimin wrote a letter to ARMY explaining why he decided to release "Christmas Love" during these difficult times we've been facing. Jimin himself has been thinking a lot back to his childhood and how much he wishes to go back in time and relive those days, especially magical days like Christmas. He also mentions how growing up and being responsible for many things takes away our innocence and makes us hide feelings that might not be acceptable for grown-ups. His intention with this song was to let these feelings and emotions out and give ARMY a very special Christmas present and they did not see it coming.
"Christmas Love" had everyone pouring out their love and appreciation for Jimin for being so thoughtful and a source of comfort knowing that these might be very hard days to so many around the world.
https://twitter.com/jeonbubbles/status/1341945082048462848
two years ago, jimin released promise to make a promise to himself and to bring comfort to the people who listen to his song. today, he released christmas love to comfort people due to the current difficult situation the world is facing right now

— ♥︎ (@jmncentre) December 24, 2020
jimin singlehandedly brought my christmas spirit back

— e⁷ (@wohcuIt) December 24, 2020
Jimin finishes his letter saying that everyone is always worthy of love and how he wishes for all to be over soon so we can all enjoy life together again. I don't know about you but when I think of love I'll be definitely thinking of Jimin and his beautiful Christmas present to all of us.
Not longer after Jimin released his Christmas single, V dropped another Christmas present to ARMY. The song "Snow Flower" is a collaboration between V and Peakboy. It's a jazzy Christmas ballad that fits really well with V's emotional, deep voice.
In his own letter to ARMY, V mentions how the pandemic might have intensified people's anxieties and depressions, especially at the end of the year. Using part of the lyrics he hopes that a white flower falls on people's hearts with comfort and happiness. V also teases his mixtape, which will probably take a little longer than we expected, but that's okay. We don't mind waiting as long as we have "Snow Flower" on repeat.
ARMY had a very strong heart dealing with two surprises in only one day.
https://twitter.com/ahemyg/status/1342125014808633353
https://twitter.com/KingPanadda/status/1342135752793018370
https://twitter.com/nagareboshitk/status/1342125776519503873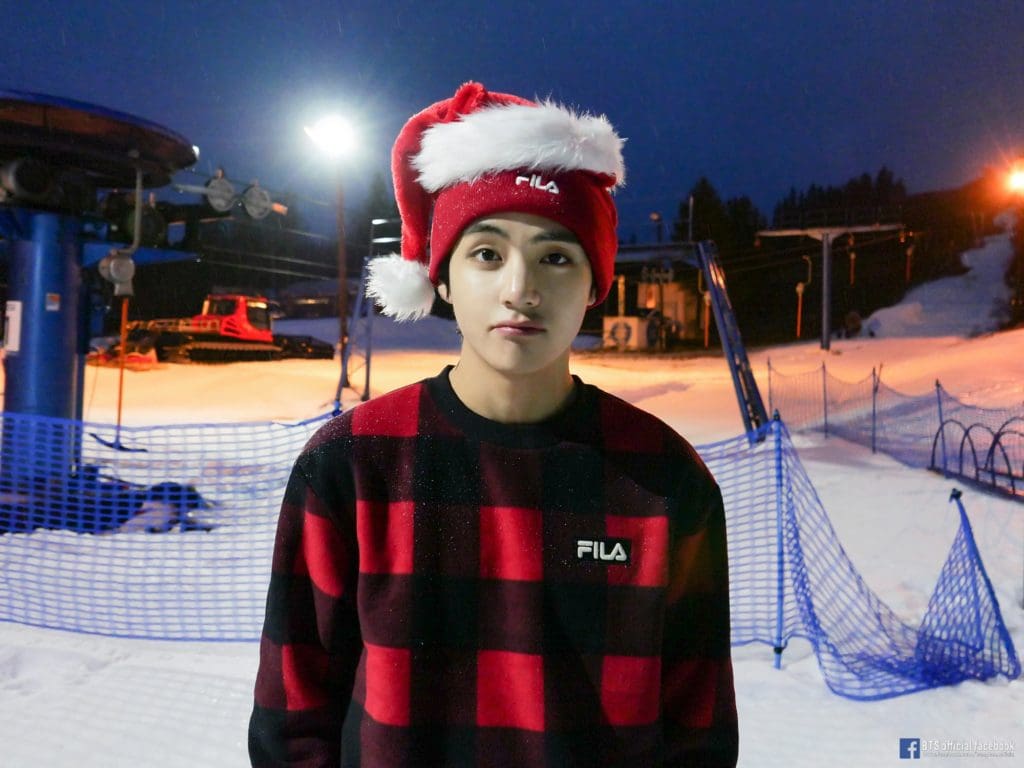 V and Jimin gave us two beautiful songs on a very special day that express so much of their feelings towards ARMY.
the two songs express their personalities and tastes and styles so much, so different yet so healing and pure in the same way, and vmin in the snow will forever be my favorite concept#SnowFlowerByV#ChristmasLoveByJimin @BTS_twt pic.twitter.com/KtvDBdm88N

— ༘♡ (@darIingvante) December 24, 2020
We can't choose which one we like better, so we'll keep listening to both of them nonstop. Which one are you going to spend the holidays with?