Although it may feel like a lie, Walls has already turned a year old. I know they say that time flies when you're having fun, but it has never been truer than now. How can it be that it's already one year ago since we've heard bangers like "Only The Brave" and "Always You" in its entirety for the first time?
Music has always connected people, but with Louis, it's also a way to connect to fans. Let's dive into what the album has brought the fans and how it's helped them in the last year.
Twitter user @originalmissalg beautifully worded how she feels about the album:
"Walls is the album that got me through 2020. It's strong and uplifting but also empathetic; you can feel the pain, but there's always love. It's a no-skip for me. I love so many things about it: it's lyrically beautiful, his voice is so outstanding and emotive, his accent is distinct and wonderful, it's gender-neutral, the music feels natural and organic… There is no one favorite song, but 'Don't Let It Break Your Heart' was so extremely relevant to me in a loss, 'Habit' is fun but profound, 'Fearless' is a grownup anthem, 'Only the Brave' is a tiny jewel of a song, 'Two of Us' of course is so very special, 'Kill My Mind' is a bop, and… um, yeah, all of them are my favorite at different times. I never get tired of these songs."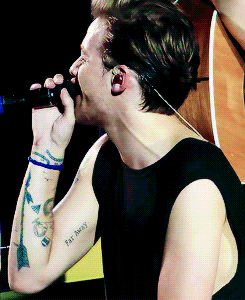 Ella, whose user is @onlythemercy, shares an equally beautiful opinion about Walls:
"The lyrics are beautifully written and Louis' voice goes along so well with every song. It's so comforting to listen to him for 39 minutes. His songs have gotten me through the toughest times in my life. I'm so grateful this album exists."
The reoccurring theme in the album is heartfelt honesty and vulnerability. Fans feel that same way. From songs like "Two Of Us," which has helped tons of fans cope with loss and tough times, to "Only The Brave," which has uplifted everyone who needed reassurance in their life, it's wonderful to see how people find that in Louis and his songs.
We're all living through extremely difficult times, and for some people, the album came just at the right time. That's what music is, not only us Louies but to Louis as well. A way to connect to each other, a way to support each other, a way to uplift and comfort each other. There are not a lot of artists who are capable of doing such a thing, but Louis will never fail to achieve that. That connection is no lie.
@lwtlvr shares:
"The lyrics are absolutely beautiful. Each one of his songs tells a story and after listening to the album for the first time in full I felt my connection with Louis deepen. I was able to understand him more and that meant a lot to me as a fan. It still does."
People have said that the album is like a warm hug that is given to them whenever they needed it. The lyrics and songs are a comfort blanket for a lot of people, and rightfully so. That's the beauty of Louis' songwriting and personality. That's the reason why so many of Louies feel such a great connection to Louis.
What has also shined through is not only that the songs speak for themselves but the way people perceive Louis. He has always stated that everything he does is for us (his fans), and that it's teamwork between Louis and Louies. You can see that in Walls. You can see that in the love we have for the album, and for that, we thank Louis.
Happy first anniversary to Walls! Thank you for everything you have done for us!