Meet Tom A. Smith your favorite new artist
Tom talks about his musical influences, overnight success, and his two hit EPs
We sat down to chat with 18-year-old singer-songwriter Tom A. Smith as he continues to tour some of the world's largest and best festivals. Tom talks about his musical influences, overnight success, and his two hit EPs. With inspiration from classic rock and the influence of the latest mainstream buzz, Smith is carving out his new sound. From writing songs in his bedroom to opening Leeds Festival, we're sure this is only the beginning for the "Could I Live With Being Fake" artist. Stream EP1 and EP2 wherever you listen to music!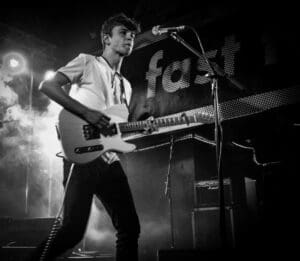 Who are your most significant musical influences?
I'd probably say The Beatles and Led Zeppelin, but to be honest, I love all sorts of music and have been listening to Sam Fender and Gang of Youths a lot recently.
Where do you draw inspiration from?
I try to pick a subject and stick with it. I try to write a set of lyrics daily, so if I struggle on any particular day, I end up reverting to love and hurt. I have phases where I feel politically motivated, but just anything and everything.
What got you into making music?
My dad went for a meal with members of a band called Detroit Social Club, and they all agreed to give me lessons. I think I was about 5, just loved music from that moment on, and it's all I've ever wanted to do!
You've already accomplished so much in a short period; how has it been for you? Do you feel like a proper rockstar yet? (you should!)
I'm just not, though. I'm doing this interview in my bedroom the same as it's always been, and I really haven't achieved anything like what I want to achieve yet. I'm grateful and proud for the things I've done, but in the grand scheme of things, I've not accomplished anything near what I think I will do.
Dream festival to play?
Burning Man looks good, doesn't it? I love the thought of touring the world, so I suppose anywhere exotic or unusual will do me. The Pyramid Stage at Glastonbury would be ridiculous too.
Your EP's are fantastic and so well done. What has been the most significant difference between working on the first EP to EP2?
We created them both in exactly the same way. I created the demo on my own in full at home, and then we tried and copied them bit by bit in the studio with better equipment and added Larry Hibbitt sparkle (my producer). I recorded EP2 before EP1 was released, so I probably hadn't progressed too much from a creating perspective. EP1 was just a bit of everything to prove what I can do.
EP2 is more mature and experimental—did you feel more confident and free going into this EP?
I suppose I was more used to the process, but it was a deliberate thing to demonstrate my songwriting skills on this EP. I have about 250 songs to choose from in demo form, and I'm deliberately not picking the best first. I'm really trying to share a piece of work I can be proud of every time.
Which song are you most proud of so far?
I really love "Never Good Enough"; I remember writing the sax solo and thinking that I was on to something. I love the disjointed delivery of the vocals and the drop before it kicks back in. It's just a proper summer song.
How many songs did you record vs. how many made the EP?
I pick the songs I want from 250 demos and then record them. We have no excess fat. I believe they are good before I record them properly.
Do you start with music or lyrics first?
I'd say lyrics mainly, but it's not always the case. Toronto on EP2 wasn't. I like lyrics first because then trying to fit them into a melody that they shouldn't fit in is part of the fun. I get more success out of doing it that way, as a rule.
Where do you envision people listening to your music? is there a particular environment or scene you would imagine as the ideal place to listen?
Not really. This time next year, you'll see how diverse my songs are as a collection. From a live point of view, I keep it loud and driven, but that's because people don't know the songs, and if I played my softer ones with it, I'd hear talking and would hate it. I'm starting to embrace the term Indie as before, and I wanted to just be something for everyone and hate being pigeonholed. Let's face it, there's plenty of great music made under the indie banner, so maybe I should just wind my neck in.
Where do you imagine yourself in 5 years?
Oh well, in five years' time, we could be walking around a zoo
With the sun shining down over me and you
And there'll be love in the bodies of the elephants, too
I'll put my hand over your eyes, but you'll peek through.
Either that or world domination (musically, not like a mad dictator).
You've received acclaim and praise from some of music's biggest stars. Who has given you the most significant "pinch-me" moment?
Having a FaceTime call with Elton John was pretty mad, and the fact he knew all of my music, said some amazing things and was really supportive. We spoke while he was on his yacht, and he had his red glasses on. I was in my bedroom in Houghton Le Spring. That's pretty mad, isn't it??
When I first heard your music, I felt like I was listening to the love child of Jake Bugg and The Arctic Monkeys. Are they influential in your music at all? Alternatively, how would you describe your sound to someone?
I wouldn't say either influenced me, but I do really love both of them, so maybe their influences influenced me too. I watched Arctic Monkeys at Leeds Festival last week, and they were ridiculously good, but I spent my whole school life pretending I didn't like them as everyone else did. I had a spell of loving Jake Bugg's first album, all bangers.
With all your fame, how has your relationship dynamic changed with your family and friends? How have you been able to balance your personal and professional life?
Exactly the same as it ever was. There's been a couple of things recently that have made their ears prick up, but I've been doing this and playing festivals since I was 10, so it's just who I am.
Do you have any pre-show rituals? Or any superstitions you follow?
I must eat beforehand for energy but not really. It's just a really great job I've got. I've played probably 500 times or more live and always had to adapt to whatever is going on.
Do you ever get nervous before a gig? If so, how do you calm yourself down?
I don't, as a rule, but the only time I do is if I'm playing something slightly under-rehearsed or new to me. I think I like to be in control so if everything is practiced then I'm fine. Not bothered about mistakes and things. They don't bother me. I can't wait to play in front of people, so I'm lucky it doesn't affect me.
Did Elton John give you any advice for your budding career? Has any musician or anyone you looked up to given any sound advice?
Elton was just really supportive and positive about my work and future. I remember Matt from Little Comets telling me just to keep writing as many songs as I could, and so I have, and I'm so much better at it now. Miles Kane was great, and his was about imagining the lighting flashing during the chorus at a gig and what you'd need to come up with to get everyone singing along. Dave from Gang of Youths talked me through his writing process. I tried it and wrote an absolute banger so that I might do that again!
Is there a top-tier artist you would like to collaborate with in the future?
I'm happy with what I'm doing, but I won't say no to Elton John, Miles Kane, Sam Fender, or Paul McCartney. They may say no to me, though.
You play many festivals; what is your dream line-up for a celebration? Anyone dead or alive—whatever your ideal lineup would be.
Elvis, The Beatles, Johnny Cash, Depeche Mode, and Led Zeppelin with Chemical Brothers light show as well. That would be absolutely insane. I'd collaborate with any of the living ones too!
Top 3 songs you love at the moment?
My next single, just wait til you hear it!! I've just gotten into Sports Team, so anything by them and the new Arctic Monkeys track is just an absolute dream. There'd better be a Mirrorball. It has everything.