Photo Credit: Jade Sadler
Welcome to mazie's psychedelic universe, blotter baby
You may know mazie, the 23-year-old singer whose song "dumb dumb" became popular after it was featured on Netflix's original film, Do Revenge. But with the release of her debut album 'blotter baby', mazie invites you into her psychedelic universe and discusses her personal and musical journey.
"Oh, man…" mazie starts, thinking of a word to describe how she's feeling. Over Zoom, her pink and orange sweater, which the 23-year-old singer shares a friend made, compliments her hair and matches her bright personality – fun and colorful. She continues to think of a word, and to help her out, I tell her I'm caffeinated. Instantly, she perks up.
"Yes! Okay, I'm feeling under-caffeinated," she finally shares with a laugh. "I'm on my way."
When I talk with mazie, there's a week left before her debut album, blotter baby, releases and performs her first headline show in LA (Note: By the time this article is out, mazie will have already performed). In preparation, there's still a lot that she has to do, but as she shares, it's going to be wonderful.
"I just met with a choreographer for the first time ever, so I'm gonna have like a little move," mazie says, dancing in her seat. "And yeah, just like working with a vocal coach and prep for it, so I'm like, I'm really giving it my all."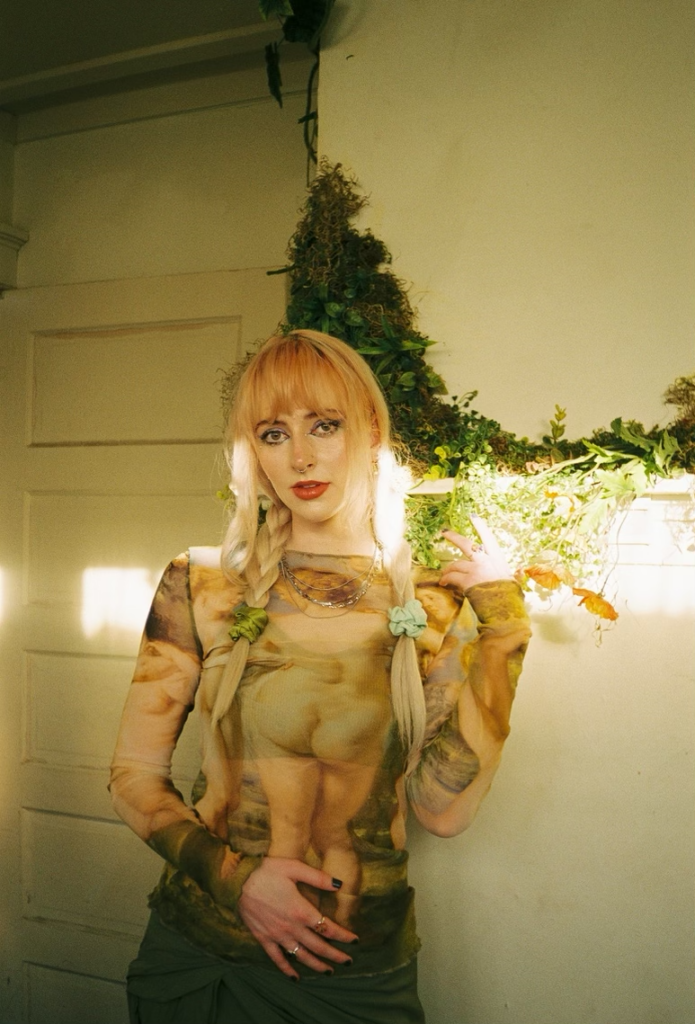 Before moving to LA, there were two places that mazie called home — the first being Baltimore, where she was co-raised by her mother and grandmother and discovered classical and jazz music.
"My grandmother was a singer, and she immigrated to the United States from Ireland and immediately joined this Hibernian choir, which is like this Irish choir," she says, crediting her grandmother – who dedicated much of her life to music and performing – as her major musical influence. "I just ended up singing because she was always singing, and we were always singing together."
The singing didn't stop there, though. On her 10th birthday, mazie was gifted voice lessons by her mother and grandmother. For eight years, she learned the intricacies of classical and jazz and developed her sense of melody and writing music.
But aside from these lessons, mazie also credits the faculty at her high school as impactful, especially when growing up as queer and attending a private all-girl Catholic school was difficult.
"For me, they [school] had a humanities program where everything was taught through the Socratic method, and it was extremely progressive, and I feel like fundamentally shaped me as a person and as a thinker, so I'm always grateful for that," mazie says. She also shares her gratitude for her school's music department, where she could throw herself into choir and chamber choir and find a supportive environment for the arts.
However, it would be moving to Philadelphia, her second home, for college that mazie discovered herself.
"I think just being on my own for the first time, being away from my family, being out of like a school that way, but also just experimenting with psychedelics," mazie says. "Just that being like a really big theme through college and having like friends who are also experimenting all the time and creating all the time."
I mention how it's always college that helps some of us find ourselves and navigate our identity. With this, I ask mazie how important it is to have and celebrate her queer identity through her music.
"I think I'm on my way there to just being, like, outright celebrating 100 percent of the parts of my identity; it feels like very new, and it still feels like I'm exploring and trying to figure out a lot," mazie says.
However, mazie also points out that she doesn't think she goes out of her way to express that part of her identity but instead that it happens naturally because it's who she is. "I feel, really, like, safe though when I'm expressing those things, and I feel like held by my fans and the community of friends that I'm in," she adds. "It's really nice."
my debut album blotter baby is almost here!!! t minus 2 days 🥹 and SURPRISE dropping a music vid for are u feeling it now this friday!! 🪐can't wait for u to see this one!! ✨ https://t.co/LmFl7z3GBQ pic.twitter.com/HByOW9kaDr

— mazie (@heymazie) February 22, 2023
And expressing herself is what mazie does on her debut album, blotter baby.
Describing it as an open concept for both her and her producer Elie Rizk, mazie shares that during the first week of sessions, they sat and discussed conceptually for days what each wanted to bring to the record.
"I had blotter baby from the jump," mazie says. "It was just something that I liked. We weren't sure if it was going to be a song." Yet, as she explains, it became the album's title, and the 'blotter baby universe' bloomed.
"It was really aimless at first; we just sort of were like, 'Let's splatter the paint. Let's just be creative and see what comes out of it,' and it was this album."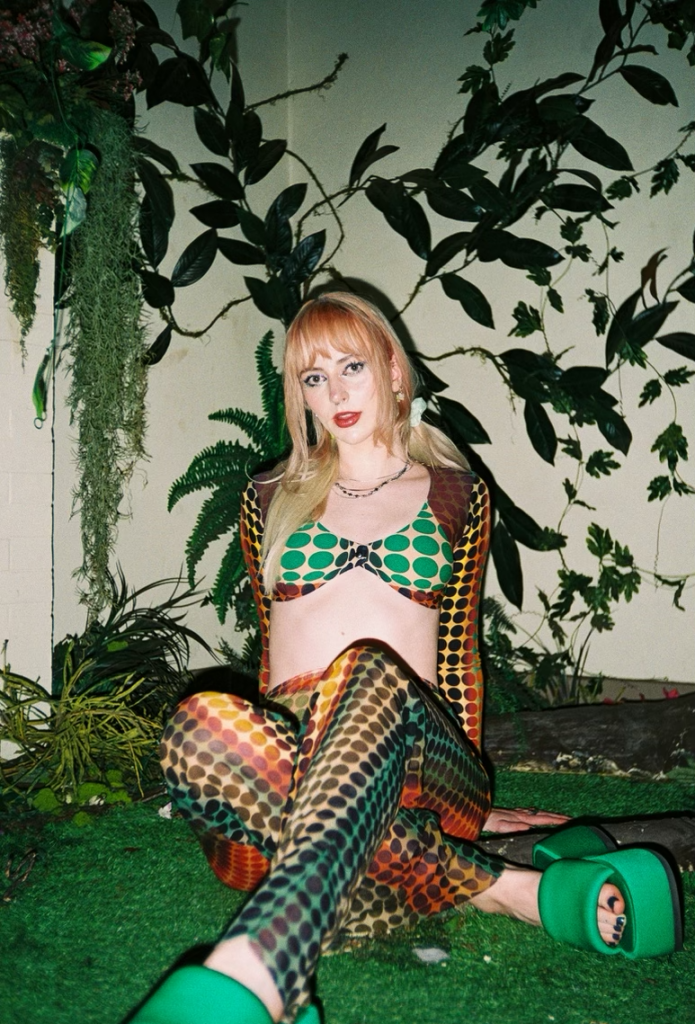 Pulling from genres like pop, punk, and electronic, blotter baby gives a nod to the past with its '60s and '70s- inspired pop hooks, bringing listeners something nostalgic and new. It also features mazie's viral hit, "dumb dumb". The song, which has garnered more than 250 million global streams and 1 million TikTok creates, became massive after featuring in Netflix's original film, Do Revenge.
But aside from this one song, it's track seven, "girls just wanna have sex", that mazie lets loose and has fun. It also gets us laughing as I mention to her that it reminds me of a quote from an episode of Glee. One that mazie instantly picks up on.
In Glee's second episode, "Showmance", Rachel Berry joins the celibacy club to get closer to her crush Finn Hudson. However, Rachel soon realizes that the club is used for the other teenagers to get closer to one another (with the help of balloons), and goes on to share with the celibacy club an iconic line – "You wanna know a dirty little secret that none of them want you to know? Girls want sex just as much as guys do."
Packed with pop-punk and sex-positive energy and laced with fun and raunchy lyrics, mazie says creating "girls just wanna have sex" was 'insane'.
"It's the only day that I've cut a song in one day, like top to bottom," she shares. "I felt so excited about what I was saying, and I was just, I mean, I'm like, literally screaming. It was really, really fun. It was a very fun day."
But aside from the fact that the song radiates sex-positivity, "girls just wanna have sex" was also inspired by the overturning of Roe v. Wade in June 2022. I ask mazie if this song also expresses women's bodily autonomy.
"A hundred percent," mazie says. "It was just very much like a great way to channel a lot of like rage. You know what I mean?"
Nearing the end of our interview, I bring up the topic of mutual aid, something that mazie tries to mention in every interview she does. I ask when she learned of it and why it's so important for her to bring it up in her conversations.
"Living in Philly specifically, community care is like very available," mazie explains. "In a way that it, like, I don't know, changed my life and perspective on how easy it is to participate in your community and just be a good neighbor."
And how is one a good neighbor?
"Being a good neighbor is like, 'Does someone in your community need access to groceries? Does someone need in your neighborhood need access to capital to do something in their life? Do they need access to free childcare? Like free babysitters?' You know what I mean? It's just so much more accessible and so much more simple than I think some people make it out to be if that makes sense."
And with the topic of community still lingering throughout our Zoom chat, I ask mazie two more questions. The first: What's next?
"I think touring is like the next big thing for me, being able to tour on this album," mazie says. "I'm obsessed with touring; I love it so much, it's like my favorite part of the job. So, just, like, hopefully doing that in the spring or summer and getting back into the studio and making the next record, that feels like what's next."
The second: Is there an artist she dreams of opening for? She answers my question in under a second, and I don't blame her.
"Harry Styles," mazie says excitedly. "We're manifesting."
mazie's debut album, blotter baby, is out now.