Chelsea Collins talks new single Wake Up At Our Funeral
Upcoming star Chelsea Collins chats to us about her brand new single 'Wake Up At A Funeral'.
Rising pop sensation Chelsea Collins has just dropped her brand new single called 'Wake Up At Our Funeral' — and it is an absolute bop.
The sparkling beat and noughties pop vibes give off the most nostalgic tones. Chelsea has been compared to Halsey and Britney Spears, with this particular single being likened to Katy Perry's 'Teenage Dream' era.
This single follows the release of Chelsea's ballad 'Hotel Bed' that featured five-time GRAMMY-nominated artist Swae Lee.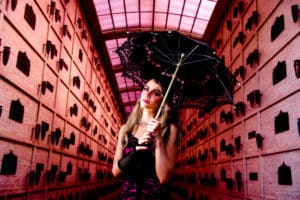 I chatted with Chelsea about her new single, the intense and iconic music video as well as what it feels like to be compared to some of pop's biggest legends.
---
'Wake Up At Our Funeral' is a brilliant song! How long have you been sitting on it?
Thank you so much!! I've been sitting on it for about a year now. Honestly most of the songs that come out I generally made 1-2 years ago!
What did the creative process look like?
The creative process was actually over zoom! We spent 4 hours trying to come up with something, and once we finally pushed through we wrote the song over the guitar. The song stayed as just my vocal and guitar for a while, then eventually it got produced and became the bop (from my perspective lol) that it is today!
What's your favourite part about this song?
My favorite part about the song is the bittersweet energy it carries. Despite the toxic relationship I was in, even when we were falling apart and I was super torn up about it, that small percentage of love that was still there is what kept me going.
The music video has been shot at the Hollywood Forever Cemetery which seems an ideal fit for the song. Was this always the plan? To have the music video in a cemetery setting.
Yes. I didn't end up staying very long because we got kicked out, but I wanted to execute the idea that life is a walking juxtaposition. Life and death go hand in hand, just like happiness and sadness, heartbreak and love etc – with that being said, it's also such a beautiful cemetery.
How have fans reacted to your previous songs? How do you hope fans react when they first listen to "Wake Up At Our Funeral"?
The songs that I pour my heart into are generally the ones that my fans resonate with the most. I'm so grateful for their support. The fact that my songs can make them feel happiness is insane to me. Fans always know what you're passionate about, though (and what you aren't passionate about).
I'm hoping that when they first listen and they're walking through school or wherever they are, it sends endorphins through their bodies and makes them feel understood. One of my close friends (who is also a music artist, yet weirdly enough we never really talk about music together) randomly told me that one time he was having a panic attack on an airplane and listening to the song was the only thing that calmed him down. The fact that a song can do that for someone is such an honor, which is why I really wanted to release this song next.
You've recently been compared to the likes of Britney Spears and Halsey. What does that feel like?
It's so sweet, they are both so incredibly talented!! I have a long way to go to get to their level but music is the best thing to exist so with that being said… LETS GOOOO!!!! 😛
You can listen to 'Wake Up At Our Funeral' here and watch the music video up above. This is definitely our new favourite song! We can't wait to hear more from Chelsea.