"Falling" is the third music video off of Harry Styles' sophomore album Fine Line, following previous album singles "Adore You" and "Lights Up." While those two videos have had the trademark Harry Styles touch to them, "Falling" proves to be a quiet, intimate, and raw step back from what has been produced so far.
The set of the music video is a Renaissance dream, paired with Harry's silk Gucci outfit to adhere to the period. The grand piano, the paintings, the marble — all of it alludes to something fans have come to expect with Harry: a sense of artistry. Yet, within the first few seconds, it's clear that this video is unlike the others.
In his new music video for 'Falling' debuting today, @Harry_Styles wears a silk wide sleeve plissé top with drawstring detail, asymmetric panels and long train with wool mohair trousers from #GucciSS20 by #AlessandroMichele. Styling by: @harry__lambert pic.twitter.com/pAxcVLlp9a

— gucci (@gucci) February 28, 2020
In a sense, it's stripped down and almost too intimate, like fans are invading a private moment of reflection. But it captures the heart of the song perfectly. The sound of the water filling the room is present throughout the video before the beautiful piano ballad takes over. The camera focuses on Harry as he sits in the room as it begins filling with water. As the song continues, the theme of laying his feelings bare for listeners only strengthens.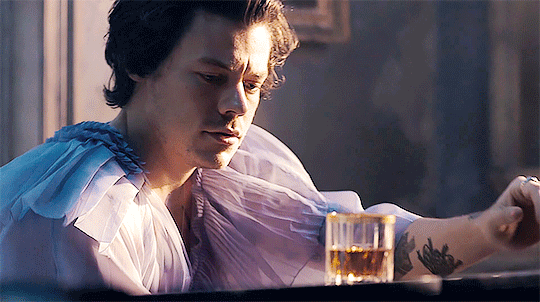 Ultimately, what's most interesting about this song and video is that, even without the usual theatrics of his videos, "Falling" still gives fans an insight into Harry's emotions, perhaps one we haven't seen before. We see Harry — trademark rings, tattoos, and all the other aspects that make him, well, him. But when he looks straight into the camera as the chorus begins ("What am I now? What am I now?"), it's almost as if he's asking us.
The use of water as a motif is genius, building on the sense of drowning in a sea of feelings and realizations. Styles tries to stay afloat by the time the bridge comes along, where he sings, "I get the feeling that you'll never need me again" and hitting the song's highest note as he submerges under the water completely.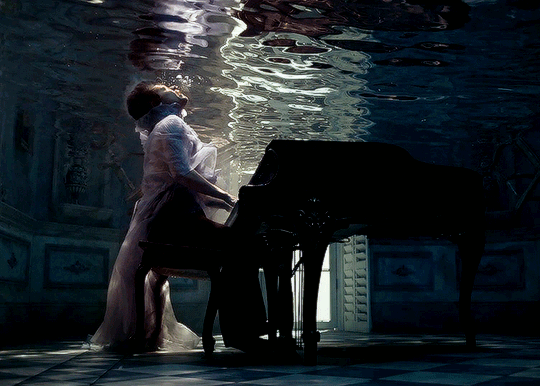 "Falling" is my favorite song from Harry for a number of reasons, including the way it's stripped-down, the self-reflection, the acknowledgment that sometimes we all lose our grip. There's been a distinct shift from Harry Styles the debut album and Fine Line in terms of how vulnerable he allows himself to be through his music. This video is honest, it's heartbreaking, and it fits the song — and that's why it's so impactful. The theatrics and expected artistry might be gone in some aspects, but perhaps, that's why this is his strongest music video to date.