Can you believe it's already been two years since Louis Tomlinson saved the music industry releasing his much-anticipated debut album Walls on 31 January 2020? Yeah, me neither. I guess time really flies when you need music from our Tommo to keep breathing.
On that occasion, Louis himself said he was "really relieved to finally be" there and Walls definitely cemented his new perspective on what success means to him, which is making music he loves ✔️
and making fans proud to say they're his fans. ✔️✔️✔️(x28)
It reached No. 1 on iTunes in over 50 countries on the first day of release (topping the iTunes Worldwide Album Chart as well), it debuted at No. 9 on the Billboard 200 chart becoming the first new Arista album to hit the top 10 in nearly nine years; eight months after its release it hit No. 1 on iTunes in the US, in the UK and over 20 countries; overall, at the end of the year, it ranked as the sixth biggest debut album of 2020 in the UK and the fourth in Ireland.
Last August, his 'Away From Home Festival', the FREE one-day music festival entirely curated by our Tommo himself "to say thank you for all the support and celebrate the return of live music", was a huge success.
Last November, his 'Louis Tomlinson Live from London', a live-streamed show to raise money to support good causes that took place in December 2020, got him the Guinness World Record for most tickets sold – over 160,000 – for a livestreamed concert by a solo male artist. HIS IMPACT!
Can't get my head round this! Thank you to anyone who watched the stream. Very proud moment!

Faith in the Future https://t.co/iblWz7ErwV

— Louis Tomlinson (@Louis_Tomlinson) November 16, 2021
On the first anniversary – surprising a total of zero people – Tomlinson didn't miss the opportunity to come online and thank – once again – his Louies.
1 year of my first album Walls. Crazy how quick the time has gone. When I finally get to tour this album it's going to be fucking unbelievable! Sending you ALL a massive thank you for everything you do! This is our day!

— Louis Tomlinson (@Louis_Tomlinson) January 31, 2021
Thanks for all the love for Walls today. You're all amazing!

— Louis Tomlinson (@Louis_Tomlinson) January 31, 2021
He said he wanted to drop some merch but "didn't want to market the day. Just wanted it to be a celebration for us!"
If you're wondering if he's an angel the answer is yes.
But, instead of that, we got blessed with a little clip of the original demo for the title track so we can't really complain!
Let's round today off with a little clip of the original demo for Walls #1YearOfWalls pic.twitter.com/kZGr3QENfA

— LTHQ (@LTHQOfficial) January 31, 2021
I don't know what we can expect for the second anniversary, especially since it's gonna be the day before Tomlinson's (sold-out) first world tour finally kicks off after being postponed too many times due to the pandemic and if there's someone more eager than us to finally see him again on stage where he belongs is definitely Louis himself!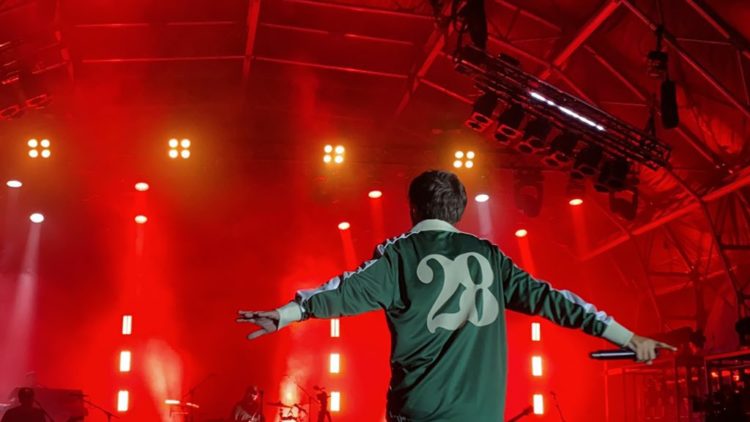 He's stated multiple times how "special" it's going to be considering the "6 years of built up energy waiting for this moment" and, hoping everyone will still take precautions and respect all safety requirements because sadly the pandemic isn't over yet, we're all literally buzzing in excitement even if we're not from the US and we'll end up crying – in rest-of-the-world – over blurred pics and vids at the most random times of the day and/or night.
Over the past months, few songs crediting him as a songwriter have also been registered but they could be for other artists or just never see the light of day so EVERYBODY STAY CALM. Anyways LT2 is closer than we think, Tomlinson has shared throughout these years how hard he's working on it while enjoying taking his time, like the little perfectionist that he is.
Seeing all the love you're all giving to Walls. Constant consistent support, thank you! Working hard on the next album. Written pretty much every day for the last month, feeling really excited!

— Louis Tomlinson (@Louis_Tomlinson) December 8, 2021
And if it's gonna be anything like 'Copy of a Copy of a Copy' and 'Change', he's about to save the music industry once again because he just can't help it, he has to.
Also I'm late but happy new year!! This finally is our year!

FAITH IN THE FUTURE

— Louis Tomlinson (@Louis_Tomlinson) January 8, 2022
Hoping this can really be our year, let's have FAITH IN THE FUTURE and show Louis how much we can't wait for LT2 by streaming Walls once again to wish this – underrated – masterpiece the happiest second birthday!
Featured image source