It is so hard to believe that The Vamps have been dominating the charts for ten whole years! The band shot to fame via YouTube, with their first single being released in 2013 and there has been no signs of slowing down as they have just announced a greatest hits tour to celebrate being together for a full decade.
Since Brad, James, Connor and Tristan are celebrating their ten year anniversary as a band, here at United By Pop we thought we would do the same. We take a look at ten of The Vamps' best moments in light of them making music to bless our ears for the last ten years.
1. Headlining the O2 Arena for five consecutive years
The Vamps were the first ever act to achieve this milestone! So, in other words, they made history. The band played a headline show every year at the O2 from 2014 to 2019 and that is how they earned themselves the incredible title.
2. First YouTube cover
The Vamps began their careers on YouTube and one of their first ever covers was 'Vegas Girl' by Conor Maynard, it's so old in fact that Connor wasn't even a part of the band. The cover that gained the most views at the time was 'Story Of My Life' by One Direction, one where Connor was in the band and it was uploaded just after the release of their very first single. You can rewatch the cover above.
3. Two UK Number One albums
To prove their successes to the rest of the world, The Vamps have scored two number one albums! Which many artists dream of. The Vamps scored a number one with Night & Day: Day Edition and their most recent album Cherry Blossom. Relive the excitement with them above when they found out that they had secured the top spot.
4. 5 UK Top 10 Singles
The Vamps are also no strangers to having singles reaching the UK Top 10. 'Can We Dance', 'Wild Heart', 'Last Night', 'Somebody To You' and 'Oh Cecilia (Breaking My Heart)' all managed to secure a place in the top ten.
5. Meeting through YouTube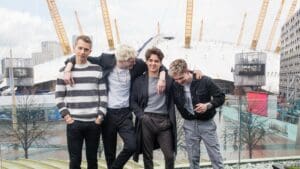 Many bands usually meet through mutual friends, auditions or on reality TV shows, we're looking at you, One Direction. However, The Vamps met in a very modern way, through YouTube. James found Brad and Tristan on YouTube then as a group they found Connor and The Vamps were born.
6. First headline tour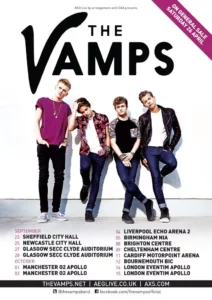 Throwing it all the way back to 2014 with this best moment. The Vamps made their way around the UK on their very first headline tour, 'Meet The Vamps', that year, playing small yet packed out venues. That has to be when they realised how popular the band became.
7. Releasing their first single
If you remember listening to 'Can We Dance' when it was first released all the way back in 2013, then you should qualify for a free ticket to The Vamps' next tour! In all seriousness, 'Can We Dance' proved to be a pop hit and soared all the way to number two on the UK charts and has 133+ million streams on Spotify. It's still a feel-good throwback tune now!
8. Tour diaries
Like every great band, a tour diary comes alongside them. The Vamps have done a tour diary for almost every time they have gone on tour and they never disappoint. They include diaries of their fans too, take a look at this one from their recent 'Cherry Blossom' tour.
9. Starring in reality shows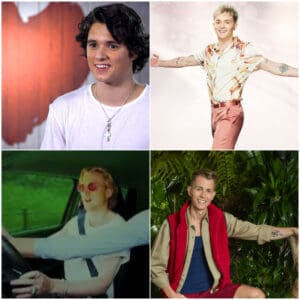 Brad, Connor, Tristan and James have all dabbled in trying out different reality shows. Brad joined First Dates, Connor skated on Dancing on Ice (ending in him splitting his chin open – ouch), Tristan learned how to drive on All Star Driving School and James challenged himself to brave the jungle on I'm A Celebrity Get Me Out Of Here. It shows that they're not only just great musicians.
10. Greatest Hits album / tour
Not every band gets the privilege of doing a greatest hits album or tour but later this year The Vamps are planning both. How exciting if you have been a fan (like me) from the very beginning! You can read our recent interview with The Vamps here about what it's like to be working on their 'Greatest Hits' album and tour.
It's like a trip down memory lane for any The Vamps fan reading back on all of their greatest achievements. Here's to another ten years of amazing moments with one of Britain's best loved pop bands!