Marvin Humes, boyband singer turned presenter and radio DJ, is 37 today! Marvin has spent his birthday week recording series 5 of The Hit List, which is a music game show on BBC1 that he presents with his wife, Rochelle Humes.
Marvin is fresh from the JLS reunion tour that only finished late last year. Marvin is a member of the chart-topping boyband who got back together in 2020 after a seven year break. JLS sold out multiple arenas over their 28-date tour and have also released a brand new album, 2.0, since getting back together.
After JLS broke up in 2013, Marvin turned to presenting and becoming a DJ. After presenting on ITV's This Morning plus The Big Top 40 on Capital FM, Marvin stepped back from these two demanding shows to spend more time on his expanding family. He and Rochelle share three children and post often about them and their achievements. He now presents The Hit List with Rochelle and also presents a popular evening show for Capital FM from 10pm on weekdays.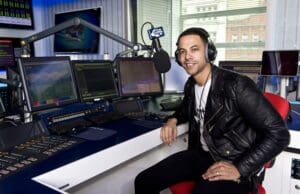 During the JLS break, Marvin also turned to be a DJ and was just as successful at this job too. He released three singles under the artist name 'Luvbug' and still DJs around the country and even abroad too. You can view Luvbug's artist profile on Spotify here.
To celebrate Marvin's birthday (and for good measure), I've added in my favourite performance of his all the way back in 2010. Watch below to see him cover Michael Jackson's hit song on the JLS 2010 tour.
Happy Birthday, Marvin!