The Aussie band 5 Seconds Of Summer's fourth studio album 'CALM' was released a little over three weeks ago on the 27th of March. During what should have been a time of celebration, fans were shocked and upset after hearing the devastating news that came days after.
According to the band's socials, over 10,000 copies of their album were released early and were therefore not counted towards the band's U.S. chart position on the Billboard 200. Fans were confused as to why this happened to 5SOS, as many other mainstream artists such as Harry Styles and Ariana Grande's albums were shipped out early as well, yet their chartings were never affected.
When the official charts came out and the band had landed the No. 2 spot after the Weeknd's 'After Hours,' fans knew that something was not right.
If the 10,000+ copies were counted, 5SOS would've had the No. 1 spot in the bag — yet Billboard had decided not to count the copies in the end, citing a 'clerical error.' Fans were determined to get to the bottom of this, wanting to know why Billboard had made this decision. Through their own research, fans felt the industry publication appeared biased, unfairly favoring certain record labels and artists over others.
5SOS fans were furious. Not only did they feel Billboard was purposefully screwing 5SOS over, but other smaller artists were at risk of being screwed over as well. They began to fight for not only their favorite band but for chart equality for all artists in the music industry. Hashtags began to trend, petitions were signed, articles and radio stations began covering the unjust act — and yet, nearly two weeks later, Billboard still hasn't publicly acknowledged the situation.
That hasn't stopped the fans from continuing to speak out.
The closest we've gotten to a statement is from one of the senior correspondents at Billboard, Dave Brooks. He came to Twitter to 'address' the 5SOS x Billboard situation by bluntly explaining Billboard's so-called policy, merely by pasting in what was written in the official Billboard article.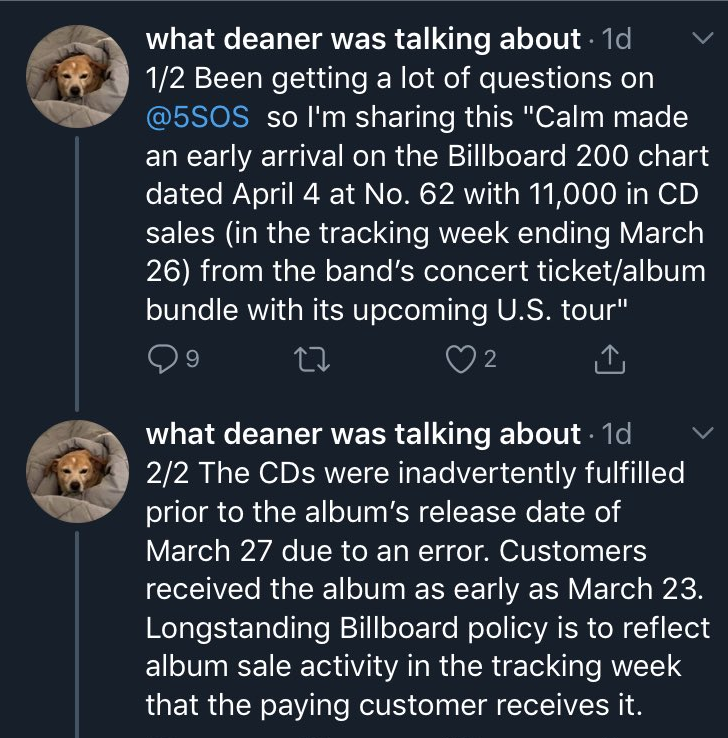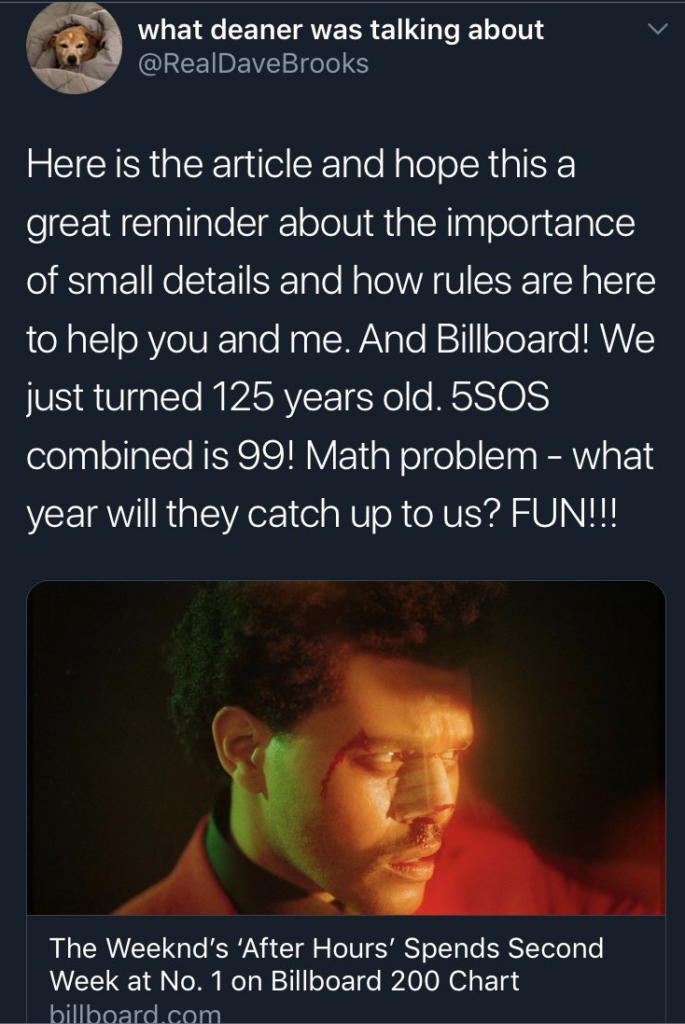 He then added the article on The Weeknd as a 'great reminder about the importance of small details' and how, because Billboard is 125 years old and 5SOS combined are 99, that they are better than them.
Obviously, his attempt at a diss did not go over well not only because of the lack of explanation but also because of the incorrect information. Firstly, what does the age of the publication have to do with anything? (By the way, all the ages of the members combined totals to a 96, whereas he wrote 99.) And second, yes this situation truly shows the 'importance of small details' — if Billboard had counted those 'small' 10,000+ sales, 5SOS would have been at No. 1 with a massive advantage. He then ended his thread with a very heartfelt 'LOL'.

Fans were immediately disgusted by the lack of unprofessionalism shown by the company and weren't going to accept this petty excuse of an explanation.
wow imagine being a grown man and a @billboard executive and tweeting shit like this. this is extremely unprofessional #CountThe10KBillboard pic.twitter.com/pBJq8NoC1g

— (っ◔◡◔)っ ♥ STREAM CALM ♥ (@wildflcwerhighs) April 10, 2020
https://twitter.com/guccibabylon/status/1248671573558640643?s=20
hey @billboard your guy dave said 5SOS' combined ages were 99, you know as a way to condescend fans and the band itself but he also didn't do the math right AGAIN so i did it for him. so if you need help doing the math to #CountThe10kBillboard i can do that too #billboardspeakup pic.twitter.com/TDtnQzl8we

— sophia (@DEATONHIGH) April 10, 2020
Hey Dave and @billboard I have a math problem for you,

132k + 10.6k=142.6k
142.6k > 135k

lmk if you need extra help with that

Sincerely,#billboardspeakup #CountThe10kBillboard

— ashlee || LET'S RIOT!! (@letsfukindance) April 10, 2020
https://twitter.com/IoneIyhighs/status/1248652002562899968?s=20
It wasn't long until he deleted the tweet, went private, and began blocking accounts, just as the official Billboard account has done in the past. This only drove fans to fight even harder against the unreasonable and biased company and their policy. The situation began getting more and more media coverage.
Because 5SOS fans care so much about this, the band members were asked about the situation when being interviewed on Instagram Live the other day. They showed their appreciation and gratitude to their fans and followed up by saying that, though it was unfortunate and out of their control, they've moved on.
"At the end of the day, it's just a number."