This past Friday, March 27th, Dua Lipa finally released her sophomore album called Future Nostalgia, and it is way more than what we expected.
Future Nostalgia consists of 11 tracks, all of which have a lot of 80s and 90s influences. We can clearly hear her inspiration, from Gwen Stefani to Blondi to Madonna. Dua proves to us she is a free spirit and ready to make the world hers. This album reminds us of how good it feels to be human and love, and it couldn't have come at a better time.
Future Nostalgia was set to be released on April 3rd, but unfortunately it was leaked well before, forcing Dua to move up the release date. In an Instagram Live, she explained how that made her feel — and honestly, it broke our hearts. She deserves to receive so much love and appreciation now after experiencing such a setback.
To whoever leaked Dua Lipa's album that she worked for years on.. I have nothing else to say but.. F*CK YOU. pic.twitter.com/u1AFFJHLqd

— Dua Lipa Ireland (@DuaLipaIRL) March 23, 2020
Besides that, what I loved the most about this album is the amount of free instrument range that adds a dreamy and loud personality to each song. Future Nostalgia is exactly what we needed right now, because you can close your eyes and let yourself loose. Let your mind travel to other places.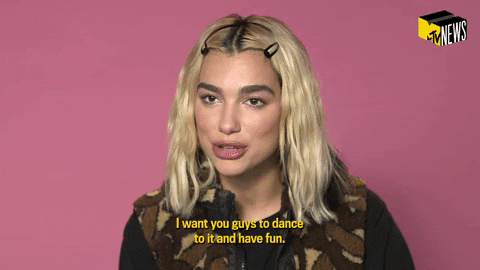 One of my favorite tracks from the whole album is "Boys Will Be Boys." Just like Taylor Swift did with The Man, Dua gives a message of what girls have to live with day by day. I'm so glad she is using her platform to speak on how we should not accept a world in which toxic masculinity is the norm.
Dua delivered one of the greatest (if not the) album of the year, in which she lets us breathe and escape our hectic reality. This album is fresh and renewing, yet it makes us feel nostalgic, achieving its title.
Like many others, her Europe + UK tour has been rescheduled. But that just means the world has more time to enjoy the magic that Future Nostalgia Tour will bring to us. So, go grab your tickets!
There's nothing to say but that Future Nostalgia is available now, so go enjoy it and let yourself get lost in the music and enjoy the magic! Let us know what you think about this album and which was your favorite track down below or tweet us @unitedbypop.