12 places selling cute cloth face masks you can buy online right now
Because if you have to wear a face mask out in public, it better be a cute one.
This post contains affiliate links, which means United By Pop may receive a percentage if you make a purchase using these links. Thank you for supporting the brands that support this blog.
This article is not medical advice and should not be taken as such.
The U.S. Centers for Disease Control and Prevention recommends wearing a cloth covering over your mouth and nose when in public. With medical-grade masks hard to come by (and belonging in the hands of our medical workers), and some of us lacking the skills and equipment to sew, it's time to stock up on a few cute cloth face masks for when you go out.
The good news is, cloth face masks don't have to be boring or ugly — and, ironically, you don't have to leave your house to get them! These are all selling out very quickly, so we recommend joining mailing lists to be the first to know about restocks. Here are our top picks for cutest cloth face masks.
Part of American Eagle, Aerie sells mainly bras, underwear, and loungewear. Now they've added adorable cloth face masks to their collection. As a nice bonus, 20% of their face mask sales will be donated to the Crisis Text Line, the nation's largest text-based crisis service providing free, confidential 24/7 support from trained Crisis Counselors. Each face mask is $19.95, so $3.99 is donated.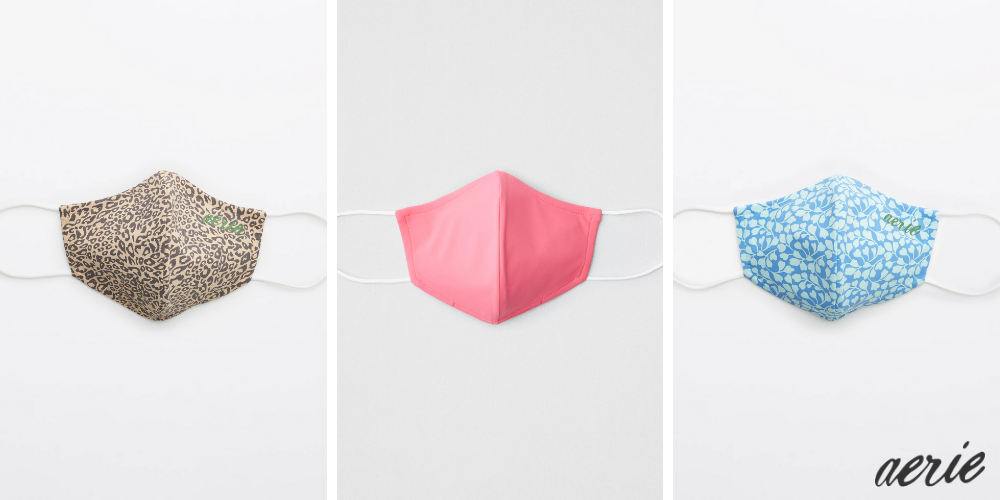 Of course Kim Kardashian got into the cute face masks game. These masks pair seamlessly with the rest of the SKIMS collection, featuring a nude palette and a cozy vibe (you know, to match your body tape and waist trainer). These sell out quickly, so add yourself to the SKIMS mailing list so you'll know when the next restock is. They're $8 each and also come in bundles of 4 for $25 so you can outfit the whole family.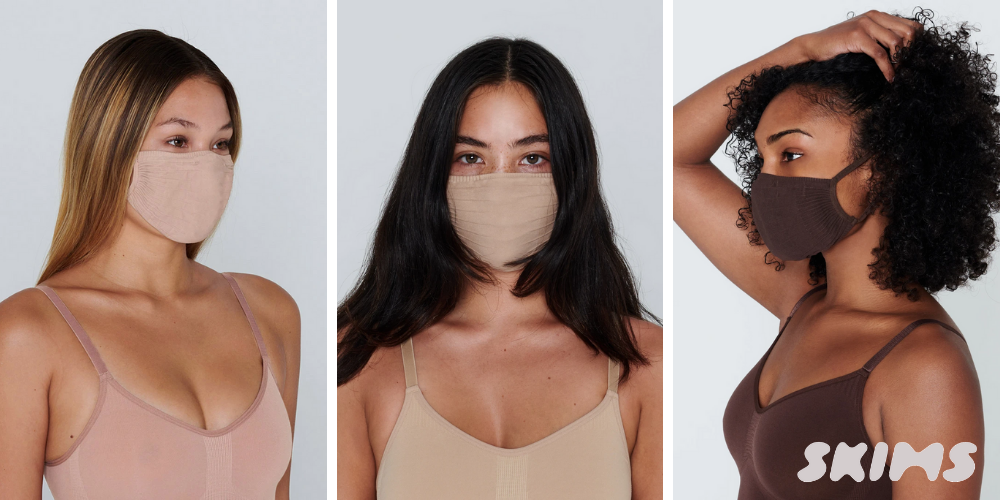 Keeping things interesting, Forever21 will surprise you with a mask pattern when you order. The good thing is, every single design they have is adorable, so there's no risk. They're also donating one mask for every mask you buy to Family Promise, supporting low-income families to receive the support they need during COVID-19. Each surprise mask is $5.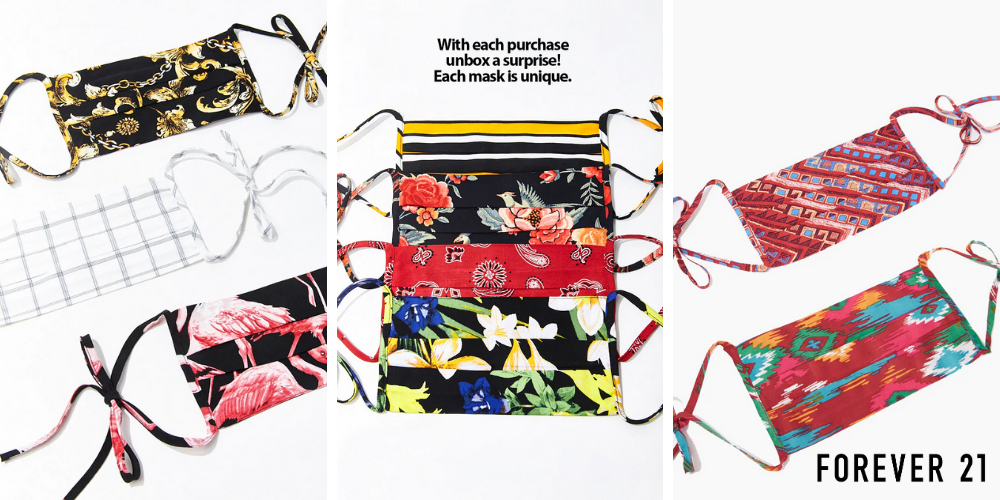 If you want the most bang for your buck (especially helpful during a pandemic, right?) then Old Navy is the place to go. They're selling 5-packs for $12.50 and 10-packs for $25. You could easily wear a different mask every day of the week this way. Even more exciting, they come in lovely colors and patterns.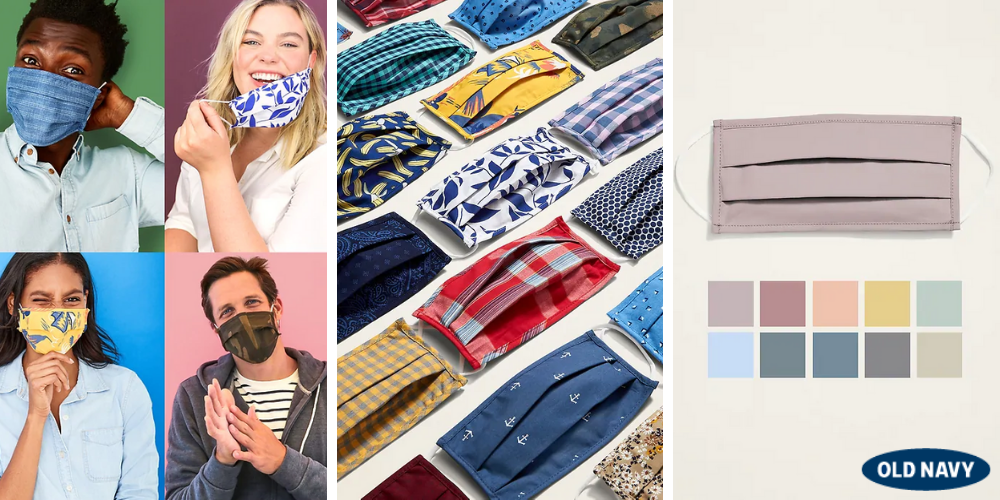 Available from Revolve, which ordering from should help fill some of the Coachella void in your life, these masks are not only cute but funny too. "SMILING" should remind everyone that, underneath your steely exterior and face mask covering, you're truly delighted. "VENI VIDI VICI" will also say to the world that you came, you saw, and you conquered. If you'd like to say less, opt for the rainbow tie-dye mask. These are $17 apiece.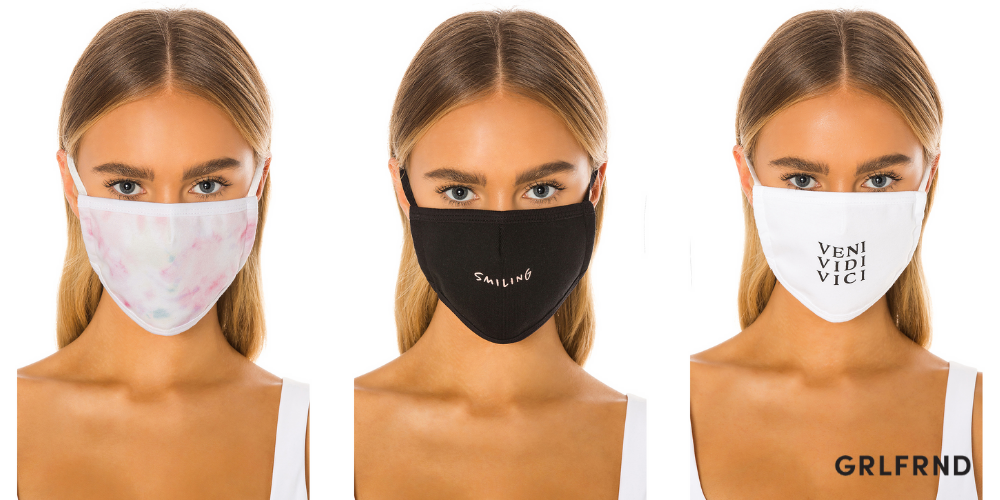 Our friends at Anthro are carrying a bunch of different brands of face masks, all at varying price points, including Sanctuary, Amadi, and Emily Daws. These are definitely some of the cutest patterns we've seen available, if you're looking to take a sweet selfie to promote public safety, starting at $14 each.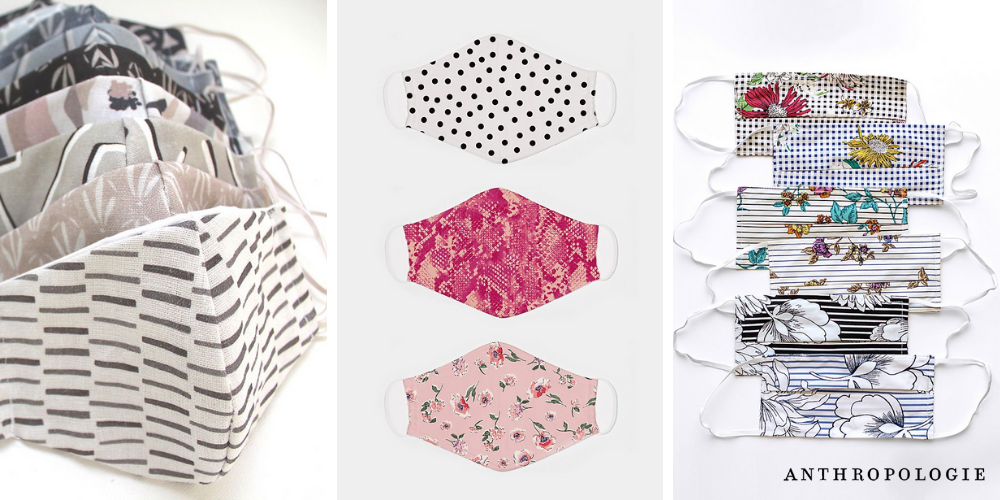 If you're a minimalist, this is the face mask for you. Outdoor Voices is known for their workout gear, and now they've made a lovely, simple face mask to complement that. Charcoal grey and available in a 5-pack for $25 (we recommend getting 10 for $50 if you can manage it, to cash in on that free shipping deal), these cloth masks have a small Outdoor Voices logo printed on the side. You know, if you know you know. And 100% of proceeds will benefit Direct Relief.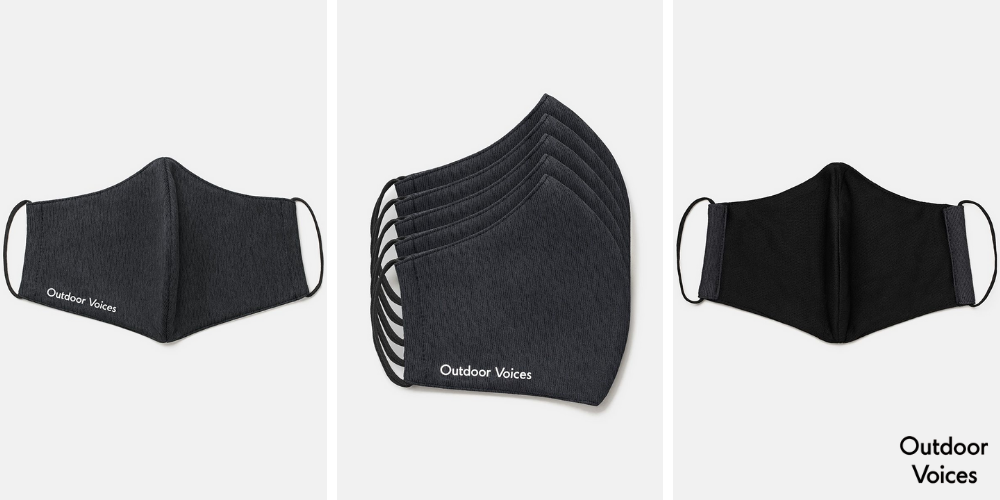 Time to stack coupon codes on coupon codes on coupon codes. If you've shopped SHEIN before, you know how it goes. They've got cloth face masks in adorable prints and patterns — including the highly-desirable black and white marble — for as low as just $1. You can also grab a swimsuit, shoes, and some barware while you're at it, and still probably only spend ten bucks.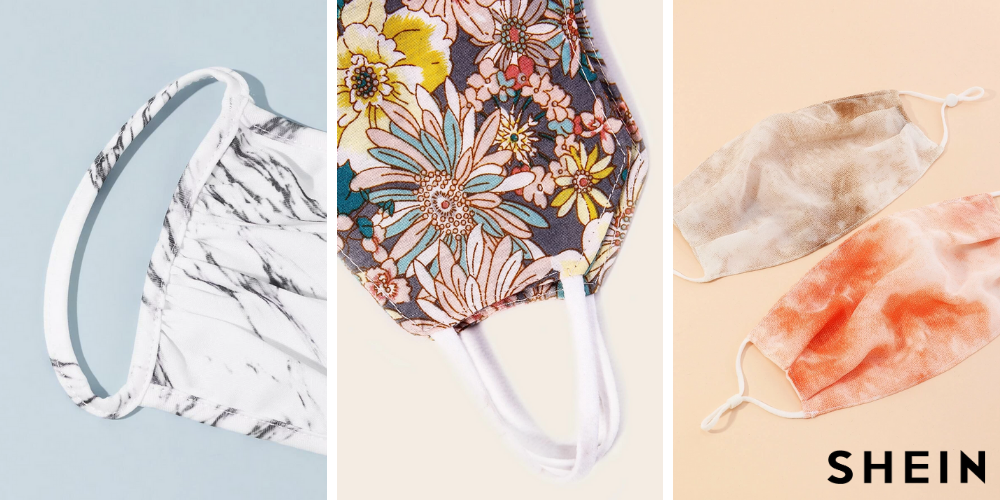 Want your cloth face mask to match your fanny pack? Steve Madden's got you. Tie-dye, snake, camo — every mask pattern has a corresponding fanny pack. Each mask is $14.95 (and the matching fanny pack is $34.95 if you're into that). They also sell 20-packs of activated carbon filters you can put in your masks.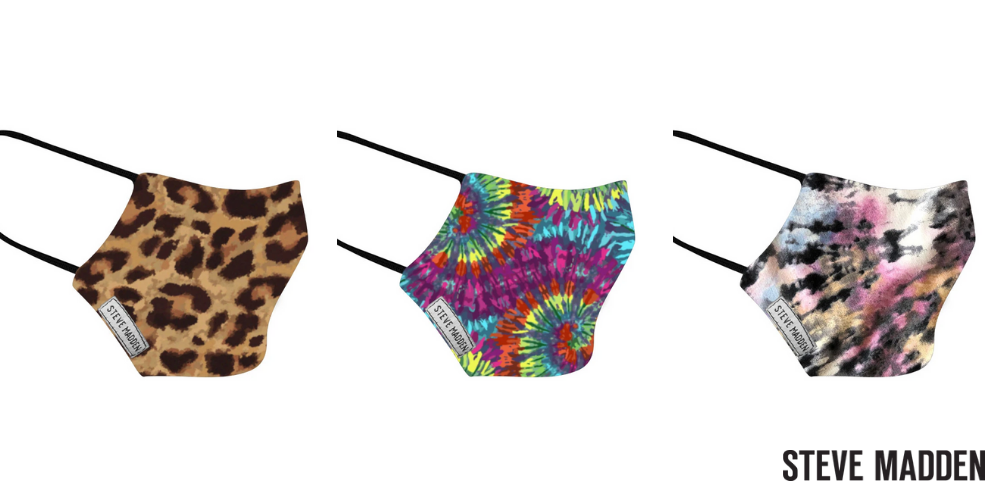 The queen of patterns herself Vera Bradley has come to save us from boring face masks. Each dual-layer mask features a printed exterior and an inside slip opening to insert a disposable filter. Although many patterns are sold out, they've noted that they're trying to restock as quickly and as frequently as they can, so keep checking back if the one you want isn't available right now. Cotton face masks are $8 each, and a 2-pack of filters is $2.50. They also have bandanas too, if that's more your thing.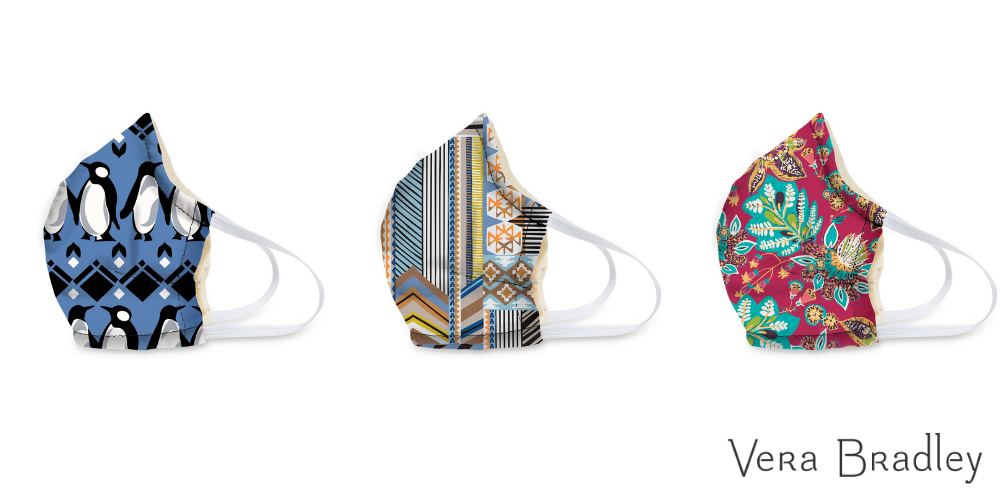 The rainbow patterns on these face masks were designs by kids, and 100% of profits go to NYC Health + Hospitals. Pretty sure they are the most colorful, cheerful cloth face masks you can find anywhere, and your purchase will do some good. It's a win-win. There are three different sets of two (2 for $25), and good luck choosing because they're all so precious.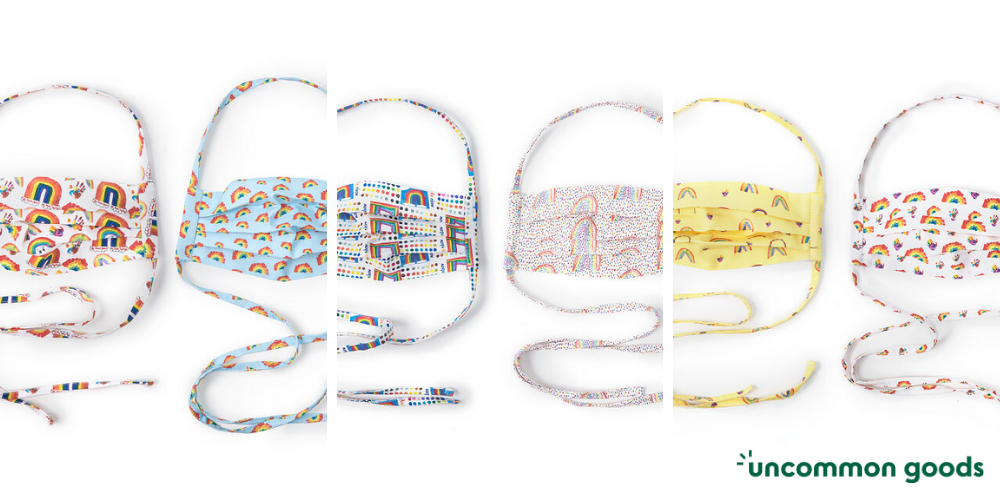 Gap has face masks for kids and adults alike that are just as cute and classic as their clothes. They're also donating 50,000 masks to the Boys & Girls Clubs of America and Canada, so you're supporting a good cause. All their cloth face masks styles come 3-for-$15.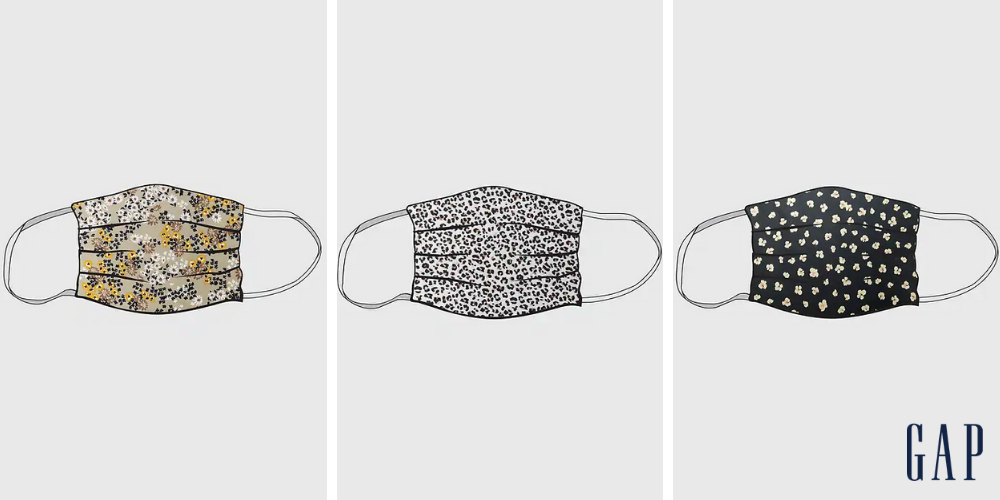 To clean your cloth face mask, the World Health Organization and the Centers for Disease Control agree that a cycle through the washing machine with laundry detergent is enough. Stay safe out there!