Katy Perry hosts celebrity pickleball tournament to benefit her Firework Foundation
The charitable tournament featured celebrity guests, top-ranked players, and local enthusiasts.
On October 22, the first annual Light Up The Court Pickleball Tournament took place in Katy Perry's hometown of Santa Barbara, CA, hosted by Katy Perry & Friends.
The event was a charitable endeavor, with all proceeds going to the Firework Foundation, founded in 2019 by Katy Perry and her sister, Angela Lerche, with a mission to empower underserved children through the arts.
Katy Perry is one of the biggest-selling female artists in Capitol Records history and a well-known advocate for philanthropic causes. Alongside her music career, she has used her voice as a UNICEF Goodwill Ambassador to support children's rights. Katy is also involved in multiple business ventures, from her eponymous shoe line, Katy Perry Collections, to investing in companies working to improve health and wellness.
She is currently a judge on American Idol and performing her Las Vegas residency, PLAY.
Famous Faces at the Tournament
The pickleball tournament featured a round robin of players, which included well-known figures such as Jason Collins, Kate Hudson, James Valentine, Lauren Sanchez, Corey Gamble, Meghan Trainor, Daryl Sabara, Rob Lowe, and John Owen Lowe.
These celebrities were joined by local pickleball enthusiasts and several top professional pickleball players like Federico Staksrud, Mary Brascia, Maggie Brascia, and Thomas Wilson.
One of the highlights of the event was a mic'd exhibition match that saw Katy Perry team up with Federico Staksrud against Orlando Bloom and Maggie Brascia. The closely contested match ended with Team Katy claiming victory with a score of 13-11.
Eric Geeb and Brett Williams emerged as the champions of the 2023 Light Up The Court Pickleball Tournament.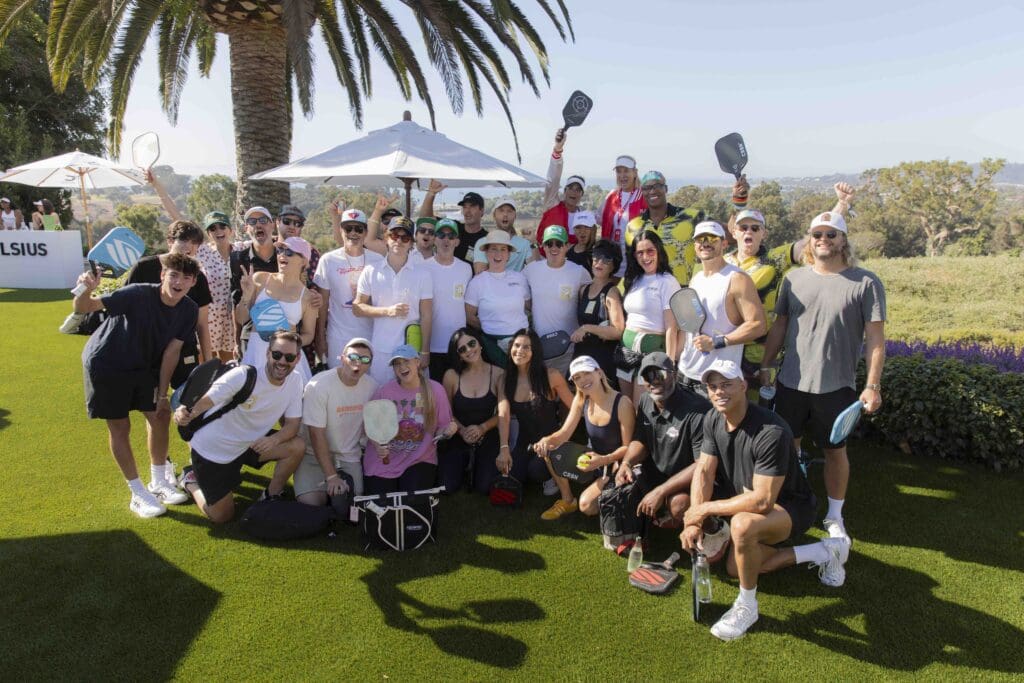 The Firework Foundation
The Firework Foundation's mission is to empower children from underserved communities by igniting their inner light through the arts.
The foundation hosts the annual Camp Firework, launched in 2019, creating environments where kids can discover their spark through a variety of art specialties and traditional camp activities. The foundation also partners with local Los Angeles-area Boys & Girls Clubs to bring supplemental artistic programming to after-school care. Firework Foundation supports various youth-serving organizations through donations and contributions.
Counselors from Camp Firework were present at the pickleball tournament to share information about the foundation's programs. Firework Foundation's marquee initiative is a three-day sleep-away experience in nature, where up to 90 kids are provided a space to discover their spark through artistic programming and bring that spark home to their communities.