Harry Styles' 9 best magazine covers
Find out which one was our all-time favorite — then pick yours!
Harry Styles is about to make his epic return to music. After nearly two years since his debut LP brought classic rockesque into the pop genre, we're ready to hear what the star has been working on. Rumors have been flying — possible collaborations with Kid Harpoon and Mark Ronson have been theorized by fans — but all is uncertain.
One thing is for sure, Harry's recent Rolling Stone cover is the beginning of his new era. It's marking the continuation of the star's solo career, one that appears to be more open and honest (because what could be more honest than a shirtless Harry Styles?).
To celebrate this momentous occasion, we're ranking our favorite Harry magazine covers. We went back in time, from his days as an innocent boyband member to self-assured star.
9. Teen Vogue, December 2012/January 2013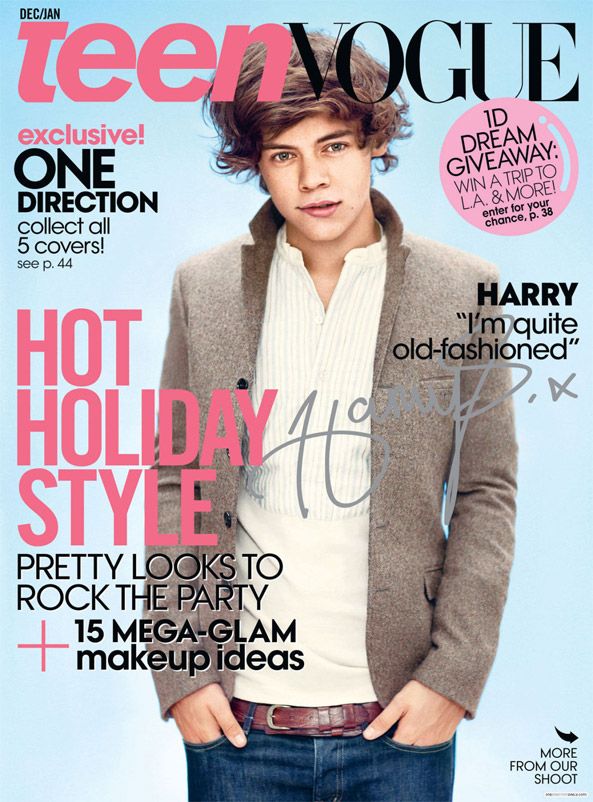 What kind of fans would we be if we didn't include covers from the pop star's good ol' One Direction days? When the boyband individually graced the front pages of Teen Vogue in 2013, loyal followers clamored to get their hands on each issue. We look back on Harry's curly mop of hair and think, "Did he really look like that?" They grow up so fast.
8. British GQ, September 2013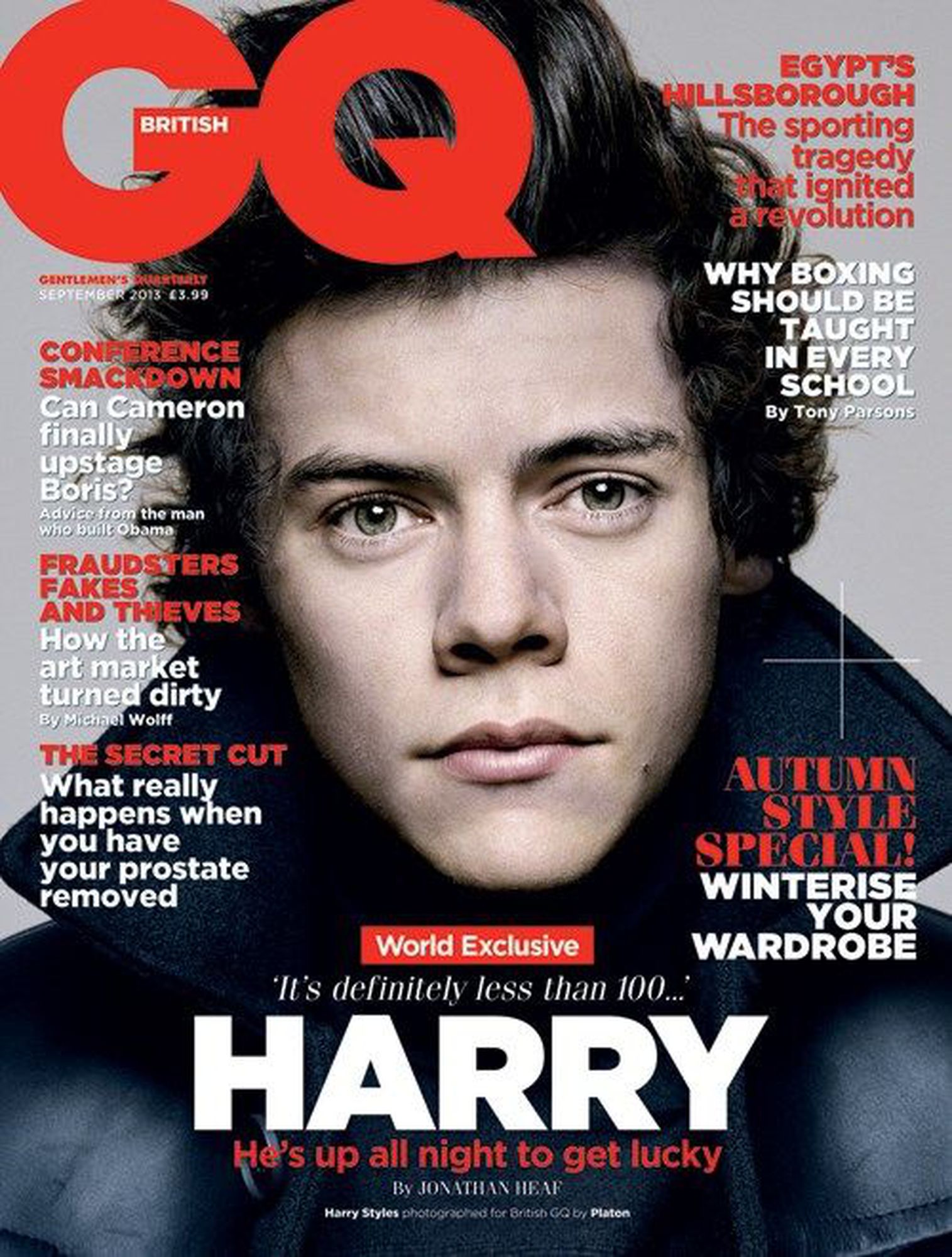 One Direction's interview with British GQ back in 2013 brought a heap load of controversy. From prying into their sexuality and late-night antics to dealing with fame, the magazine revealed they even received backlash following the cover story on the band. Either way, it delivered a memorable cover featuring Harry smoldering excessively directly into the camera.
7. Fabulous, November 2015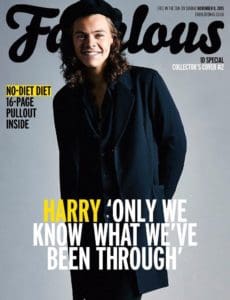 Shortly before the boyband's hiatus, they landed on the cover of Fabulous magazine in 2015. Just like the Teen Vogue covers two years prior, each boy posed for an individual feature, delivering a more mature version of the once baby-faced teenage heartthrobs. Harry sported his iconic long hair underneath a black beret, clearly living his best life in French style.
6. Another Man, Autumn/Winter 2016
We must never forget when Harry posted those three enigmatic white squares on his Instagram, preparing us for his inevitable solo career. His surprising IG twist turned into a magazine premiere — three unique Another Man covers. All shot by various photographers, the covers feature Harry in different styles. Our first pick from the bunch includes the singer in a leather collar, long hair covering his face, donning a 70s-inspired look.
5. The Sunday Times, May 2017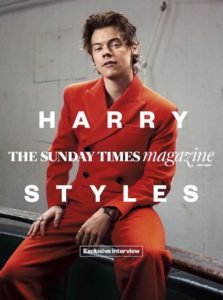 Harry's flare for fashion is showcased on the top page of The Sunday Times. Rocking a red-orange jumpsuit, the 25-year-old steered away from gender-conforming outfits. Sitting with a slight dose of attitude, Harry maintained an air of comfortableness. His growth from the unsure teen star shifted to a confident young adult. We always feel better in our best clothes — even Harry knows that.
4. Another Man, Autumn/Winter 2016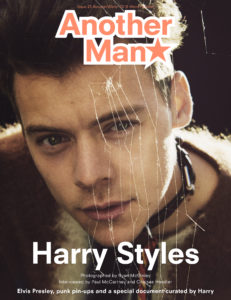 Harry showed off his best sultry look on the second highly anticipated Another Man cover. Clad in a fuzzy coat and view obscured by glowing spiderwebs, the pop star revealed his astonishing short haircut. It was the first look of Harry's new appearance, one he teased months earlier in an unexpected Instagram post. Ever since then, the former 1D member has maintained his clean-cut look, and we think it suits him well.
3. Rolling Stone, May 2017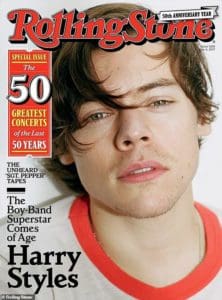 Before Harry released his debut self-titled album, he appeared on the cover of Rolling Stone. It delivered dreamy heartthrob realness, his messy hair askew and bedroom eyes boring through us. The issue featured a closer peek into Harry's journey from bubblegum pop boybander to glorified solo star. This mag was something every true fan needed to get their hands on.
2. Rolling Stone, September 2019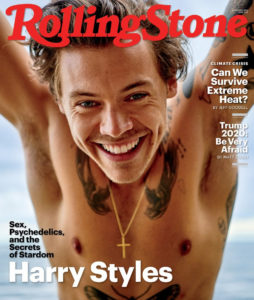 2019 has rolled around and Harry is finally back. He has tongues wagging with his recent Rolling Stone cover as he steps out shirtless, showing off his classic tattoos and boyish smile. The cover story teases an interview about Harry's experience with high-profile stardom and everything that comes with it. If anything, the photo encompasses everything Harry is: the complete pop star package.
1. Another Man, Autumn/Winter 2016
Nothing will top Harry's third Another Man cover. Onlookers have been comparing Harry's likeness to Mick Jagger since day one, with his dance moves, stage presence, and facial features all pointing to Harry being Mick's long lost son. On this particular front page, there are glimmers of those similarities along with the artist's signature charm. The 60s-inspired look shines through — the classic Beatles bowl cut and cheeky sweater unveil Harry's capability to look good in absolutely anything. No matter what he does next, we don't think he'll ever be able to outdo this unforgettable cover.
Now it's your turn to pick your all-time favorite. Take the poll below and let us know which is your fave Harry cover over on @unitedbypop!
Featured image source: Harley Weir