15 YA books Netflix need to make into movies
Dear Netflix, hear our cries.
This post contains affiliate links, which means United By Pop receives a percentage if you make a purchase using these links. Thank you for supporting the brands that support this blog.
At the beginning of the year, Netflix posted a twitter thread announcing a slew of 2020 original movie releases. The list is pretty epic, with information on films such as Eurovision, The Half Of It and The Prom leaving viewers eagerly awaiting the year ahead. However, we couldn't help but notice that, despite the huge success YA movie adaptations such as Love, Simon and even Netflix's own, To All The Boy's I've Loved Before, have had over the past few years, the networks list of 20+ movies was sadly lacking in the YA adaptation department.
So, Netflix, if you're reading this (because you totally are?..) here are a few Young Adult books that not only perfectly lend themselves to screen but have proven themselves to be stories readers and viewers, young and old, not only want but need.
---
Why: Downton Abbey, The Crown, Poldark; they've all proven just how successful period dramas can be. The problem? They're generally told through the gaze of wealthy, white folk . Not only is the lead of The Downstairs Girl a young, Chinese-American teen, but she's also headstrong, ahead of her time and has a story well worth exploring on screen.
What: After being fired from her job as a milliners apprentice for being too outspoken, Jo Kuan, a Chinese American girl living in 1890 Atlanta, Georgia, starts "Dear Miss Sweetie," a provocative newspaper advice column in which she addresses the range of problems she sees in the segregated South. But with the columns growing popularity and controversy, folks clamour to uncover 'Miss Sweetie's' true identity and Jo struggles to balance the many moving pieces in her life and when a mysterious letter sets her on a journey to unravel the mystery of her past and the identity of the parents who abandoned her as a baby, she's soon placed in the crosshairs of one of Atlanta's most notorious criminals.
Why: Time after time, adorable, funny, relatable and heartfelt rom-coms prove themselves to be impossible for viewers to pass up and being all that and more, Let's Talk About Love, lends itself perfectly to be a new teen/YA movie classic.
What: Alice's plans for a blissful summer of non-stop all-you-can-eat buffets, TV marathons with her best friends and working at the library suddenly don't seem so appealing after she has to do them alone, due to her girlfriend ending things after Alice confesses she's biromantic-asexual. Then Alice meets Takumi at the library where she works. Suddenly, she can't stop thinking about him or her new rom-com-grade romance feels and she has to decide if she's willing to risk their friendship for a love that might not be reciprocated—or understood.
Why: Think Guardians of the Galaxy if the Guardians had been a bunch of time travelling kids pulling of heists throughout history. Yep, it clearly needs to be a movie?
What: The son of a time-traveling Recorder from 2354 AD and a gladiator living in Rome in 95 AD, Farway Gaius McCarthy birth defies the laws of nature. Exploring history himself is all he's ever wanted, and after failing his final time-traveling exam, Far takes a position commanding a ship with a crew of his friends as part of a black market operation to steal valuables from the past. But during a heist on the sinking Titanic, Far meets a mysterious girl who always seems to be one step ahead of him. Armed with knowledge that will bring Far's very existence into question, she will lead Far and his team on a race through time to discover a frightening truth: History is not as steady as it seems.
Why: It's got romance, mystery, nuanced discussions about race, money and privilege and a hunt for a missing winning lottery ticket e.g. it has all the makings of the perfect teen driven movie all ages can enjoy.
What: Meet Rico: high school senior and afternoon-shift cashier at the Gas 'n' Go, who after school and work races home to take care of her younger brother. Every. Single. Day. When Rico sells a jackpot-winning lotto ticket, she thinks maybe her luck will finally change, but only if she–with some assistance from her popular and wildly rich classmate Zan–can find the ticket holder who hasn't claimed the prize. But what happens when have and have-nots collide? Will this investigative duo unite or divide?
Why: Because it would be crime for a murder mystery set at a Disney World inspired theme park, in which one of the princesses is the prime murder suspect, to not be made into a movie.
What: Glimmering like a jewel behind its gateway, The Kingdom is an immersive fantasy theme park where guests soar on virtual dragons, castles loom like giants, and bioengineered species–formerly extinct–roam free. Ana is one of seven Fantasists, beautiful "princesses" engineered to make dreams come true. When she meets park employee Owen, Ana begins to experience emotions beyond her programming including, for the first time…love. But the fairytale becomes a nightmare when Ana is accused of murdering Owen, igniting the trial of the century.
Why: It's powerful, movie, painfully current and if the success of The Hate U Give has shown us anything, it's that the world needs more stories like these.
What: Six years ago, Moss Jefferies' father was murdered by an Oakland police officer. Along with losing a parent, the media's vilification of his father and lack of accountability has left Moss with near crippling panic attacks. Now, in his sophomore year of high school, Moss and his fellow classmates find themselves increasingly treated like criminals by their own school. New rules. Random locker searches. Constant intimidation and Oakland Police Department stationed in their halls. Despite their youth, the students decide to organize and push back against the administration. When tensions hit a fever pitch and tragedy strikes, Moss must face a difficult choice: give in to fear and hate or realize that anger can actually be a gift.
Why: It's all about gymnastics, which is always a win but it's also so much more than that. It's about the power of standing together, exposing sexual assault, friendship, rivalry, ambitions and dreams. It's an incredibly powerful story that sticks with you and one that is a superb fit for the big (or small) screen.
What: Despite being left with chronic pain after spine surgery, Audrey Lee is going to the Olympics to represent the United States' gymnastics team with her best friend, Emma. Then the horrifying news breaks out that one of Audrey's teammates has been hurt by the one person they trusted most and when not all the gymnasts show their support, their team begins to fall apart. With the team on the verge of collapse, the one bright spot in training is Leo, her new coach's ridiculously cute son but with her Olympic dreams being threatened by her back injury, painful revelations and the tenuous relationship between her teammates, Audrey can't afford any more distractions. No matter what it takes, Audrey's determined to win gold and not let anyone destroy everything her and her team have been working for.
Why: It wonderfully explores the topic of teen pregnancy in a nuanced and inclusive way that's honest but uplifting. A movie adaptation has the potential to be Juno 2.0 and would undoubtedly have just as big of an impact.
What: After a one night stand results in a pregnancy, Sara's plans to spend senior year with her best friend,  graduate at the top of her class and getting into an Ivy League college, are traded in for a new home with her grandmother, a new school and a whole new life. The one upside, though, is Leaf. He's cute, an amazing cook and despite their flirting, is completely in the dark about Sara being pregnant.
Why: Because if you say a reimagining of the Snow White and the Evil Queen exploring how the Evil Queen came to be, isn't a book worthy of the big screen, small screen and any screen in between, you're lying to yourself.
What: Eighteen-year-old Xifeng is beautiful. The stars say she is destined for greatness, that she is meant to be Empress of Feng Lu. But only if she embraces the darkness within her. Growing up as a peasant in a forgotten village on the edge of the map, Xifeng longs to fulfill the destiny promised to her by her cruel aunt, the witch Guma, who has read the cards and seen glimmers of Xifeng's majestic future. But is the price of the throne too high? Because in order to achieve greatness, she must spurn the young man who loves her and exploit the callous magic that runs through her veins–sorcery fueled by eating the hearts of the recently killed. For the god who has sent her on this journey will not be satisfied until his power is absolute.
Why: It's gripping, intense, dark and will mess with your head on multiple levels. It's also a much needed exploration into the painfully real issue of police and the media routinely ignoring the countless cases of missing black girls.
What: Monday Charles is missing, and only Claudia seems to notice. Claudia and Monday have always been inseparable—more sisters than friends. So when Monday doesn't turn up for the first day of school, Claudia's worried. When she doesn't show for the second day, or second week, Claudia knows that something is wrong. Monday wouldn't just leave her to endure tests and bullies alone. Not after last year's rumors and not with her grades on the line. Now Claudia needs her best—and only—friend more than ever. But Monday's mother refuses to give Claudia a straight answer, and Monday's sister April is even less help. As Claudia digs deeper into her friend's disappearance, she discovers that no one seems to remember the last time they saw Monday. How can a teenage girl just vanish without anyone noticing that she's gone?
Why: Rom-coms about self-proclaimed fat girls living with anxiety, who get a happily ever after without having to deal with a torrent of body shaming first, don't exist on screen and greatly need to.
What: Seventeen-year-old Molly Peskin-Suso knows all about unrequited love—she's lived through it twenty-six times. She crushes hard and crushes often, but always in secret. Because no matter how many times her twin sister, Cassie, tells her to woman up, Molly can't stomach the idea of rejection. Then a cute new girl enters Cassie's orbit, and for the first time ever, Molly's cynical twin is a lovesick mess, leaving Molly totally dying of loneliness. Luckily, Cassie's new girlfriend comes with a cute hipster-boy sidekick. Will is funny and flirtatious and just might be perfect crush material and if Molly can win him over, she'll get her first kiss and she'll get her twin back. There's only one problem: Molly's coworker Reid. He's an awkward Tolkien superfan with a season pass to the Ren Faire, and there's absolutely no way Molly could fall for him. Right?..
Why: It's got witchcraft, murder, zombies, mystery and intersectional discussions about bigotry towards racism and fatphobia. What more could you want in a movie?
What: When her best friend dies under suspicious circumstances alongside two high school mean girls, Wiccan teen, Mila Flores, refuses to believe the theory that her BFF was involved in a suicide pact. Instead, determined to uncover the truth, Mila does the unthinkable. Armed with a tube of lip gloss and an ancient grimoire, she brings the girls back to life. Unfortunately, the spell only lasts seven days and the three girls have zero recollection of their murders. With only a week until her friend returns to the grave, Mila must supervise the group of undead teens as they work to discover their killer before they strike again.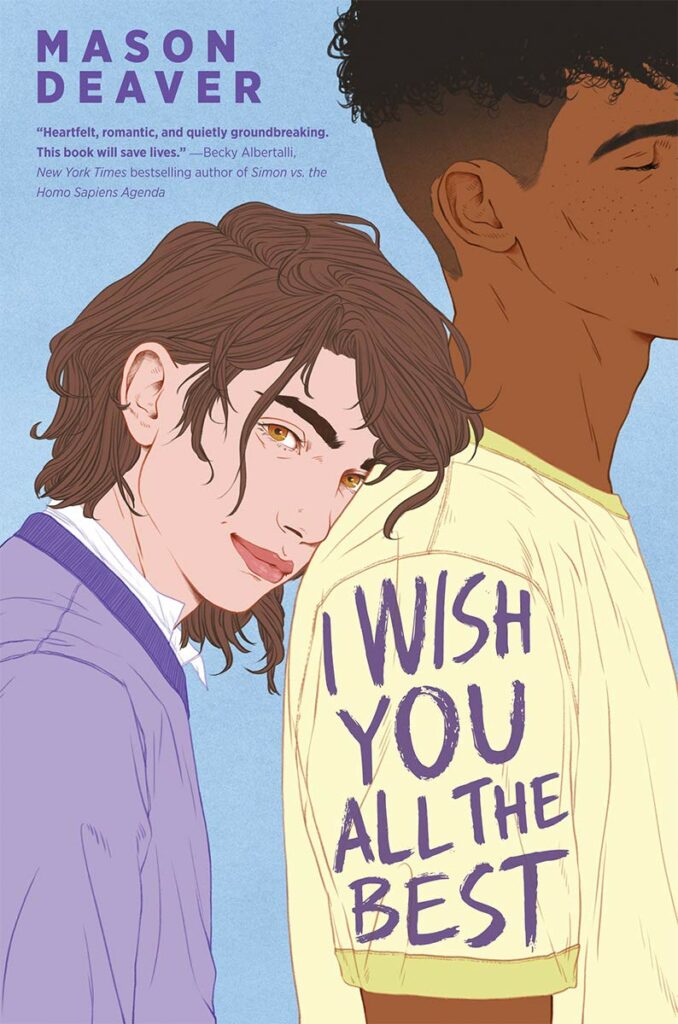 I Wish You All the Best by Mason Deaver
Why: When the success of movies like Love, Simon proves that the world not only wants but needs honest and uplifting LGBTQIA+ stories, they should continue to be made.
What: After Ben's parents kick them out of the house after they come out as nonbinary, they're forced to move in with their estranged older sister, Hannah, and her husband, Thomas, whom Ben has never met. Wanting to keep a low profile at their new school and struggling with an anxiety disorder intensified by their parents' rejection, they come out only to Hannah, Thomas, and their therapist. But when Nathan, a funny and charismatic student, decides to take Ben under his wing, their attempt to survive the last half of senior year unnoticed proves futile. As Ben and Nathan's friendship develops, what started as a disastrous turn of events looks like it might just be a chance to start a happier new life.
Why: There's literally never been a better or more important time for a book like this to be made into a movie.
What: Jamie Goldberg is cool with volunteering for his local state candidate – as long as he's behind the scenes. There's no way he'd ever knock on doors to ask people for their votes, until he meets Maya.
Maya Rehman's having the worst Ramadan ever. Her best friend is too busy to hang out, her summer trip is cancelled, her parents are separating and now her mother thinks the solution to her problems is political canvassing – with some awkward guy she hardly knows.
Going door to door isn't exactly glamorous, but maybe it's not the worst thing in the world. After all, the polls are getting closer – and so are Maya and Jamie. Mastering local activism is one thing. Navigating the cross-cultural crush of the century is another thing entirely.
Why: Every book Sandhya Menon has written is a breath of fresh air. They're funny, adorable and have a depth to them early 90's rom-com's could only dream of. And, with its beyond adorable romance, empowering messages about body positivity and discussions of familial and societal expectations, There's Something About Sweetie is no exception.
What: Ashish Patel's parents are smugly confident they could find him a better match. So, in a moment of weakness after he's dumped by his (now) ex-girlfriend, Ash challenges them to set him up. The Patels insist that Ashish date an Indian-American girl—under contract.
Sweetie Nair is a formidable track athlete who can outrun most people in California, a loyal friend, a shower-singing champion. Oh, and she's also fat. To Sweetie's traditional parents, this last detail is the kiss of death. Tired of being told she's lacking because she's fat, Sweetie decides it's time to kick off the Sassy Sweetie Project, where she'll show the world (and herself) what she's really made of.
Both have something to prove,  Ashish and Sweetie agree to date but with each excursion, pre-planned and contracted by Ashish's parents, they realise there's an unexpected magic growing between them.