Tracy Darnton on prepping, pandemics and her new YA novel, The Rules
"It has all been way more fully-immersive research than I would ever have wanted to do."
In celebration of the release of her gripping new YA thriller, The Rules, we talked to author Tracy Darnton about all things writing, pandemics, prepping and upcoming projects.
"Amber's an expert when it comes to staying hidden she s been trained her whole life for it. But what happens when the person you re hiding from taught you everything you know? When a letter from her dad arrives, Amber knows she s got to move and fast. He's managed to find her and she knows he'll stop at nothing to draw her back into the extreme survivalist way of life he believes in. All of a sudden the Rules she's spent so long trying to escape are the ones keeping her safe. But for how long?"
---
For readers who may not be familiar with the premise of The Rules, how would you describe it to them?
The Rules is a thriller about Amber trying to evade her prepper dad. Her whole childhood was spent preparing for disaster like catastrophic climate change and pandemic (!) and having to live by her dad's strict set of rules which he scrawled on the walls. But now she must stay hidden from him – the man who taught her everything she knows about survival and staying under the radar. His rules are kicking in again even though she's tried to forget them. But what's her dad got planned as the ultimate preppers' bunker and is the pull of the rules too strong or are rules always meant to be broken?
How and when did you come up with the idea for writing The Rules?
Unusually, this novel grew out of a short story – The Letter in the YA anthology I'll be Home for Christmas. We had great feedback from readers, particularly on the voice of Amber, and I was asked to work it up into a full novel. What was Amber's story? Why did she want to avoid her dad? What was the reason for her 'voice' and personality? Quickly I had a strong sense that Amber's dad was a prepper obsessed with preparing for survival and that he'd trained up Amber. So much else then fell into place. I need to have something I'm really intrigued by to play around with and build a story – in this case the effects on someone of permanently dwelling on disaster and the use of rules in family and society.
There's a brilliantly eerie moment in The Rules when Amber mentions people stockpiling toilet roll during pandemics. Has it been strange for you living through all this having just written about someone who's whole life had been about preparing for a global crisis like the one we're currently experiencing?
So strange! Of course, the book was already written and edited when Covid-19 came on the scene. It has all been way more fully-immersive research than I would ever have wanted to do. A little knowledge is a dangerous thing as I over-catastrophised when the UK went into lockdown because I had visions of losing utilities, the breakdown of law and order and having to instruct ourselves in emergency dentistry. On the plus side, I was better prepared than most of my friends as I'd already put together a Grab-and-Go bag and had a small stash of essentials ready for a possible no deal Brexit. But when I found myself in April scrawling a set of rules on the kitchen noticeboard, my family laughed nervously at the parallel with Amber's dad in the book – although my rules were about washing hands and his were Kill or be Killed and Survival is Everything.
View this post on Instagram
How did you decide what the 'rules' Amber had to follow would be?
The rules are at the heart of this story. For Amber's dad, it's all about the obedience to the rules, however irrational or extreme they became, however random. I reread slogans and rules in Orwell's Animal Farm and 1984, the Laws of Gilead in The Handmaid's Tale, and looked at self-help guides and Cold War civil instructions. These rules had to come out of Dad's head. Most of all I needed rules which could frame Amber's past and which worked well with the plot, especially the ending.
Did you do a lot of research into preppers whilst writing the book and if so, what was the most interesting thing you learnt?
I looked at prepper websites and blogs, watched YouTube videos of bushcraft, browsed equipment websites and loved looking at photos of prepper bunkers complete with swimming pools (yes, there are some for sale). It turns out that I live just a 15-minute drive from Burlington bunker complex left over from the Cold War years. I'm desperate to get in there but sadly it's decommissioned and closed to the public. It has over 60 miles of roads and the ability to house 4000 people for three months – and a great-looking vintage telephone exchange and canteen. I missed my chance to buy it a few years ago when it was briefly up for sale for £3 million (!). It would have been a perfect place for the book launch…
Did you always know how The Rules was going to end or was the ending something that grew with you as you wrote?
Confession time: I don't plan a book in any detail BUT I do like to have a sense of an ending. I knew that Amber and her dad would need to meet and merge the two timelines and that there needed to be a final battle for Amber choosing between following or breaking the rules. I wasn't sure how any of that would happen until I got there. I also had a ticking timescale to work to as Amber opens an advent calendar daily so it had to finish by Christmas Eve. The ending took a darker turn when I wrote it but felt right.
What was your favourite part about writing The Rules?
I had fun playing around with the pictures in the advent calendar and subtly referencing them in the story. My talented sister has made me a matching advent calendar to take to events. She crocheted a cuddly brain for my last book, The Truth About Lies which was a thriller about a girl who could remember everything. And I'm making it my mission to give her a new challenge for the next book.
Do you have any future projects in the works and if so, can you tell us a little about them?
I'm writing the next thriller for Little Tiger but I can't reveal the title or anything much about it yet. What can I say? It has a group of teenagers and I'm hoping to use my legal training to good effect. And I've been reading a book on forensics!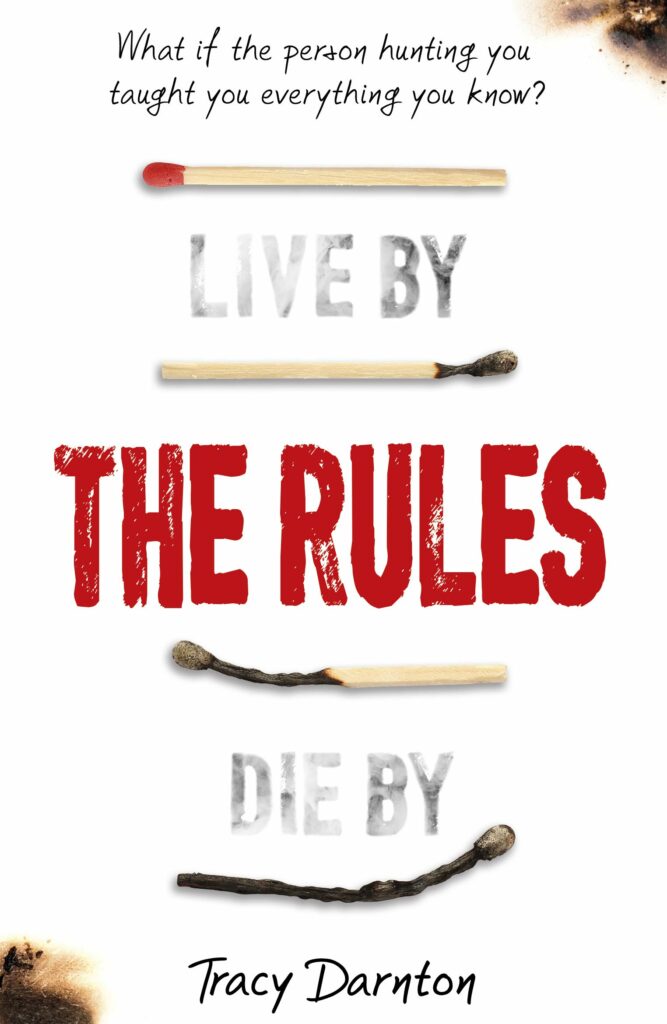 Get your copy of The Rules by Tracy Darnton here