This post was written by Tracy Badua, author of This is Not a Personal Statement
What's the soundtrack of faking it till you make it? That's the question I tried to answer as I crafted this playlist based on my main character, Perla, and what she goes through in my contemporary young adult debut This is Not a Personal Statement. Perla works hard to get into her – and her parents'– dream school, only to get crushed by a rejection. But instead of coming clean and basically admitting to her parents and her hyper-competitive classmates that she isn't as perfect as everyone thinks, she fakes her own acceptance letter. She moves onto campus in the fall, determined to reapply and get in for real.
In selecting songs, I imagined Perla listening to her dad's music as he's shuttling her from extracurricular to extracurricular, slipping on her earbuds as she slogs through another late night project, and soaking in the sounds as she strides down the hall to the dorm room she's squatting in. Some of these songs touch on feelings of insecurity and the pressure to conform to specific ideals, and others capture the energy of being somewhere new and taking all the risks, with none of the consequences. Together, they ultimately serve as a reminder that it's no fun having to dance to someone else's beat and that you should be the one who decides what success looks like for you. Even if you stumble, there will always be a path forward, another dance floor to hop on to.
Happy reading (and listening)!
---
"Harder, Better, Faster, Stronger" by Daft Punk
Work it harder, make it better
Do it faster, makes us stronger
More than ever, hour after hour
Work is never over
"Applause" by Lady Gaga
I live for the applause, applause, applause
I live for the applause-plause, live for the applause-plause, live for the-
Way that you cheer and scream for me
The applause, applause, applause
"Fake Happy" by Paramore
If I smile with my teeth
Bet you believe me
If I smile with my teeth
I think I believe me
View this post on Instagram
"Under Pressure" by Queen & David Bowie
Pressure pushin' down on me
Pressin' down on you, no man ask for
Under pressure that brings a building down
Splits a family in two, puts people on streets
"Pretender" by Foo Fighters
What if I say I'm not like the others?
What if I say I'm not just another one of your plays?
You're the pretender
What if I say I will never surrender?
"Brutal" by Olivia Rodrigo
All I did was try my best
This the kind of thanks I get?
Unrelentlessly upset (ah, ah, ah)
They say these are the golden years
But I wish I could disappear
Ego crush is so severe
God, it's brutal out here
"Young Dumb and Broke" by Khalid
I'm so caught up in this
Yeah, we're just young, dumb and broke
But we still got love to give
View this post on Instagram
"Good Days" by SZA
All the while, I'll await my armored fate with a smile
Still wanna try, still believe in
Good days, always
Always inside
Good day living in my mind
"We Are Young" by Fun, featuring Janelle Monáe
Tonight
We are young
So let's set the world on fire
We can burn brighter
Than the Sun
"Break my Soul" Beyonce
Got motivation
I done found me a new foundation, yeah
I'm takin' my new salvation
And I'ma build my own foundation, yeah
oh, baby, baby
You won't break my soul
"Dreamers" by Jung Kook
Here's to the ones that keep the passion
Respect, oh, yeah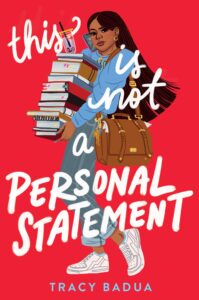 Get your copy of This is Not a Personal Statement by Tracy Badu here.