Tahereh Mafi on writing, publishing and returning to the world of Shatter Me
"I'm extremely grateful for the passionate readers who keep these characters alive."
Tahereh Mafi has been dominating the YA dystopia/fantasy scene since the release of her debut, Shatter Me, in 2011. Since then, Tahereh has earned a large and dedicated fanbase for her work, which now includes four additional books in the Shatter Me series, a YA contemporary and two middle-grade fantasies.
In April 2019, Tahereh released Defy Me, the much-awaited fifth instalment to the Shatter Me series. We were fortunate enough to have the opportunity to ask her a few questions about the newest addition to the series, her approach to writing and what's next for one of YA's most beloved author.
---
For new readers who may be coming across the Shatter Me series for the first time, what three words would you use to describe it?
An emotional adventure.
Defy Me is the fifth book in the Shatter Me series, with book four having released in 2018 after a four-year break. What was it like jumping back into the series after all that time?
It felt good, familiar. I thought it'd be harder to dive back into the world, but the characters sprang back to life the moment I started writing.
Fans of the Shatter Me series are so passionate! How does it feel to have written a series with such a devoted and ever-growing fan base?
It's surreal–and something I never take for granted. I'm extremely grateful for the passionate readers who keep these characters alive.
https://www.instagram.com/p/BoUd8lMhQDy/?utm_source=ig_web_copy_link
A Very Large Expanse of Sea, also released in 2018, was your first YA contemporary novel. Did you see any changes in the way you wrote Defy Me, after having spent time writing a different genre?
The two books felt very, very different to me; it wasn't too hard keeping my head in their different worlds.
One of the aspects of the Shatter Me series that fans are so passionate about are its characters, is there a specific character or relationship you always look forward to writing again?
I like writing all of them. I love exploring relationships in particular–romantic or otherwise–because I've always been most fascinated by the emotional compass of a person. Any person, real or imagined.
Many readers hugely relate to and find comfort in Juliette's story, in terms of
being a young woman trying to find herself. What piece of advice would you
give to readers who may currently be experiencing this feeling?
I don't know that I can properly address this question in a couple of sentences, but I will say this: treat yourself the way you want to be treated. (With love, with respect, with kindness and tenderness and forgiveness.) The rest will come.
https://www.instagram.com/p/B0MMCAEBmYz/?utm_source=ig_web_copy_link
Restore Me ended on a pretty major cliff-hanger, are you able to reassure your readers that they'll be getting some answers to their year long-burning questions in Defy Me?
Haha. You'll definitely get some answers, yes.
You've now written sci-fi, fantasy, dystopia and contemporary. Is there a big difference in the way you approach writing these different genres and do you have one you prefer?
I don't think I approach them very differently, not really. And yes–I've always preferred contemporary fiction, though I enjoy all of it.
Defy Me is the sixth book in the Shatter Me series and ninth book you've published. Has the experience of seeing your work shared with the world changed at all over these past few years?
My experience of it hasn't changed, not really, not in the important ways. Which is to say: I still find it emotionally complicated to sell a product that is so often a commodification of my own heart. But I love it, too.
Are you currently working on anything and if so, can you give us a little hint as to what we might expect?
I really wish I could say more on this, but I'm not allowed to talk about it at present. I will say, however, that I'm always working…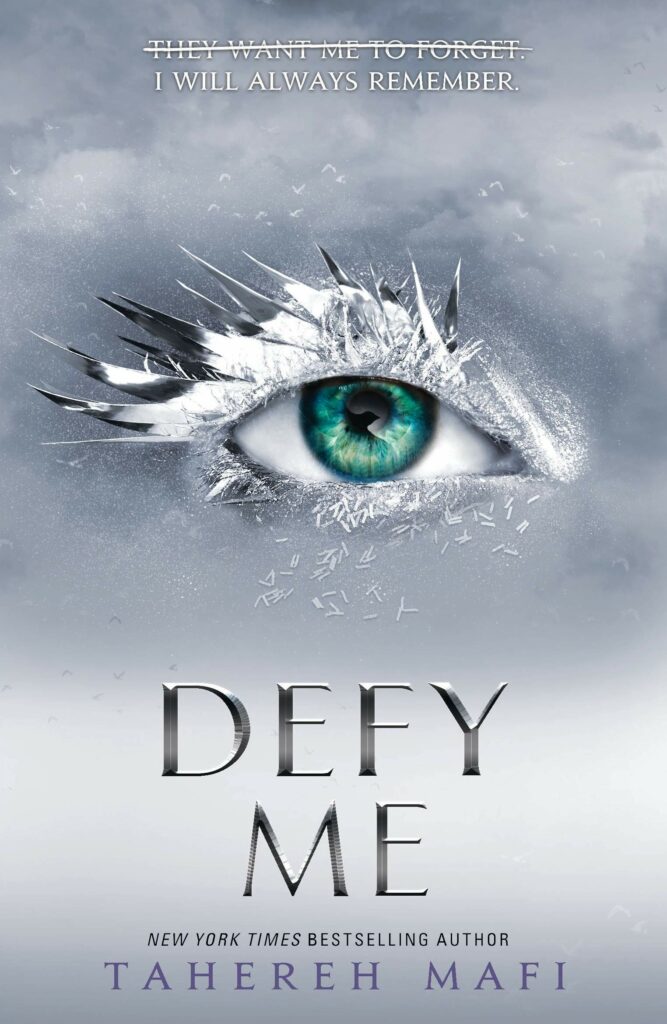 Defy Me by Tahereh Mafi, book five in the Shatter Me series, is available now in the UK and US.
Featured Image Source