Space Trash by Jenn Woodall cover reveal
Say hello to your new favourite graphic novel read
Following three teenagers attending high school on the moon after they stumble upon an exciting secret with the power to change the course of their future, Space Trash, the first volume in Jen Woodall's new graphic novel series, is an action packed, witty and excitingly original start to what's bound to be your new favourite graphic novel read.
---
In 2115, Earth has been abandoned as a lost cause and mankind has moved on to space colonization. At a decrepit high school on the moon for underprivileged youth, Stab, Yuki and Una are three teenagers who try to keep their boredom and resentment at bay by fighting rival gangs and cliques, hanging out, sleeping their way through class, all while trying to avoid punishment from the Student Council.
Fights over turf, respect and snacks lead to unearthing an exciting secret, but will their friendship be strong enough to forge a new future?
---
Although, with its July release date, we do have a few months to wait until we can dive into this new adventure, we're so excited to be able to reveal it's brilliantly punchy cover for you today.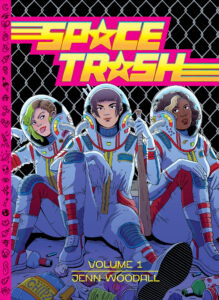 Want more? Preorder your copy of Space Trash by Jenn Woodall here.