Sara Holland on Phoenix Flame, the epic conclusion to her Havenfall duology
"I've never wished more that Havenfall was real and I could go there than during the pandemic!"
To celebrate the release of Phoenix Flame, the epic conclusion to her Havenfall duology, we caught up with author Sara Holland to talk all things family, pandemics and her incredible new YA fantasy novel, Phoenix Flame.
---
Congratulations on the release of Phoenix Flame, the page-turning conclusion to your Havenfall duology! Using just three words, how would you describe the duology to someone about to read it for the first time?
Thank you so much! 🙂 That's always a tricky question, but I would describe it as a modern-day portal adventure.
Phoenix Flame picks up a few weeks after Havenfall's major cliff hanger ending. Can you give readers who haven't read their copy yet any unspoilery hints as to what's in store for Maddie and life at Havenfall?
Without giving too much away, I can share that the story will range beyond the bounds of the inn a lot more than in Havenfall!
View this post on Instagram
It's safe to say the world has changed in many ways since we spoke to celebrate the release of Havenfall last year but how do you think the pandemic would have affected life at Havenfall for Maddie and the residents of the Inn at Havenfall?
I've never wished more that Havenfall was real and I could go there than during the pandemic! I think it would be a nice place to be—up in the mountains, surrounded by nature, full of interesting characters but isolated from the larger world. Since Marcus and Maddie have always had to shield the inn from outsiders in order to protect its magic and the doorways, I feel like their way of life would be relatively unaffected by stay-at-home orders and social distancing.
This duology has such a wonderful emphasis on both blood and found family, what inspired you to explore this relationship dynamic in a fantasy novel?
My family—both blood and found—is so important to me, and I wanted to explore that in fiction! A lot of YA fantasy, including my first duology, features heroes who have lost or been cut off from their families. I love those stories and how that sense of loneliness can lead to adventure, but I wanted to try my hand at something that mirrored my own life and experiences more closely, and try to create something that felt just as urgent without losing those family relationships.
Both of your published YA duologies have been fantasies. What is it about this genre you find so enticing to write?
Both as a reader and a writer, I love the worldbuilding aspect of fantasy and I always find myself wanting to linger in that world after the end of a book, whether it's a standalone or first in a series. On the other hand, I find it hard to keep up with series that go on for volumes upon volumes, So duologies seem like a happy medium between those two ends of the spectrum.
View this post on Instagram
This duology is filled with wonderful characters, worldbuilding and magic but was there a particular element you enjoyed creating/writing the most?
Ooh, it's so hard to decide! I really enjoyed writing Maddie's fraught relationships with both Brekken and Taya, because although it's no one's fault, the conflicts between them arise naturally out of their growing up and gravitating in different directions. I remember that being one of the hardest parts about growing up—when there's tension in a friendship or relationship and you have to decide whether to fight for it or let them go or grow together in some new way.
There are so many wonderful twists and turns throughout the Havenfall duology! Were these all planned or did any spring up on you during the writing process?
I'm a big outliner, so some of them were planned in advance, but just as often, the characters grew a mind of their own and took the story in unexpected directions!
And finally, are you currently working on anything and if so, can you give us any clues as to what we can expect to read from you next?
I can't talk about anything at the moment, but hopefully can share more soon! 😉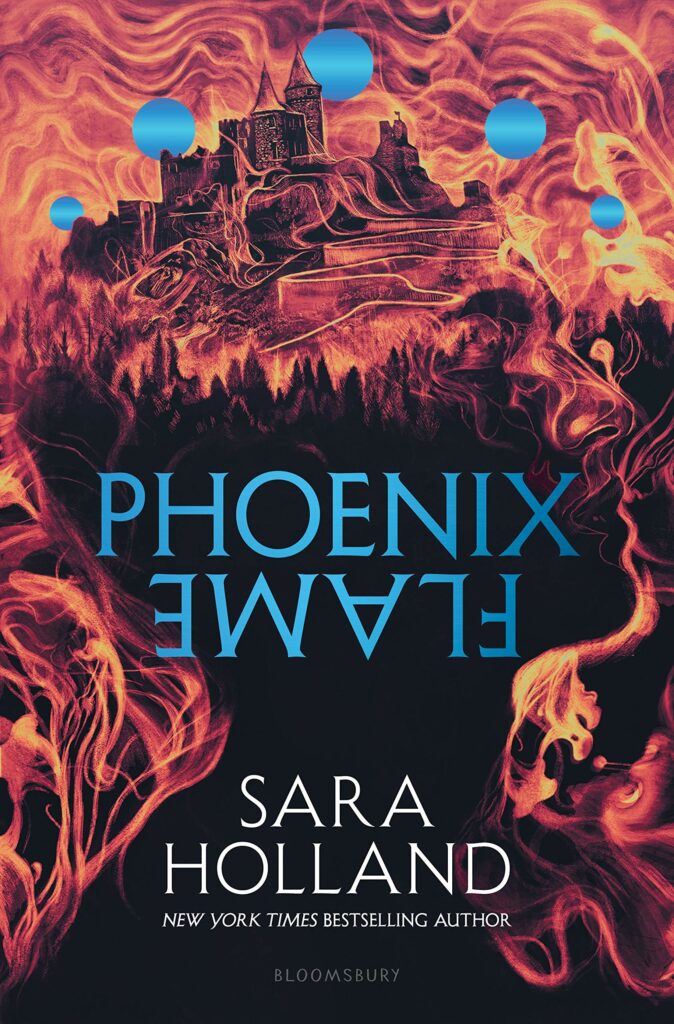 Get your copy of Phoenix Flame by Sara Holland here.