Robyn Schneider on her new queer Arthurian rom-com retelling, The Other Merlin
"How could you not want to ship a prince and his wizard"
Having previously stolen our hearts with her YA contemporary novels, the moment Robyn Scheider announced her new YA fantasy, The Other Merlin, we knew it was going to be a winner. The Other Merlin is the queer, feminist rom-com Arthurian retelling you didn't know you needed but definitely do and we're so excited to have been able to talk to Robyn all about it.
---
Hi Robyn, it's so lovely to get to chat to you today about your newest release, The Other Merlin. For readers just hearing about it, how would you best describe it to them?
The Other Merlin is what you'd get if you put BBC Merlin, She's The Man, and A Knight's Tale in a snarky, queer, feminist blender. Essentially, it's the fantasy novel that I wish I could bring on vacation and then make all of my friends read immediately so we can discuss.
Can you tell us a little about the inspirations behind the story?
I've always loved girl-disguised-as-a-boy stories like Mulan, Twelfth Night, and so many K-Dramas, but there's usually this moment that ruins them for me, when the male love interest thinks he's falling for a guy, and panics at the thought. After that happens, I stop rooting for them to wind up together. I always wished I could find a story with this trope that avoided gay panic, and eventually, I decided to write it myself. Plus, I have a soft spot for medieval England, teen soaps, and stories about wizards.
View this post on Instagram
The idea of an Arthurian inspired rom-com is inspired! What enticed you to not only retell this legend in particular but also make it a rom-com?
I have this wild theory that most King Arthur legends come into the tale too late and only tell the boring parts. You've got castles and wizards and jousts and magic swords… but the story is that the king's best friend has been sleeping with his wife? I've always thought that was such a waste of so many great story elements.
Plus, the legend doesn't make any sense if you actually think about it. Arthur Pendragon is this straight, white boy who's destined to become king, and who ushers in this golden age of tolerance and understanding. And I always wondered why, because something had to happen to make a leader like that fight for the underdogs and care about those who are less privileged. So I decided to write that story—the one where King Arthur isn't some hero on a battlefield swinging a sword that guarantees he'll win every fight. The one where he's a smart, lonely outsider who sees his friends being mistreated, and resolves to do everything he can to fight for them. And that story-behind-the-legend became the focus of this book series.
The reason it's a rom-com is because I couldn't help myself. How could you not want to ship a prince and his wizard, and to write their romance in the most entertaining, hilarious way possible?
You brilliantly explored sexuality and gender throughout the book, was this something you always intended to do when you began writing?
Absolutely. You know those silly, romantic, charming movies from the early 2000's that are still an endless source of personal joy and comfort even though you've seen them a dozen times? That's exactly what I want The Other Merlin to be for its readers, while also being feminist and inclusive in a way that so many classic comfort stories aren't.
Did you do any research into the original Arthurian legend and if so, did you learn anything interesting you hadn't previously known?
I did! It felt like every day I worked on this book, I dove deeper into Arthuriana. My favorite fact is that the sword Excalibur came with a nameless scabbard, which is by far the more powerful and important weapon –it's enchanted to prevent the wearer from dying! But it just…doesn't have a name. I also love that the sword in the stone is a separate sword from Excalibur. I mean, really? How many magic swords does one king need?
View this post on Instagram
Having written both fantasy and contemporary, do you find your writing process changes at all depending on the genre you're writing and if so, how?
My writing process for this book was SO different from my previous books, and not entirely by choice! I sold the series off a partial manuscript, which meant that the first 20 chapters of this book were revised and edited for submission before I wrote the last 20 chapters. I had an extensive outline as part of the sales package, I think it was 7,000 words long, so I was able to crunch through the last 200 pages on a tight deadline.
Also, I wrote the first half of the book during intense two-week long writing sprints in France, and the back half during lockdown in Los Angeles in the early days of the pandemic, which made me really want this story to feel joyful and heartwarming, and kept things from getting too dark. What stayed the same for this book was my process of using Scrivener, writing the scenes in order, and reading the dialogue aloud to make sure it wasn't clunky.
Out of all of your YA protagonists, who do you think Emry would get on with both best and worst?
Oh wow, I love this question! Hmm, I think Emry would have adored Sadie from Extraordinary Means, and mercilessly made fun of Ezra from The Beginning of Everything.
Having now taken on King Arthur and the Knights of the Round Table, are there any other classic legends you'd like to try your hand at reimagining?
There are SO many good ones, so I'll never say never. But I'd love to try writing something original next.
The Other Merlin will undoubtably leave its readers wanting more. Can you give us a little taster of what we can expect next?
The sequel should be out in Fall 2022, and, in its current form, contains: a medieval bachelor party, some very rude bandits, a depressed French gargoyle, and young, dirtbag Nicolas Flamel.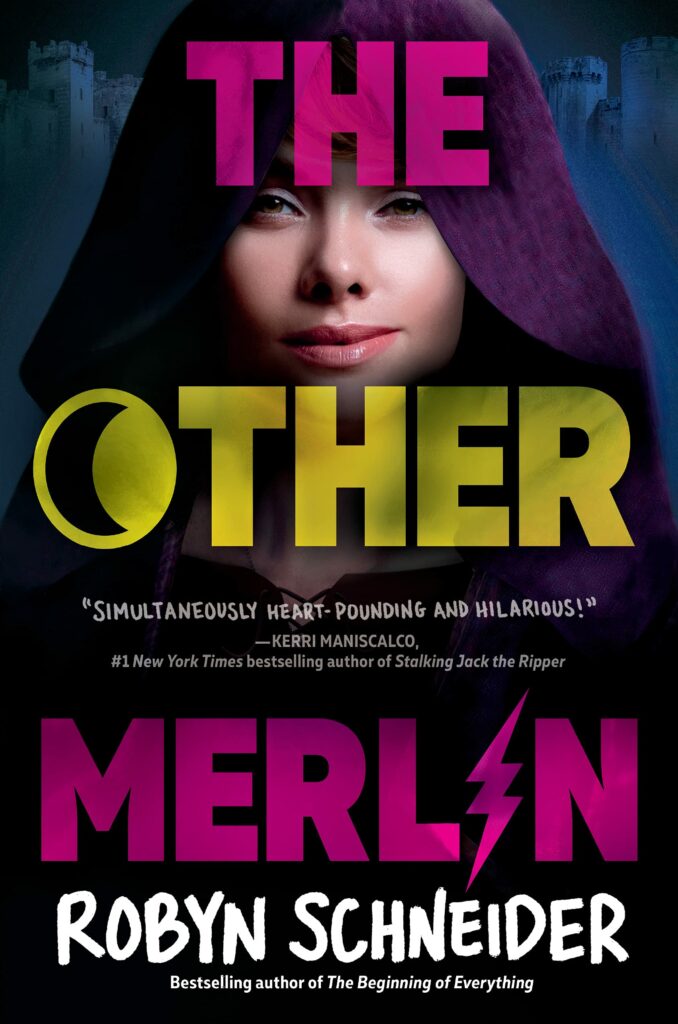 Get your copy of The Other Merlin by Robyn Schneider here.