Following Wren and Rose, twin sisters separated at birth and brought up in entirely different worlds, in which only one was raised a princess, Twin Crowns by Catherine Doyle and Katherine Webber is a magical, romantic, action packed YA fantasy that had us completely hooked upon its release in 2022. Since then, we've been counting down the days until the next instalment in this fantastic story and we're thrilled to say that day has officially arrived. Picking up from where Twin Crowns concluded, its sequel, Cursed Crowns, promises to be just as gripping as book one and we're thrilled to be able to share an exclusive extract for you to read right now.
---
Thirteen days after the twins' coronation, when roses and rotten fruit had been hurled over the golden gates, Wren found herself back in the throne room, dressed no less finely in a sweeping violet dress embroidered with golden thread, and with her crown still digging into her scalp.
'You're slouching,' said Rose, who had been sitting ramrod straight all morning, and yet somehow still possessed the composure of a queen in an oil painting.
'I'm trying to take a subtle nap,' said Wren, without bothering to stifle her yawn. Last night, she had dreamed of Banba again. Her sleep had been fitful, her every thought haunted by visions of her grandmother, frail and suffering, all alone in Gevra. Back at Ortha, Banba had spent years teaching Wren to be brave in the face of danger, to be clever and resourceful, but she had never taught Wren how to face a world without her grandmother at her side. That was a fear Wren was not able to conquer. It plagued her even as she slept. Rose pinched her hand, jolting her awake.
'Ow! Don't harm the queen,' snapped Wren.
'Then start acting like one,' said Rose. 'Today is important.'
Over the last two weeks, Wren had come to learn that every day as a queen was important. Especially as a queen of a new world that welcomed the witches, that saw them not just as equals, but as integral to the prosperity of the kingdom. There was much to do, and untangling the ancient tapestry of Eana from the threads of anti-witch sentiment that had mangled it under the legacy of the Great Protector was no easy task. The Kingsbreath, Willem Rathborne, although dead, had cast a long shadow over Anadawn. There were hundreds of laws to discard. Treaties to assess, territories to resettle and new edicts to sign. Proclamations to make. Governors to appoint.
Governors to fire.
Eana was home to the witches again. No. Eana belonged to the witches, and yet most of them were still sheltering at Anadawn Palace. It was Wren's and Rose's solemn duty to restore the kingdom to its former glory without the bloodshed and conflict that had once destroyed it, so that their kin could venture safely beyond the golden palace gates and make their lives in whatever part of the country they wished to. It was busy work. Hard work.
And then there was today.
As part of a monthly tradition established centuries ago by King Thormund Valhart and insisted upon by Chapman, the scurrying palace steward, the twin queens were holding their first-ever Kingdom's Call. An entire day dedicated to personally receiving visitors (and, more often than not, their complaints) from every corner of Eana.
Already the new queens had presided over a lengthy land dispute between rival farmers in the Errinwilde, had approved a delivery of six hundred barrels of grain for the sprawling town of Norbrook and had appointed no less than fourteen new governors to preside over the various provinces of Eana. They had also received formal banquet invitations from almost every noble family in the country and had even welcomed a missive from the neighbouring country of Caro, whose queen, Eliziana, had sent her warmest wishes, alongside three crates of summer wine and a beautiful olive tree, which now stood proudly on the throne room balcony.
And yet, despite such well-received gifts, the only royal Wren truly wished to hear from was continuing his infuriating silence. Despite Rose's diplomatic letter to King Alarik – and the further three that had followed it – the Gevran king had yet to respond. For all Wren knew, Banba was already dead. The very thought made her want to run all the way to Gevra and rip that feral king apart with her bare hands.
'It's almost lunchtime,' said Rose, encouragingly. 'I've asked Cam to make his delicious beef stew again. It's your favourite.'
Wren picked at her nails. 'So long as there's wine.'
Whoops and hollers reached her from the courtyard, the familiar trill of Rowena's laugh finding her through the open window. Over the last two weeks, the witches of Ortha had made themselves at home at Anadawn Palace, much to the chagrin of the servants and more than a few guards. Wren caught a glimpse of her friend's tempest magic now as Rose's favourite ball gown floated across the balcony, like a ghost. A laugh sprang from Wren, earning her an admonishing glare from her sister.
'For the hundredth time, Wren, can you please tell Rowena to stop treating Anadawn as her personal fairground? And what is she doing in my closet? She shouldn't even be in my room!'
Thea, Banba's wife, who was attending the Kingdom's Call in her new role as the Queensbreath, sighed. 'I sent Rowena and Bryony to pick apples in the orchard hours ago. I thought if they could find a way of putting their magic to use around here, it would go a long way to helping them fit in.'
The ghostly dress began to cartwheel as the wind picked up. 'I don't think they care about fitting in,' said Wren, who desperately wanted to be outside cartwheeling, too. 'How many more people do we have to see before lunch?'
Rose looked to Chapman.
The steward's finely curated moustache twitched as he glanced at his never-ending scroll. 'Just twelve. Wait, no. Thirteen. The Morwell family have put in a last-minute request for an audience. They wish to raise a dispute with their farrier. They suspect he's been stealing horseshoes.'
Wren closed her eyes. 'Rose. I am losing the will to live.'
'Do try to salvage it,' said Chapman, pointedly. 'The Morwells have long been allies of the throne and are a family of considerable influence here in Eshlinn.'
'Archer Morwell,' said Wren, suddenly recalling the name.
---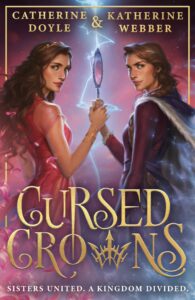 Get your copy of Cursed Crowns by Catherine Doyle and Katherine Webber here.