Catherine Doyle and Katherine Webber on making women the heroes of their own story
"It was also very important to us to build a world where women were respected and revered as rulers."
This post was written by Catherine Doyle and Katherine Webber, authors of Twin Crowns.
Twin Crowns is a YA fantasy that blends magical adventure, swoony romance and light-hearted comedy, but at its heart, it is an ode to the power of sisterhood. When we sat down to write Twin Crowns, we thought a lot about the books and movies that we love. We wanted to play with classic fantasy tropes, while incorporating some of our favourite rom-com elements. We are both naturally drawn to stories with compelling female leads, and knew that, above all, we wanted to create two memorable and dynamic heroines that readers could root for.
One of the benefits of writing a dual narrative POV story with two distinct heroines, (one a sheltered princess, the other a steely-eyed witch) is being able to showcase and celebrate different types of female 'strength'. When the book opens, Wren Greenrock is a wily witch who despises everything she thinks her princess sister Rose Valhart represents, while Rose is a pampered princess, who has been raised to fear the witches above all else. But once the switch is set in motion, both girls are going to get to know each other's worlds a whole lot better. Wren enlists her male best friend Shen Lo to help her kidnap Rose and ferry her out of the palace in the dead of night, so Wren can slip seamlessly into her twin sister's life and take her place as Queen of Eana. She thinks that pretending to be Rose will be easy, and has no idea of how much trouble she is about to get into. She soon learns that Princess Rose is engaged to the hapless prince of a neighbouring bloodthirsty nation, who just so happens to have a distractingly handsome bodyguard…
View this post on Instagram
Meanwhile, Rose awakens on the back of a horse galloping at lightning-speed through the sprawling desert of Eana – a place she has only ever read about in books – in the company of a cheeky bandit, with molten eyes and a smart mouth. Shenanigans ensue.
Wren, our headstrong witch, is much more of a badass, the kind of heroine who is easy to root for. Raised in secret in the wilds of Eana, she is funny and fearless. She can scale walls, cast enchantments, and carries a dagger everywhere she goes. Rose, our winsome princess, takes a little more time to grow on people. At the beginning of the book, she is completely out of her element. Like most princesses, she is a little spoilt, a little ridiculous and is no stranger to a tantrum or two. But these cliches are very much on purpose! We wanted to show how Rose would grow and change over the course of her journey, discovering more about her true self as well as the witches she has been taught to fear. Her strength lies in her ability to self-reflect, and to feel true empathy for others. It is this kernel of empathy that ultimately allows her to be brave, to stand up for herself, and most importantly, to stand up for what is right.
While both Wren and Rose seem like they represent different types of female strength and femininity, they actually have much more in common than either of them might admit at first. They are both loyal and brave, and have spines of steel when push comes to shove. Which of course makes it so much fun when they inevitably face off!
View this post on Instagram
It was also very important to us to build a world where women were respected and revered as rulers. In Ortha, the secret seaside settlement of witches, Wren's grandmother Banba is the fearless matriarch, a witch who can brew a storm with a single thought, and thus should not be trifled with! In fact, the very first rulers of the kingdom of Eana, were witches. We built an entire mythology around the first Witch Queen, Eana, for whom the country is named.
In a story about magic, princesses, and secret sisters, we knew we had to have a certain amount of wish fulfilment for readers (and ourselves!). We had so much fun describing decadent dinners and dressing our characters in incredible clothes (except for poor Rose, who is frequently in a dirty nightgown, much to her dismay) and of course throwing fabulous fictional parties. Both of us devour YA fantasy and romance, and we love epic set pieces. So we made sure to include several showstopping scenes, with high drama and plenty of humour.
We loved playing with tropes about princesses and courtly intrigue, and then making the women the true heroes of their own story. We wanted the book to feel familiar like a fairy tale, but with modern sensibilities and enough twists to surprise, and hopefully delight, our readers. Yes, there are swoony moments. And plenty of danger and excitement, too. But to us, sisterhood, both born and found, is the thread that ties the entire book together, and if you ask us, there's nothing more powerful than that.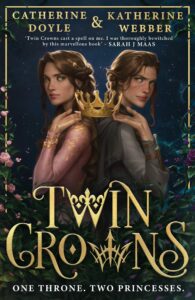 Get your copy of Twin Crowns by Catherine Doyle and Katherine Webber here.