Mark Ballabon on using multimedia for his debut YA novel, Home
"I wanted to go further in exploring a greater range of media to offer the most holistic reader experience I could."
This post was written by Mark Ballabon, author of Home.
I come from a varied background in the arts – from music and composition, dance and choreography, to non-fiction writing and poetry. So it seemed very natural to include some of these creative elements in my debut YA novel 'HOME – my life in the universe'.
And for some unknown reason (!), the protagonist, 14-year-old Leah, seems to share my passion for philosophy, astrology, graphology and a certain mystical island in Killarney. Her obsession with braiding her hair though is uniquely her own as I don't have enough hair to braid!
I've always worked with artists and photographers in my previous non-fiction books, and I don't think I could have found a better illustrator than Grant MacDonald to add a strong visual and atmospheric element to Leah's story. Plus, one of his teenage daughters was the head consultant for everything that Leah wears and his other daughter was one of the international teenage group of editors whose sharpened pencils deleted so much of my early draft manuscripts – including whole chapters!
Yet I wanted to go further in exploring a greater range of media to offer the most holistic reader experience I could.
For example, I wanted to feature the wonders of handwriting and how much you can learn about a person through their writing style (graphology). That's why the beginning and the end of the book are written in Leah's own somewhat dramatic, quirky, yet neat handwriting.
Some of the teenagers I know love playing with words and letters, so I also wanted to feature the delights of etymology, anagrams and playing Scrabble! This becomes important for example when Leah discovers where the word 'confidence' comes from, and that the anagram of 'Listen' is 'Silent'.
View this post on Instagram
Then I wanted there to be a film and soundtrack to the book. So the film called HOME, which Leah produces with a team at summer camp, will eventually be available as a 6-minute movie to accompany the book.
Photography naturally follows from this, and the spark of a big conflict that erupts at the international summer camp (which Leah goes to with her brother and best friend Taka), is actually about who in the filmmaking team gets to use the one professional video camera available.
Leah gets sucked into this conflict as she's determined to get hold of the camera despite some fierce resistance from one of the team. Her vision of the film makes her desperate to do some filming of the nearby forest and take photos of the night sky.
Lastly, I'm hoping that the music which inspires Leah and others in the book will be available as a soundtrack. One of the key tracks which the filmmaking team use at the end of their film is called 'An Opportunity' by the Trust Companions – a band which I have composed for.
All these different media hopefully provide a depth of background and foreground for Leah's story, and will engage not only the young reader's brain, but also their mindfulness, their intuition and their greater imagination.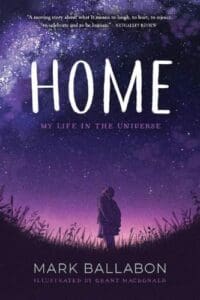 Get your copy of Home by Mark Ballabon here.