Lana Harper talks Payback's a Witch dream casting, writing YA vs Adult and more
"I really enjoyed writing YA, but adult is more my vibe."
Payback's a Witch, Lana Harper's debut adult f/f rom-com, gives its readers romance, revenge and all the magic you could possibly need in a cosy read. To celebrate its release, we caught up with Lana to talk all things dream casting, writing adult vs. young adult, f/f representation and, of course, Payback's a Witch.
---
Hi Lana, it's great to chat to you today to celebrate the release of your new witchy romance, Payback's a Witch. For those just hearing about it, could you share a mini summary with us?
Of course; thank you for having me! Payback is a queer witchy rom com that I think of as John Tucker Must Die meets Chilling Adventures of Sabrina. It's about Emmy Harlow, a prodigal witch who reluctantly returns to her magical hometown of Thistle Grove in order to arbitrate a spellcasting tournament. But she becomes embroiled in a vengeance plot against the bastard warlock who broke her heart and drove her out of town nine years ago, and has since likewise scorned her best friend Linden Thorn… and also Talia Avramov, the dark, twisty, sexy witch Emmy lusted after in high school. Sparks—magical and otherwise—may fly.
If you had to describe Payback's a Witch in just three words, which would you choose and why?
Enchanting: I wanted the town of Thistle Grove to feel as real as possible, like the distillation of fall and Halloween; a magical character in itself.
Queer: As a bisexual person myself, I was very invested in writing a bisexual romance without any angst attached. While Emmy and Talia encounter obstacles as they navigate their attraction to each other, I wanted these to be the kind you'd find in any complicated and human relationship, nothing to do with their queerness.
Joyful: This book lit my way out of a dark place, and that's what I wanted it to do for readers: make them feel delighted, thrilled, and bewitched, happier for having read it.
View this post on Instagram
Payback's a Witch has been described as Chilling Adventures of Sabrina meets The L Word. Did any of these shows have an influence on the story and were there any other pieces of media you pulled inspiration from?
As I mentioned, the original kernel of the idea was basically, "John Tucker Must Die, but everyone is witches, and two of them fall for each other." Sabrina also has the kind of edgy magical vibes I wanted to convey, a gorgeous spookiness to it. I think the reference to The L Word is accurate in that Thistle Grove is a safe (and Halloweeny) space for queer love, something that show has long since represented for me and many others in the queer community.
From the romance to the magic to the family history, there's so much to love about this book but did you have a favourite element to create?
Definitely creating Thistle Grove and its magical history! I'm a huge fan of Salem, Massachusetts; I used to live fifteen minutes away, and visited constantly. It's a witchy, campy, beautiful place, which I actually just returned to for a long pre-Samhain weekend! Highlights included a haunted speakeasy ball, and the Night Market at the Pioneer Village, where you can encounter eldritch creatures in elaborate costume, as well as vendors selling everything from spell candles to taxidermy to hex bags. In bringing Thistle Grove to life, I wanted to capture this enchanting sense of stepping into a witchy fairy tale. The families' holdings and demesnes are also drawn from some of my favorite things, like Ren Faires and Medieval Manors, immersive haunted house experiences like Sleep No More in NYC, apple orchards in fall, and occult bookstores.
Having now written both adult and young adult fiction, is there one you favour the writing experience over the other or any differences between writing the two you think readers may find surprising?
I really enjoyed writing YA, but adult is more my vibe. The themes I especially love to tackle, such as Emmy's more millennial coming of age, the complex relationships we have as adults with family and friends, and the challenges of romantic relationships between fully formed individuals, are obviously better left to adult fiction. I also adore writing steamy scenes, and that's a tricky balance for YA fiction, though all my books are sex positive.
Whilst we're definitely (finally) seeing an uptick in f/f rom-com's, it's so great to have Payback's a Witch to add to the mix but are there any recent or upcoming f/f releases (adult or YA) you highly recommend?
I will always and forever recommend Gideon the Ninth by Tamsyn Muir, because lesbian necromancers in space?! Need I say more? Actually I do, because not only is this wildly genre-bending book totally bonkers and beautiful, it's one of the funniest I've ever read. The upcoming f/f rom com Delilah Green Doesn't Care by Ashley Herring Blake, out 2/22/22, is phenomenal as well.
View this post on Instagram
If a Payback's a Witch movie or tv show were to happen (which, clearly it needs to) do you have a dream casting for any of the characters?
Fingers entirely crossed for any adaptation, though my vote would be for a show! I don't have a dream casting, exactly, but I can say that I thought of Talia Avramov as a mashup between Ruby Rose and Kate Siegel's character Theodora Crain in The Haunting of Hill House. And I've seen pictures of Ashley Greene that remind me of Emmy!
Payback's a Witch is the first book in you're the Witches of Thistle Grove series, are there any hints you can give us about what we can expect from book two?
Yes! Next up is From Bad to Cursed, out May 17, 2022. It's about Isidora Avramov, chaotic-neutral demon summoner and only-slightly-evil sorceress, who also loves cuddly animals, designs the Avramovs' haunted house, and dreams of being an indie fashion designer. She and her archenemy Rowan Thorn—a green magician and healer, and the aggravatingly handsome quintessence of lawful good—are thrown together as reluctant partners when a necromantic curse is levelled against the Thorn family, throwing suspicion on the Avramovs.
I loved writing this one; it felt even more magical, darker, and sexier than Payback. So if that sounds enticing, preorders are available now!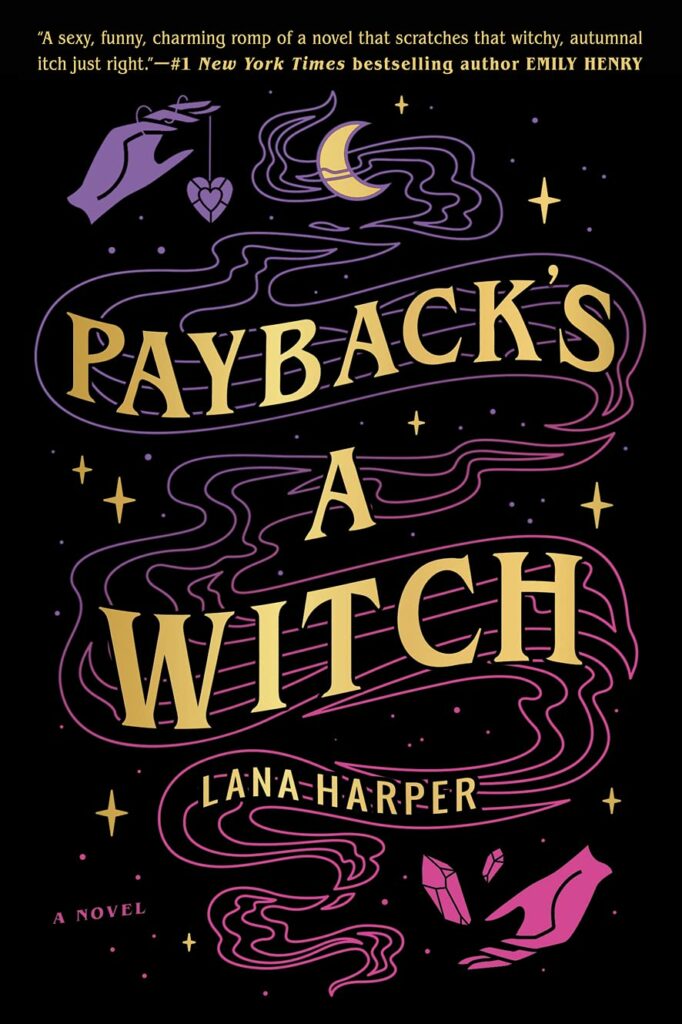 Get your copy of Payback's a Witch by Lana Harper here.